There's An Actual Sean Spicer Talk Show In The Works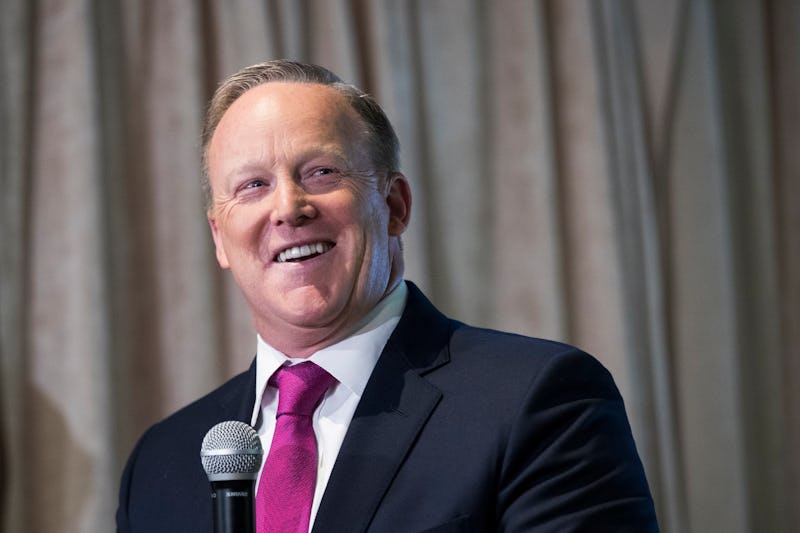 Drew Angerer/Getty Images News/Getty Images
In a political moment marked by rampant name-calling and mudslinging, one man is planning to sit down for some polite civil discourse. That's right, Sean Spicer is developing a talk show. According to The New York Times, the former Trump administration press secretary, perhaps most famous for routinely lying to the press from the White House podium, is planning to host Sean Spicer's Common Ground, a show in which he interviews important people about issues of the day.
Although his proposed show does not have a confirmed network yet, Spicer said he plans to film a pilot in July, backed by production companies Debmar-Mercury and Pilgrim Media Group. "In this current environment, I think it's important to have a platform where we can have civil, respectful, and informative discussions on the issues of the day," he told The Times.
According to The Times, which obtained a pitch sheet describing the pilot episode, if the show gets the green light, it would feature Spicer with "some of the most interesting and thoughtful public figures for a drink and some lite conversation at a local pub or cafe." Reportedly discussing "everything from media to marriage," the show might even "tangle over the merits of making your bed or the value of a great point guard."
Spicer was widely criticized for his contentious relationship with the press corps, and for both making and propagating lies during his six-month tenure in the Trump White House (Trump's claims of voter fraud in the 2016 election, Obama supposedly wiretapping Trump Tower, Don Jr.'s 2016 Russia meeting, to name a few). Melissa McCarthy regularly parodied him on Saturday Night Live as a sour-faced and cantankerous grouch. However, since his resignation last July, Spicer seems to be on a mission to rebrand himself.
In an interview with Jimmy Kimmel in September, Spicer — well aware of the public's perception of him — reflected on his time as press secretary with some humor. When Kimmel asked whether working amidst the scandals of the White House was ever funny, Spicer laughed and replied, "For you!" Looking slightly irked, he said, "I'm not so sure I see it that way, but I appreciate the jokes."
Shortly after, he appeared on stage at the 69th annual Emmy Awards ceremony, standing at a lectern resembling the one he used to use in the White House press briefing room. He joked, "This will be the largest audience to witness an Emmys, period," referencing a false statement about Trump's inaugural crowd he had once vehemently defended. It should be noted that his appearance received considerable backlash as an attempt to normalize him without penalty.
Even with the efforts he's made, granting interviews conceding his mistakes in office, planning a book tour to "set the record straight", Spicer's public reputation still hasn't quite recovered from his actions while serving as Trump's press secretary, as evidenced by the reactions to his show announcement on Twitter.
There is still little known about the specifics of Common Grounds, but according to Maggie Haberman at The Times, both Michael Avenatti, who is currently representing pornographic film actress Stephanie Clifford (also known as Stormy Daniels) in a lawsuit against Donald Trump, and comedian Kathy Griffin, were approached for the pilot. According to Haberman, both have declined.
Despite not landing either one, both Avenatti and Griffin are considered liberal figures, and have been vocal about their criticism of the president. It's too early to know for sure, but his interview picks could indicate that Spicer is in fact planning to venture out of the conservative bubble for a talk show that bridges the political spectrum.