A Second Accuser Is Testifying At Bill Cosby's Trial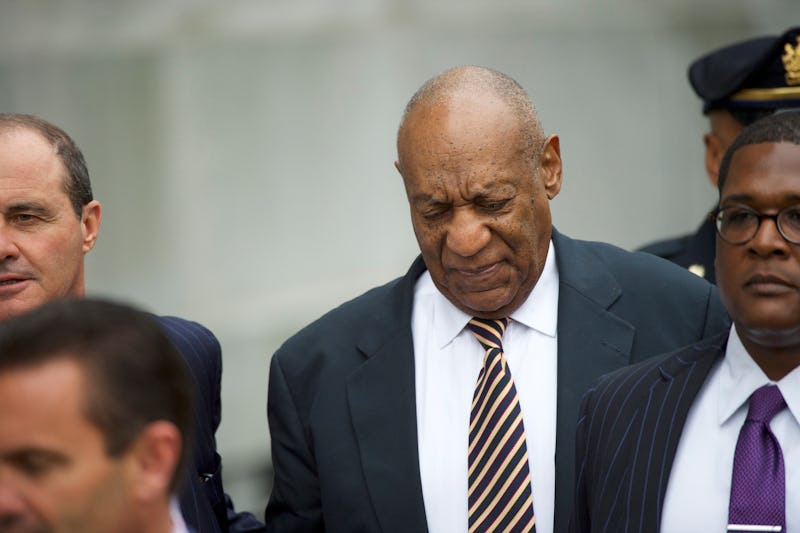 Mark Makela/Getty Images News/Getty Images
Monday was the first day of testimony in Bill Cosby's sexual assault trial. Previous reports noted that only one of his alleged victims would take the stand, but in fact, a second accuser is testifying at Cosby's trial, and she was the prosecution's first witness on Monday. Cosby has denied all accusations of sexual assault.
The woman was previously identified only as "Kacey" and "Accuser No. 6," but she publicly testified as Kelly Johnson during the trial, according to CNN. Johnson was an assistant to Cosby's agent at the William and Morris talent agency in the 1990s, and told the court that she'd become friendly with him around the office before the alleged assault.
Johnson testified that in 1996, Cosby invited her to lunch at a hotel he was staying at in Los Angeles. She said that Cosby led her to his bungalow, said that she "looked like [she] needed to relax a little bit," and offered her a large white pill. According to The New York Times, Johnson says she initially rejected the pill, but that Cosby persisted, asking rhetorically, "would I give you anything to hurt you?" Saying that she felt "extremely intimidated," Johnson says she took the pill, and felt like she was "underwater."
Johnson said that she later woke up on the bed with Cosby behind her. She said she had lotion on her hand, according to the Times, and that Cosby made her touch his penis. Johnson also testified that her dress was "pulled up from the bottom" and "pulled down from the top," and that her breasts were exposed.
In addition to all of this, Johnson testified that months prior to the alleged assault, Cosby had invited her to his house and encouraged her to roleplay a scene wherein a tipsy woman hugged and kissed a man, making her uncomfortable.
More than 50 women have accused Cosby of sexual assault, accusations that he and his legal team deny. Although Johnson was the first to testify at the trial, she won't be the only one: Andrea Constand, another of Cosby's accusers, will take the stand later in the proceedings.
In a 2006 deposition, Cosby admitted having sexual relations with Constand, but said that they were consensual. In the same deposition, Cosby acknowledged that he'd sometimes given Quaaludes, a prescription sedative, to young women, but said that this was "the same as a person would say have a drink." Cosby faces up to 30 years in prison if convicted on all counts.