There Could Be Another "Unite The Right" Rally In Charlottesville Next Year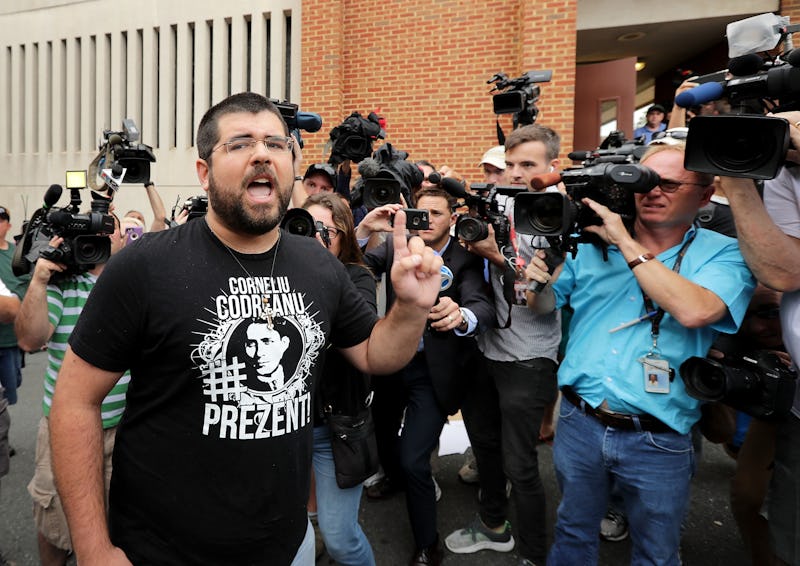 Chip Somodevilla/Getty Images News/Getty Images
A deadly Neo-Nazi rally that took Charlottesville, Virginia, by storm last August may return to the same area for another march. According to one of the main organizers, Jason Kessler, a white supremacist rally in Charlottesville will mark the one-year anniversary of the previous one next August.
Kessler informed his readers in a blog post, "I've applied for a new permit at Charlottesville's Lee Park for Aug. 11 and 12, 2018 on the one year anniversary of Unite the Right. I fully expect the Charlottesville government to try and reject it, and I'm ready for that fight."
Attached below Kessler's Wednesday announcement was a PDF upload of his special event application request, in which the event was described as a rally "against government civil rights abuse and failure to follow security plan for political dissidents. We are opposing any changes to Lee (Emancipation) Park and memorializing the sacrifices made by political dissidents in Lee Park [on] Aug. 12, 2017."
In August, at a white supremacist rally called "Unite The Right," one anti-racism protester, Heather Heyer, died after police say a man with an association with white supremacists drove his car into a group of activists. Almost 20 people were immediately injured in the aftermath of the attack, according to authorities. The congregation received bipartisan condemnations, including Virginia Gov. Terry McAuliffe declaring a state of emergency due to the demonstration.
According to Kessler, next year's potential rally will be "different," as the organizer plans to ask for security arrangements. Kessler wrote that during this year's Unite The Right rally, he had "faith in the Charlottesville Police Department to abide by the terms of the security arrangement and keep hostile groups separate. Obviously that is no longer the case." He claimed authorities "screwed" his group over. "This time I, and my attorneys, WILL DEMAND that they release these security arrangements to the public in advance so that all parties, both demonstrators and counter-demonstrators, know what is expected of them," Kessler wrote.
After last August's rally, Kessler was chased off by anti-racism protesters while he was giving a press conference. He was shouted down by activists who yelled "shame" in his face. In the speech, Kessler stressed for white supremacists to maintain a "presence in the streets of America."
After the August march, 11 people filed a collective federal lawsuit against the white supremacist organizers, including Kessler and white nationalist/ head of The National Policy Institute, Richard Spencer. The ultimate goal of the case against these organizers is to prevent them from conducting another rally of the same nature.
The plaintiffs claim that the far-right organizers carried out the rally "to terrorize its residents, commit acts of violence, and use the town as a backdrop to showcase for the media and the nation a neo-nationalist agenda." In response to the collective lawsuit, National Policy Institute's executive director Evan McLaren called it "entirely frivolous." The director stated, "The political forces opposed to us lack a serious, coherent response to our message and presence, and thus seek to outlaw our ability to speak."
And if this request goes through, next year could see another white supremacist rally in Charlottesville, at least according to Kessler who expressed optimism, citing ample time for preparation. "We have nine months to prepare ourselves," he wrote.