Starbucks Might Release A Crystal Ball Frappuccino & It Looks Like Magic In A Cup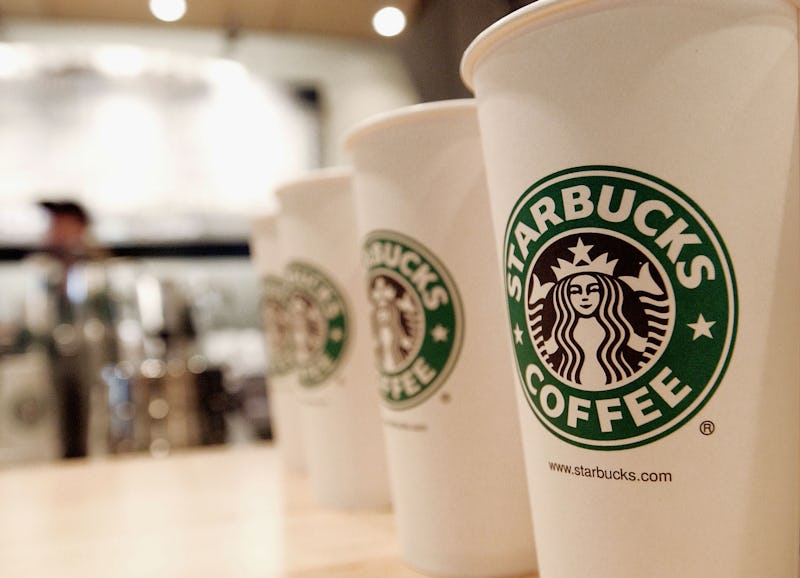 Stephen Chernin/Getty Images News/Getty Images
Last spring, Starbucks fans rejoiced when the wildly-popular Unicorn Frappuccino was released. The sweet, color-changing pink and blue drink dominated social media feeds and was a boon for Starbucks' sales. Now, nearly a year later, a highly anticipated (but thus far not officially confirmed) Starbucks Crystal Ball Frappuccino could be coming out — and people are getting super pumped. Bustle has reached out to Starbucks for confirmation, but has not yet received a response.
Update: A Starbucks rep told Bustle via email Starbucks does "not have any details to share on new beverage launches at this time."
Earlier: As Teen Vogue reported, a variety of local Starbucks stores have shared early photos of the frappuccino on Instagram, with baristas reportedly practicing making the drink to prepare for its expected release on March 22. According to Cosmopolitan, when the magazine reached out to Starbucks about the Crystal Ball Frappuccino, the company said it did not have any new drinks to reveal at this moment. However, based on social media photos, many are expecting that the Crystal Ball Frappuccino will be the coffee chain's next big feature drink.
Kate Taylor of Business Insider described the color of the reported new drink as an "alluring marbled turquoise." The blue-hued frap will reportedly be topped with whipped cream and rock candies to give it a somewhat mythical touch. The outlet also reported that the drink will be peach-flavored.
However, while there is much hype about the potential new drink, its availability will likely be relatively limited. According to Business Insider, the frap will only be available for four days — or for as long as supplies last.
It remains to be seen whether the Crystal Ball Frappuccino will replicate the success of its mythical frappuccino predecessor — the Unicorn Frappuccino. As CNBC reported, the wildly-popular pink and blue frappuccino rapidly sold out in lots of Starbucks locations throughout the United States last year. In fact, in an article from April 2017, Business Insider reported that, during the drink's limited release, the typical Starbucks store had more than 20 people per day seeking to buy the unique frappuccino. At the time, analyst Dennis Geiger wrote to Starbucks investors that, "Many of our channel checks indicated that drinks were sold out in stores before the promotion ended (with customers visiting multiple locations to find the drink)."
The drink was also insanely popular on Instagram, with the same Business Insider article revealing that the Unicorn Frappuccino resulted in around 180,000 Instagram posts in one week. As Starbucks' former CEO, Howard Schultz, described to CNBC, the drink helped raise brand awareness and loyalty.
The Crystal Ball Frappuccino could serve as a needed boost for Starbucks, which struggled with holiday sales in 2017. According to Reuters, the company also informed employees in January of this year that it would be ending its years-long summer tradition of Frappuccino Happy Hour, which allowed customers to buy frappuccinos at half price rates from 3 p.m. to 6 p.m. during certain weeks. However, while company spokeswoman Haley Drage confirmed that Starbucks employees were told that "summer [2018] offers will be planned that does not include Happy Hour," she said the company is not eliminating Frappuccino Happy Hour.
Regardless of the fate of Frappuccino Happy Hour, however, it looks as though Starbucks could stand to gain a great deal of attention if the reported Crystal Ball Frappuccino is indeed released. The public should soon be able to see for themselves whether or not the mystical drink has come to fruition, as its expected release date of March 22 is rapidly approaching.