This Care Bears Makeup Collection Will Brighten Your Face in 2018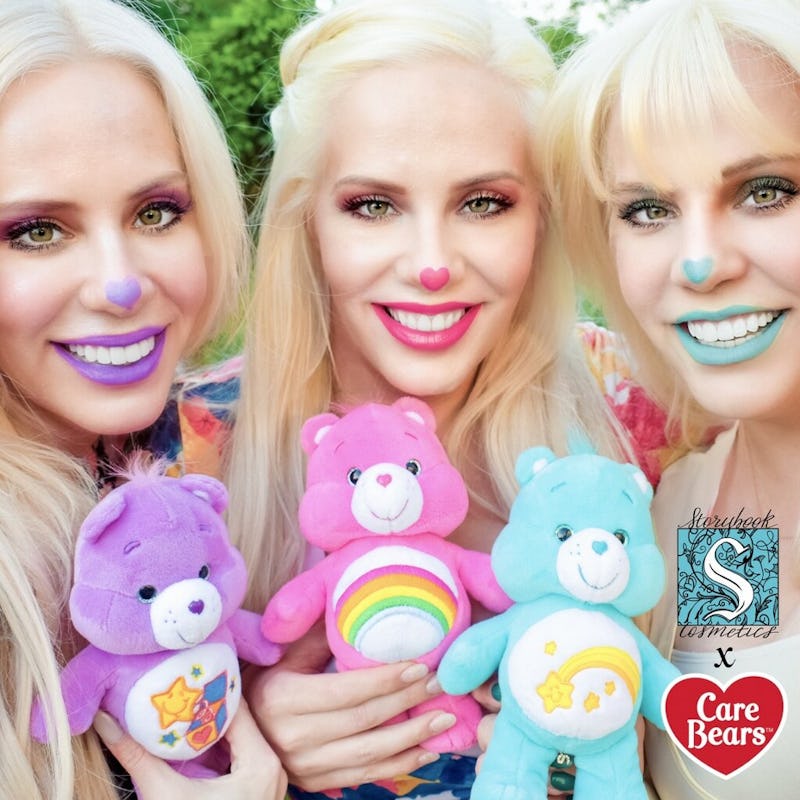 The Care Bears are coming for your face in 2018, and that's a good thing for '80s and '90s kids. Yes, Storybook Cosmetics is launching a Care Bears makeup collection. The brand is currently creating magical makeup products inspired by the brightly-colored bears that debuted in the 1980s. The Care Bears have enjoyed several reboots across a few decades, and have since become quite a nostalgia-inducing brand.
This partnership has been long-rumored, thanks to multiple teasers Storybook has posted to Instagram. But now we finally have confirmation.
Storybook shared an image of its team, a.k.a. The Maynard Triplets, rocking some bold and adventurous lipsticks and eyeshadow shades, including heart-shaped pops of color on their noses — just like the Care Bears themselves!
According to the press materials received by Bustle, the Storybook Cosmetics x Care Bears collab will feature multiple products, including pressed pigments, lipstick, and a rainbow highlighter. The collection is due in 2018.
"Care Bears was such an influential part of our childhood and now in our adulthood we can still use the valuable lessons those lovable bears taught us," said Missy Maynard, co-creator of Storybook Cosmetics, said in a statement. "Partnering with Care Bears was an obvious choice for Storybook Cosmetics since our brand is about combining the stories that have left a mark on us with our love of makeup."
Maynard finished, "The opportunity to transform the incredible color palette of the Care Bears into cosmetics, all while spreading their message of love, has us overjoyed."
Samesies over here, Missy!
The collab was confirmed just ahead of Saturday, Sept. 9, which is the annual Care Bears holiday, dubbed "Share Your Care Day." The holiday is designed to inspire acts of kindness of all sizes and scope.
In case you are not super familiar, Storybook Cosmetics is an indie makeup brand that burst onto the scene with its Harry Potter-inspired makeup brushes, which looked like magic wands.
The brand's rose brushes are also rather epic, too. Other products are inspired by works of literature and history, like the Quill & Ink eyeliner set. It's a full-service culture and pop culture brand.
Get excited, '80s lovers.