If You're Looking For Good Midterms News, This City Passed A Very Important "Brunch Bill"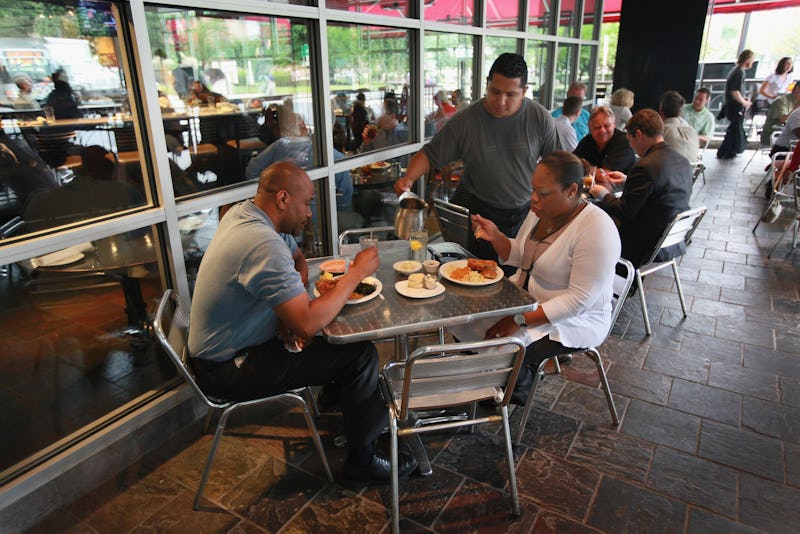 Scott Olson/Getty Images News/Getty Images
The 2018 midterms have been labeled by many as the most important election of recent years. Despite this, there were some measures on ballots around the country that were a bit more — erm — frivolous. Atlanta, Georgia passed a Sunday "Brunch Bill" — along with other cities and counties — that will allow restaurants to start serving alcohol at 11 a.m., according to The Atlanta Journal-Constitution.
Georgians previously had to wait until 12:30 p.m. to start buying drinks on Sundays. The problem with this, of course, is that alcohol is considered a staple of the American brunch outing. "Boozy brunches" are ubiquitous — so much so that the phenomenon has even raised some health concerns.
Take the restaurant Husk in Charleston, for example, which The New York Post named as the best brunch in America last year. The place starts serving cocktails, beer, and wine as soon as it opens for brunch at 10 a.m. on weekends. The Washington Post has called boozy brunches "the day-wrecking meal that America loves to hate."
But apparently less so in Georgia, a state that's been behind the pack. Open Table, a user-generated ranking platform, rates three restaurants as having the best brunch in Georgia. Marietta's The Chicken and the Egg opens at 9:30 a.m. and does offer wine and cocktails — that's three hours before the mimosas can start flowing. There's a two hour wait for Woodstock's The Magnolia Thomas Restaurant and 90 minutes for the Jekyll Island Club Hotel. So it's about time that Georgia shaped up.
Every state allows alcohol to be sold in some form on Sundays (Indiana stopped being the last holdout earlier this year). But not every state allows on-premise sales of alcohol that day, according to Legal Beer.
The measure in Georgia was made possible by Senate Bill 17, which the state legislature passed in May. It's better known as the "Brunch Bill" or "Mimosa Mandate," according to the Atlanta Journal-Constitution (AJC), and it allows cities and counties to put a referendum on the ballot to allow the sale of alcohol at 11 a.m. The Secretary of State's Office announced that 87 places opted to do so, 30 of which were in the Atlanta metro area, per the AJC. The paper notes that every single place that put a referendum on the ballot seemed to approve it on Tuesday.
The AJC also reports that the measure's passage happened with "significant margins" in many places. That's in stark contrast to the most highly-watched race in the state, the governor's race, which was still extremely close on Wednesday. At 2:15 p.m., The New York Times had Republican Brian Kemp with 50.3 percent of the vote leading Stacey Abrams with 48.7 percent. Because Abrams was only 15,000 votes short of a run-off and her campaign estimated that 77,000 ballots were yet to be counted, she was refusing to concede the race on early Wednesday afternoon.
"Make no mistake," she tweeted on Wednesday. "This race is not over."