SZA Is Launching A Clothing Collection To Help Save The Oceans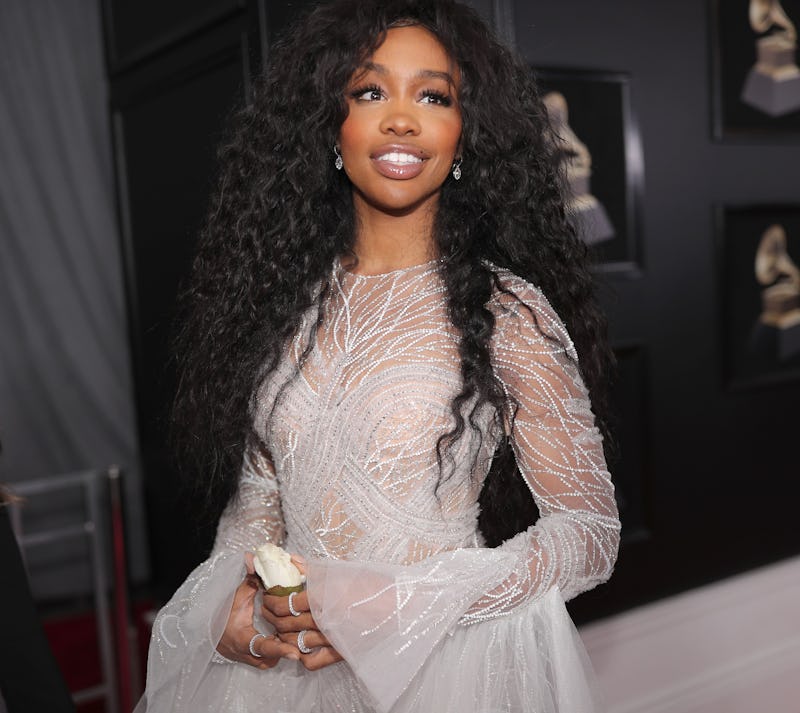 Christopher Polk/Getty Images Entertainment/Getty Images
Not only does SZA have a five times Grammy-nominated debut album, but she's also going to save our oceans, all thanks to her new clothing line. There is a SZA x Champion collaboration in the works, where the artist teased her new line with the athletic brand on Instagram, and revealed that it will be all about sustainability and protecting our environment.
On Aug. 13 the "Love Galore" artist teased two products from her "CTRL Fishing Co" clothing line, which focuses on being environmentally friendly and responsible. The first image was a blue hoodie with the Champion logo embroidered in the corner, along with the phrase "Sustainability Gang" splashed across the chest in a rainbow of colors. She captioned it asking, "Who tryn save da ocean," while also tagging CTRL Fishing Co. As of right now, the clothing brand's Instagram account has zero posts, but already has over 25 thousand followers.
The second product tease is a photo of SZA herself wearing a purple Champion crewneck sweatshirt, with the same "Sustainability Gang" font splashed across the chest and accompanied by a huge rainbow applique underneath. This time she simply captioned it "Bean," and tagged CTRL Fishing Co. a second time.
At first glance, this sneak peek is pretty mysterious and without context, but her Instagram Stories provided more information.
Her Stories opened up with a video of what could be a t-shirt in the collection, with the caption, "Fuck plastic! Yall ready to save da oceans or nah." The tee had the slogan "Puck Flastic" embroidered in rainbow letters over a corner pocket, with a seahorse applique stitched underneath, accompanied with the brand's name, Control Fishing Co.
The second Story was a video of the first blue hoodie posted to her Instagram account, with a caption that simply said, "soon."
In the comments section of her posts, it was also revealed that SZA not only plans to sell items that promote awareness towards conservation, but that all the proceeds from these sales will go directly towards organizations that are dedicated to sustainability.
"OK but does the profit go to an organisation dedicated to sustainability?" one commenter asked. "100 per cent actually," SZA replied. "We look forward to sending you one."
For those not in the know, "CTRL" is SZA's 2017 debut album, and some of her tour merch has been created in collaboration with Champion, featuring that same rainbow, embroidered font.
Some of her CTRL tour merchandise has an outdoorsy theme to it, where she has an offering of "Camp CTRL" items that reference her "Broken Clocks" music video. In the opening of the self-directed video, we see "CAMP CTRL" written out in letters made out of twigs, and then we're invited inside the dreamy scenes of a summer sleep-away camp, filled with lake swims, food fights, and cabin pillow fights.
You can see how her other merchandise offerings compliment the video, with a camp t-shirt with a big bass fish on it, or a cotton tee with a landscape design splashed across it.
While there is no news when the new collection will drop, keep an eye on her Instagram to gather more details. Saving the planet is a cause that almost everyone can get behind.