A Burger With A Literal Tarantula On It Is Being Served At A North Carolina Restaurant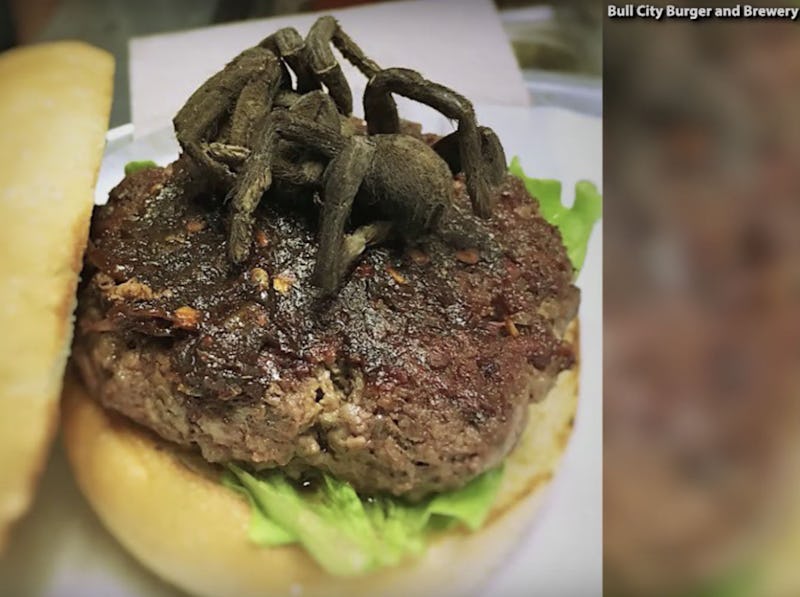 Bull City Burger and Brewery
If you're in search of a food item that will make you a more adventurous eater (and if you don't have arachnophobia), you're in luck: a restaurant in North Carolina is serving a tarantula burger during the month of April. As someone who has arachnophobia, this is probably not the best dinner option for me — but if you're cool with spiders and down to try something new, you should make your way over to this restaurant ASAP.
The tarantula burger in question is being served at a restaurant called Bull City Burger and Brewery in Durham, North Carolina. The restaurant is currently celebrating Exotic Meat Month, which, according to their website is "a chance to experience tastes that other cultures enjoy every day. It is a chance to learn about new flavors and increase your culture awareness. It's also fun!" Exotic Meat Month also includes items like python, ostrich, reindeer, elk, and bugs, all of which are common delicacies in different cultures around the world.
There is one catch, however, if you do want to eat this tarantula burger. You see, you can't just walk into the restaurant, order a tarantula burger, and have it delivered to you: you actually have to enter a raffle to have the chance to eat one, and then you have to win the challenge to get one. This place is really making customers work for their tarantula burgers — it's basically a limited edition food item, because according to The Huffington Post, the restaurant only ordered a few for this dish.
Here's how it works: during the month of April — through Apr. 29 — you can go into the restaurant to sign up for the Tarantula Raffle. Each day while supplies last, the restaurant will draw a raffle ticket and post the winning number on Facebook, Twitter, and their website. If your raffle ticket is drawn, you have two days to call the restaurant and speak with a manager, and you'll then arrange a date within seven days of your drawing to come in to purchase the burger. If you eat the entire thing, you get a limited edition Tarantula Challenge t-shirt and you get your photo taken "for social media game and glory." If you do not call within two days, you lose your chance at this burger.
The Tarantula Burger is a pasture-raised NC beef burger topped with Gruyère cheese, spicy chili sauce, and of course, an oven-roasted tarantula. The burger is served with a side of Dirty Fries, and will set you back $30.
If you read this and thought, "I need that burger in my life," then you better enter the Tarantula Raffle ASAP — apparently, the restaurant only purchased 18 zebra tarantulas for this challenge, and when they run out, the challenge is over. Four people have already completed the challenge, so there are about 14 left now. They're actually going kind of quick, so if you're interested, it's worth pouncing on the opportunity now!
If you're curious about what it tastes like, whether you want to eat it or not, you aren't alone. In fact, the restaurant even let Twitter users know what to expect:
One girl tweeted that she ate it, and each bite does, indeed, taste differently than the last:
Some Twitter users felt the same way I do, which is pretty much proof that arachnophobia is an extremely common phobia to suffer from:
Of course, if trying new things is up your alley, this burger order is pretty much the perfect thing to give a shot — that is, if you're lucky enough to win the restaurant's daily raffle. Good luck!