A Teacher With A Gun Was Just Arrested In Georgia & Twitter Noticed The Irony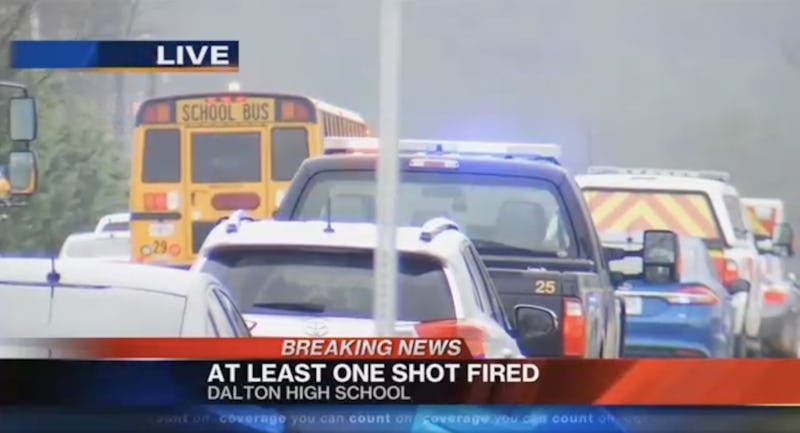 WRCB
As students returned to their classrooms Wednesday at Marjory Stoneman Douglas High School in Parkland, Florida, students at a high school in Georgia were evacuated following reports that shots had been fired on campus. A teacher with a gun was arrested by police after he barricaded himself inside a classroom and fired at least one shot on the Dalton High School campus, according to law enforcement officials. The incident came just days after President Trump called for arming teachers as a means of preventing school shootings, and a number of social media users wasted no time in pointing out the irony of the situation in Dalton.
Dalton police responded to a report of shots fired at the high school Wednesday morning. "At the time, there is a barricaded subject in a classroom," Dalton Police said in an update posted to Facebook. "Investigators believe it is a teacher." According to police, students were evacuated and the school was put on lock down with only one minor injury — an ankle injury sustained during the evacuation — reported.
Police later updated their social media accounts to say the unnamed suspect had been taken into custody. According to WRCB reporter Megan Roberts, police said the suspect is a teacher who was in possession of a handgun, had fired at least one shot on campus, and surrendered to police within 30 to 45 minutes. It's unclear why the teacher was armed, why he barricaded himself in his classroom, or why he allegedly fired his gun. According to Roberts, police have said the teacher "did not want to involve students."
The incident comes exactly two weeks after a former student opened fire at Stoneman Douglas, killing 17 people. It also comes amid a fevered debate over gun control, school safety, and the possibility of arming teachers. Shortly after the Parkland school shooting, President Trump called for arming teachers to deter potential school shooters. "Look at the possibility of giving concealed guns to gun adept teachers with military or special training experience — only the best," the president said in a tweet. "A 'gun free' school is a magnet for bad people. ATTACKS WOULD END!" the president said in a later tweet. "Highly trained, gun adept, teachers/coaches would solve the problem instantly, before police arrive. GREAT DETERRENT!"
It's worth noting that Congress designated schools as gun-free zones in 1990. The Gun-Free School Zone Act makes it a crime to possess or discharge a firearm of any kind in a school zone, with very few exceptions. It's also worth noting that the idea of arming school staff and teachers comes from the National Rifle Association (NRA).
In yet another tweet, Trump argued that "if a potential 'sicko shooter' knows that a school has a large number of very weapons talented teachers (and others) who will be instantly shooting, the sicko will NEVER attack that school." Trump again echoed his claim that armed teachers would "solve" the "problem" of school shootings. "Must be offensive, defense alone won't work!"
Yet Trump isn't the only one to support the idea of armed teachers on school campuses. Budget committees for Florida's Republican-controlled House and Senate approved packages of bills on Tuesday that, if passed, would set aside $67 million in funding for a voluntary "marshal program." Under that program, teachers and administrative staff could train to carry a concealed weapon on campus and in the classroom.
Still, a number of people have opposed the idea of putting more guns in schools, including parents and students at Stoneman Douglas high school. A number of Twitter users were quick to note how troubling the story out of Dalton High School was, considering the current debate around gun control.