Get Your Timelines & Deadly Cyborgs Straight With This Terminator Franchise Recap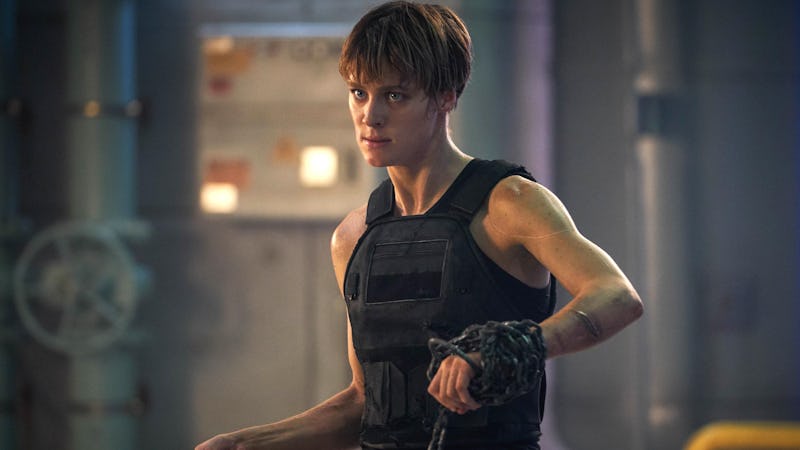 20th Century Fox
Well, he said he'd be back. Once again, the threat of A.I. looms, and humanity's only hope must be protected from killer cyborgs. Yet, proving that time is truly cyclical, Terminator: Dark Fate takes the series back to its original Terminator premise without retreading Sarah Connor's story. Before the latest in the franchise hits theaters Nov. 1, here's a full Terminator movies recap to get all those twisting timelines in some kind of order.
For over 20 years, the Terminator franchise has dangled a cataclysmic near-future where nigh-indestructible machines work to eradicate humanity before our very eyes, yet facial technology only recently reached a point where de-aged star Arnold Schwarzenegger rose out of the uncanny valley. Luckily, Dark Fate chooses to embrace aging as part of its plot. Both Sarah Connor (Linda Hamilton) and Arnie's T-800 appear at their current age, having lived to present-day in a timeline where Judgment Day was averted, but another danger is rising.
Alas, Terminator didn't predict the real danger of A.I. — it assumed that tangible machines would hit us with a bang, when the reality is that artificial intelligence computing has slow-boiled us with a whimper. A.I. has integrated itself into our daily lives in ways that appear convenient, like predictive text filling or chatbots answering common questions. They certainly help save time. But as we come to rely on something so heavily, A.I. blind spots can have some terrible real-world consequences.
The Terminator series is almost a comforting throwback to a time when we feared that our automated issues would be tangible, human-shaped exoskeletons coming to kill us. Even within the series, machines morphed into the real danger — emulating and emphasizing humans, including their biases (which is part of the reason so much sci-fi looks the same as it did back in the '70s and '80s). It only seems fitting that Dark Fate features an cyber-enhanced human assassin. Perhaps fate really is what we make it.