This Texas Bill Wants To Help Free Sex Trafficking Survivors Who Are In Prison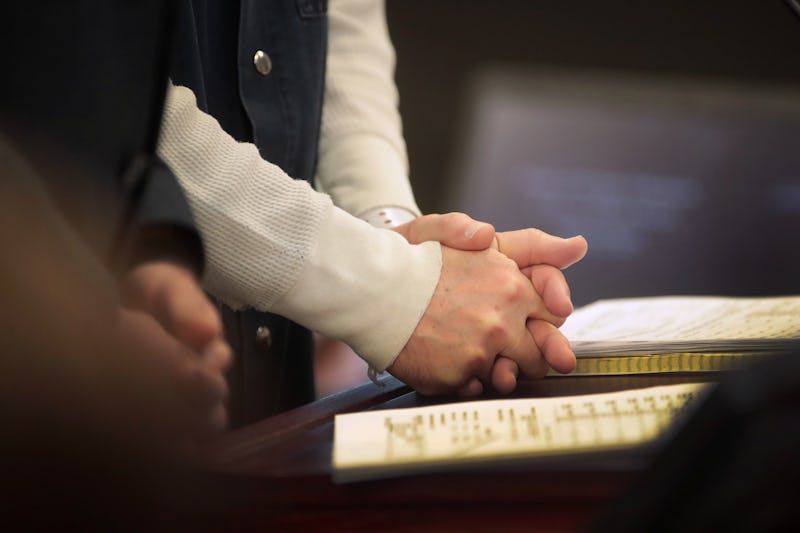 Scott Olson/Getty Images News/Getty Images
A piece of legislation, which passed the Lone Star State's legislature Thursday, could become a source of reprieve for the survivors of sex trafficking. Under this Texas bill, sex trafficking survivors who have been accused of committing crimes "while under duress or coercion" from their abuser will have a better opportunity at receiving clemency, its official text reads.
If successfully enacted, the bill could give trafficking survivors a new lease on life. According to the bill's official text, trafficking survivors will be able to submit a clemency application. Then, a group of licensed social workers, behavioral specialists, Department of State Health Services representatives, and other experts will look into the application and provide counsel to the Texas Board of Pardon and Paroles.
Under the current system, only the board reviews clemency applications, which includes former law enforcement authorities. HuffPost noted that they may not be fully equipped to understand the nuance of such cases without proper training in sexual trauma, domestic violence, and sex trafficking.
One of the people who advocated for the introduction of this Texas bill, Elizabeth Henneke, laid out the power imbalance between a sex trafficking victim and the abuser, according to HuffPost. Henneke, who is the executive director of the Lone Star Justice Alliance in Texas, said, "When an individual has the power to sell your body in order to provide you with basic necessities, he is your trafficker." She added that "it doesn't stop because in that moment he is not asking you to sell sex [but] asking you to rob someone."
It's worth noting here that the bill also mentions that it would create better clemency opportunities for the survivors of domestic violence. For those who may have committed violence in order to protect themselves or a loved one from domestic abuse, the bill offers some hope.
In April, according to KSAT, Cathy Marston spoke about the importance of the legislation. Marston, who founded the nonprofit center Free Battered Texas Women, told KSAT, "I had to defend myself against an abusive ex-boyfriend in 2004, and I was arrested."
"If you've defended yourself or defended a child, a third party under imminent harm, you're not supposed to have been arrested in the first place," Marston told the outlet that month.
With an improved clemency application process, survivors could have a better chance at being heard in the state's criminal justice system. In addition to social workers and behavioral specialists, the panel would also include a formerly incarcerated survivor.
That kind of personal awareness of survivors' circumstances could help in fairly reviewing their request for clemency. Without that kind of informed opinion, the state's board may not help but harm the survivor, Marston told KSAT. "All they see is the type of charge without the facts that go with that, so you really have to have people who are experienced," she said.
Co-author of the legislation, Texas Democratic Rep. Senfronia Thompson told HuffPost how crucial the bill could be for survivors. "It could give them the opportunity to work," Thompson said. "It could give them an opportunity at life."
If enacted, the bill will take effect on Sept. 1 this year.