This Woman Says No One Told Her She Couldn't Vote In 2016. Now, She's Going To Prison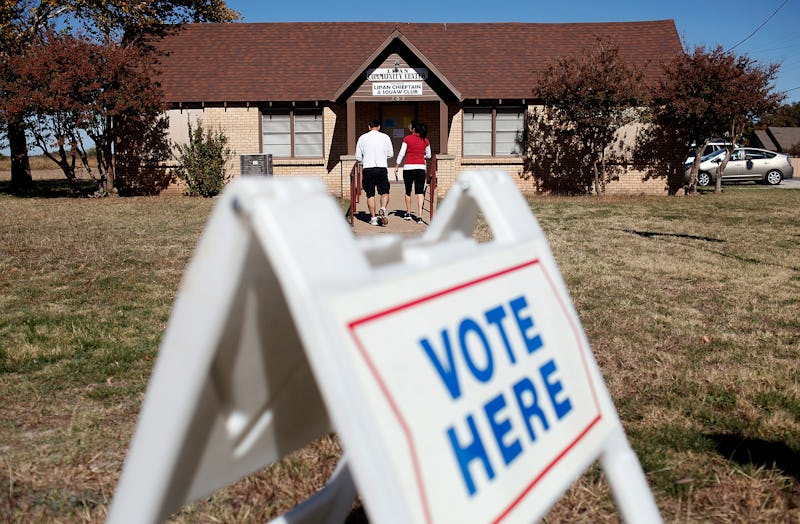 Tom Pennington/Getty Images News/Getty Images
Texas lawmakers have long justified their attempts to pass controversial voter ID laws with claims of rampant voter fraud — despite an overwhelming lack of evidence to back up that claim. And in recent years, the state has moved to crack down on what few cases of voter fraud emerge. Recently, a Texas woman was sentenced to prison for voting illegally, although she claims it was an honest mistake.
On Thursday, Crystal Mason was convicted of casting an illegal provisional ballot during the 2016 presidential election. A district judge in Texas sentenced her to five years in prison. The 43-year-old said she'd been encouraged to participate in the election by her mother. But under Texas state law, Mason, who was on community supervision for a 2011 tax fraud conviction at the time, wasn't actually eligible to vote. State law states convicted felons are prohibited from voting in Texas until they have served their full sentence, including any time on supervised release.
However, Mason claims no one — not her probation officer, not the election workers, not the judge who convicted her of tax fraud years earlier — ever told her she was now unable to vote, according to The Dallas Morning News. Moreover, had she known, Mason said she'd never have attempted to cast a vote in the first place.
"I was happy enough to come home and see my daughter graduate, Mason said, as quoted by The Fort Worth Star-Telegram. "My son is about to graduate. Why would I jeopardize that? Not to vote. ... I didn't even want to go vote."
But prosecutors alleged Mason had to have known she was ineligible to vote as she signed an affidavit listing the requirements for casting a provisional ballot. When Mason found her name was not on the list of registered voters at her polling place she was reportedly offered a provisional ballot by an election judge after she signed an affidavit, the Washington Post has reported. That affidavit noted, among other things, that felons are prohibited from voting until their full sentence is served. Mason maintained she did not read the affidavit carefully as she was being helped by an election official.
Yet Mason isn't the only woman to have been convicted of voter fraud and handed a prison sentence in Texas. In 2017, Rosa Maria Ortega, a green card holder and legal U.S. resident, was convicted of illegally casting ballots in the 2012 general election and the 2014 Republican primary runoff. She was sentenced to eight years in prison. According to the Star-Telegram, Ortega said she'd been confused about the rights granted to legal permanent residents like herself and U.S. citizens.
But some people found to have cast illegal ballots aren't getting hit with prison sentences, or even charges, despite evidence they knowingly committed voter fraud. Last year, a state prosecutor in North Carolina refused to bring charges of voter fraud against a woman who admitted to illegally casting a vote for Donald Trump in an effort to fulfill her late mother's last wish, the Charlotte Observer reported.
In August, a Iowa woman who pleaded guilty to attempting to cast two votes for Trump was given probation and a fine. The district judge overseeing that case agreed to expunge the woman's conviction from her record once her probation was over, the Associated Press reported. The woman claimed she'd tried to vote twice because she was afraid her first vote would be changed as Trump had said the election was "rigged."
While a number of conservative lawmakers in Texas and across the nation — including President Trump — have claimed voter fraud is rampant, research shows such fraud is actually quite rare. "Putting rhetoric aside to look at the facts makes [it] clear that fraud by voters at the polls is vanishingly rare, and does not happen on a scale even close to that necessary to 'rig' an election," the Brennan Center For Justice said last year.
Back in Texas, Mason's defense attorney told the Star-Telegram an appeal had already been filed on Mason's behalf.