A Movie Based On The Gripping Thai Cave Rescue Mission Is Already In The Works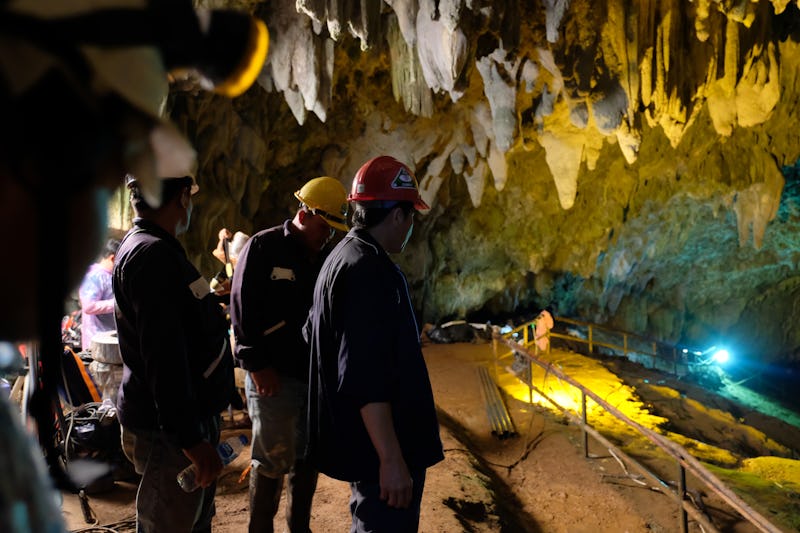 Linh Pham/Getty Images News/Getty Images
For three weeks, the events of the cave rescue operation in Thailand gripped the world. With monsoon storms, the threat of rising floodwater, and trapped children, the situation had all the makings of a potential Hollywood film, and it seems producers couldn't wait to get their hands on it. A Thai cave rescue movie is already in the works, according to Variety, with the news coming the same day that all the boys made it out safely.
Pure Flix Entertainment, an American independent Christian film and television studio based in Scottsdale, Arizona, is seeking the movie rights for the rescue mission to save a boys' soccer team and its coach stuck deep inside a complex cave system. The company produces, distributes, and acquires Christian and family-friendly films, including "God's Not Dead" movies, "Do You Believe?" and "The Case for Christ."
"I could not be more excited; this story has meant so much to me as I followed it," said Pure Flix managing partner Michael Scott, who had traveled to the scene of the flooded cave, according to Variety. "To see all that bravery in the cave and then to get all the divers out has been such a touching event."
"We're here looking at this as a movie that could inspire millions of people around the globe," Scott said. "We're here witnessing the events and gathering some contact information to really tell a story about the entire world coming together to save 13 kids trapped in a cave on the Chinese border."
The soccer team became trapped on June 23 after floodwaters blocked off the path out while they were hiking inside the cave. As the weeks went by and malnutrition crept in, the cave rescue operation became an international effort, with British divers assisting the Thai Navy SEAL team. On Sunday, the first group of boys were extracted successfully. By Tuesday, the 12th boy and his coach were rescued.
Scott, who reportedly lives in Thailand part-time, has been lending a hand to rescue efforts at Chiang Rai. According to Variety, he said the events were particularly moving in part because his wife, who is Thai, grew up with former Sergeant Saman Kunan, the former Thai Navy SEAL who died from a lack of air while lining oxygen canisters along the underwater route to the stranded boys.
And it seems Pure Flix has already started seriously exploring how this movie would take shape. According to The Wall Street Journal, David A.R. White, the production company's co-founder, said that Pure Flix has started reaching out and talking to investors about partnering on a movie as well as potential actors to star in it.
"I think this film is such an inspiring story," Scott said, according to CNBC. "All the stuff that happened on the Thai side, you've got the international divers' teams – I think it will attract some really incredible screenwriters, directors and actors to the project."
White also said Pure Flix has received external interest from some possible partners, including Thai investors specializing in faith-based stories, though he noted that "at the same time, these stories still have to be entertaining and moving."
On social media, some Twitter users responded skeptically to news of the movie treatment, anticipating a Hollywood whitewashing of the story.
Many joked about actors and actresses who had previously played roles written for Asian characters.
And though there was no doubt the story could make for a compelling movie, casting choices were repeatedly brought up by Twitter users.
"People are interested in true stories," Scott said, per CNBC. "And now that we know that the boys are out, — what an incredible story. I think this is something that everyone can watch and enjoy and be inspired by."
The non-stop news coverage and social media chatter showed that the interest is certainly there. But whether that interest carries through to box office sales depends on how producers handle the storytelling going forward.