A Trans Woman's Murder Was Ruled A Hate Crime For The First Time Ever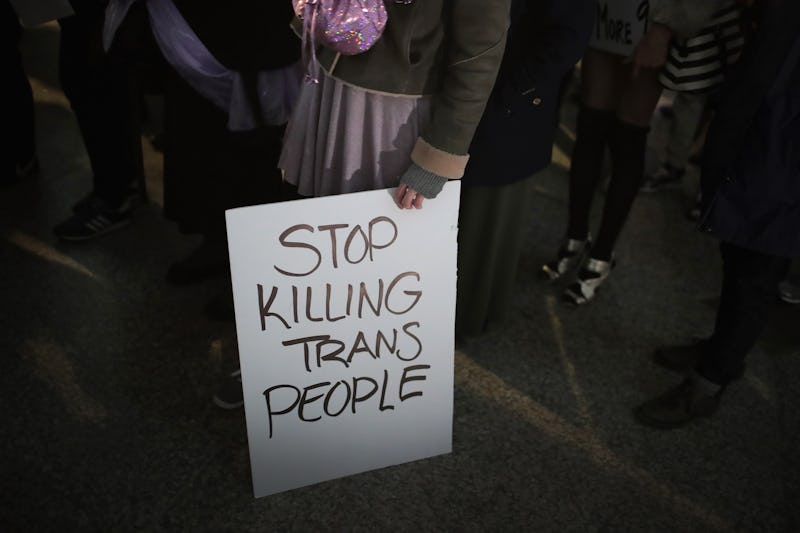 Scott Olson/Getty Images News/Getty Images
Justice was served in the murder case of Mercedes Williamson, a transgender woman who was killed by a former boyfriend. Joshua Vallum had murdered Williamson, then only 17, in 2015, and on Monday, he was sentenced to 49 years in prison. This marks the first time a person in the United States has been sentenced with a hate crime against a transgender person.
Attorney General Jeff Sessions released a statement in support of the verdict. "Today's sentencing reflects the importance of holding individuals accountable when they commit violent acts against transgender individuals," it reads. "The Justice Department will continue its efforts to vindicate the rights of those individuals who are affected by bias motivated crimes."
Though the news of Vallum's sentence can be seen as a hopeful sign for the future of transgender rights, some advocates have commented that this case only highlights how far the United States still has to go. Mississippi and 19 other states do not include sexual orientation or gender identity as qualifiers for hate crimes.
Rob Hill, who serves as the state director for Mississippi — where the murder took place — for the Human Rights Campaign said, "There is an epidemic of violence against transgender people, and particularly women of color, across the country, and yet today is the first time a perpetrator will be sentenced under federal hate crimes charges for killing a transgender person because that crime crossed a state line."
There have so far been at least eight reported murders of trans women in the United States in 2017 — all of them women of color, with seven being black and one being Native American.
Vallum, a member of the Latin Kings gang, claims to have killed Williamson out of fear that other members of the gang would discover that he had once dated a transgender woman. Though he expressed regret for having murdered her in an interview with the Sun Herald, Vallum mostly seems to be disappointed with the way things turned out for him.
"If there was one thing that I could take back I wish that would be it," he said. "I would even trade places with Mercedes so that I wouldn't have to go through all this that I'm having to go through now. It's just not worth it."
Hopefully, this Mississippi ruling marks the beginning of the country's dedication to protecting the lives of those in the transgender community.