'A United Kingdom' Shows How Marginalized People…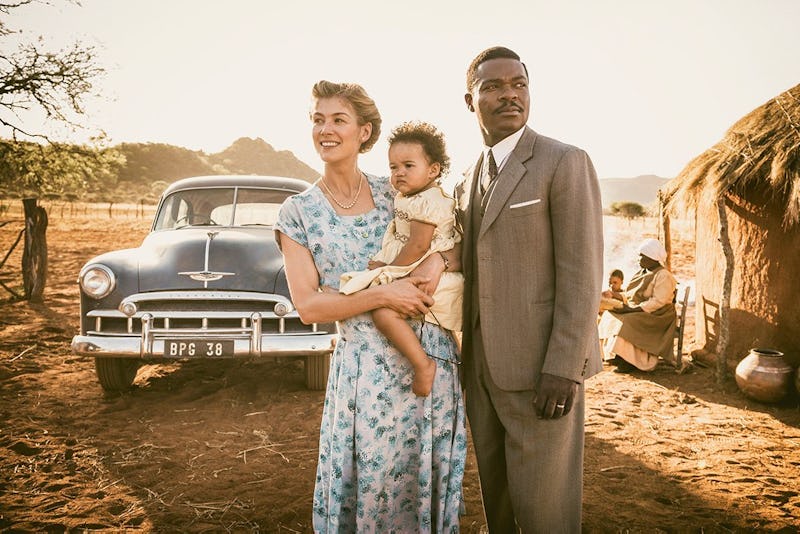 Fox Searchlight Pictures
A true story of love in the face of cultural apartheid and political division between the UK and Botswana, the new film A United Kingdom struck a chord with me when I saw an early screening. The film powerfully addresses the idea of how marginalized groups are frequently forced to be the "bigger people" when it comes to injustice, as shown by the significant difference in the amount of time it takes the Botswana community to accept the protagonists' interracial marriage compared to the amount of time taken by the British.
A United Kingdom follows the interracial couple of Ruth Williams (Rosamund Pike), a clerk from Blackheath, London, and Seretse Khama (David Oyelowo), a law student, in 1947. At the time of falling for Seretse, Ruth doesn't know that he is an African king soon to be the leader of the Bamangwato people of Bechuanaland (later Botswana), the British protectorate to which he is to return on completion of his university studies.
After Seretse proposes and explains to Ruth his true identity, the two get married and imagine a life together, but society's racism forces them to confront ugly truths about how their relationship is viewed by the world. They encounter substantial resistance from the government due to both the UK and Botswana's stances on miscegenation. When the news of their union reaches Seretse's country, whose National party is embracing apartheid law, British authorities move to forbid and undermine the marriage.
Both Ruth and Seretse experience heated backlash from their countries, but watching the film, I couldn't help but notice the drastic difference in the time it takes for the duo to gain acceptance in the African community compared to in the UK. The Botswana people found it in their hearts to get over their humps quicker than the people of the United Kingdom, and I believe it's because marginalized people are more prone to forgive and understand other marginalized people.
Throughout history, Black people, for instance, have been far more forgiving of racist culture than they've needed to be. Whenever subjects like slavery and Jim Crow are brought up to Black people, we are often told to "get over it, it was a long time ago" or hear the statement, "why does everything have to be about slavery?" Quite often, we have to make the choice of sacrificing our voices for the sake of keeping a non-confrontational environment.
Marginalized groups are expected to be forgiving to those who've hated, killed them, and made them second class citizens. Often, there seems to be this unspoken obligation for minorities to swallow systematic hurt, relieve the mess of racism, or educate ourselves about the "privilege" of resources brought by the oppressors. People of color are asked to do this because, all too frequently, it seems as though forgiving and accepting is the only way to remove the constraints of systems built against us, not for us, and not deal with increased oppression.
A United Kingdom powerfully shows this to be true, but thankfully, both Ruth and Seretse are smart enough to recognize what is happening and deal with it accordingly. But it's saddening to see how, as the film shows, marginalized people are often forced to be forgiving, even when their circumstances are working against them.