A New Lawsuit Claims USA Diving Ignored Sexual Abuse Of Divers For Years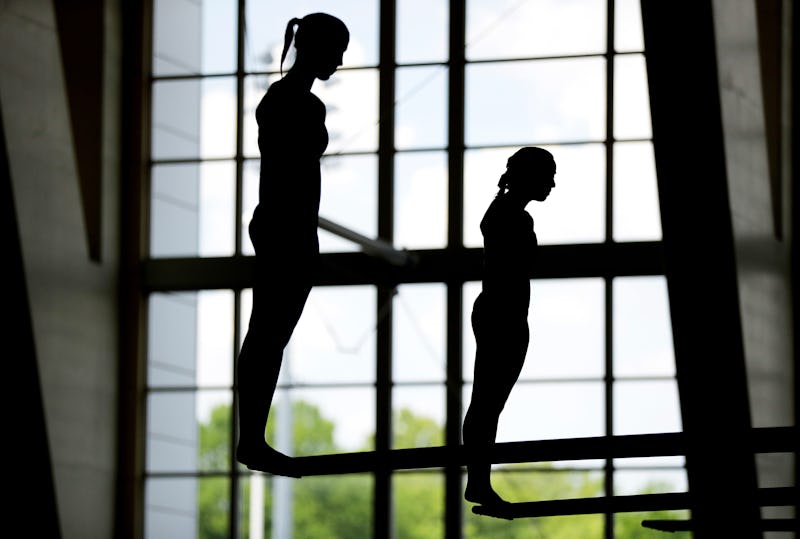 AP/Shutterstock
Following major revelations about the enabling of sexual abuse at the highest levels of gymnastics and swimming in team USA sports, a new lawsuit alleges that USA Diving also ignored sexual abuse. This, according to a lawsuit filed in a federal court in Indiana, allowed one particular coach to habitually rape two of his female divers.
According to Deadspin, the defendants in the case are USA Diving, the Diving Club at Ohio State University, and Will Bohonyi, the coach who is alleged to have repeatedly forced himself upon two divers. John Little, the lawyer who filed the case last week, said in an interview with IndyStar that "this is just the beginning for USA Diving."
USA Diving issued a statement to IndyStar, saying, "Providing a safe environment for our members is of tremendous importance to USA Diving, and we take these matters very seriously. USA Diving is unable to comment further at this time."
Little told Indy Star he believed this case was "worse than gymnastics, worse than swimming," and that there are other divers who have come forward with complaints of sexual abuse.
For anyone who followed the cases surrounding USA Swimming or USA Gymnastics, this case will be a familiar one.
In 2016, IndyStar launched an investigation that led to the revelation that a USA Gymnastics team doctor had been molesting elite gymnasts under the guise of providing treatment. Numerous Olympians, including Simone Biles, Gabby Douglas, McKayla Maroney, Aly Raisman and Jordyn Wieber, all spoke out about their experiences, forcing the sport to begin reforming itself.
The case with USA Swimming, then, began in May, when swimmer Ariana Kukors Smith filed a lawsuit alleging that USA Swimming had failed to react to protect her after she was sexual abused by a coach, Sean Hutchison, when she was a minor. The coach, Smith claimed, used his position of power over her to sexually abuse her, and USA Swimming protected him rather than protecting her. CNN reported at the time that USA Swimming and Hutchinson had not commented on the lawsuit, and Hutchinson had previously denied all wrongdoing.
The story told in the lawsuit against USA Diving is similar particularly to the swimming case, in that the coach, Bohonyi, coerced the divers into performing sexual services for him because of his position.
"Bohonyi demanded sexual services because he was her diving coach and could coerce [the victim] into sexually servicing him," the lawsuit reads.
"Bohonyi used his position of authority and control over [the victim] as a USA Diving coach to demand and obtain daily sexual services," the lawsuit continues. "Bohonyi was extremely aggressive in making these demands and never took 'no' as an answer from [the victim]. She was not free to refuse her sexual services and he forced her to provide him sexual services every time he demanded them."
According to Deadspin, the lawsuit further alleges that Bohonyi had a forced sexual relationship with another diver when he was a coach at the Ohio State Diving Club, which began when the diver was 16 years old. When another diver reported the abuse of her teammate at a meet, the team sent the abused diver home rather than punishing Bohonyi, the lawsuit claims. Bohonyi then allegedly continued to abuse the diver after he was fired in in 2014, manipulating her "into sexual acts by saying that she 'owed him this' and that she had lost him his job."
USA Diving eventually classified Bohonyi as "permanently ineligible" for coaching, but Deadspin writes that he continued to coach female divers under the age of 18 until at least 2017. The overarching issue in the case, like it was with USA Swimming and USA Gymnastics, is that coaches have control over whether their divers progress onward to the elite levels of the sport — which provides prime ground for manipulation on the part of abusers, as Deadspin writes. As this lawsuit makes it through the courts, more on this case will surely come out.