White Nationalists Want To Spoil A Women's March In Tennessee This Weekend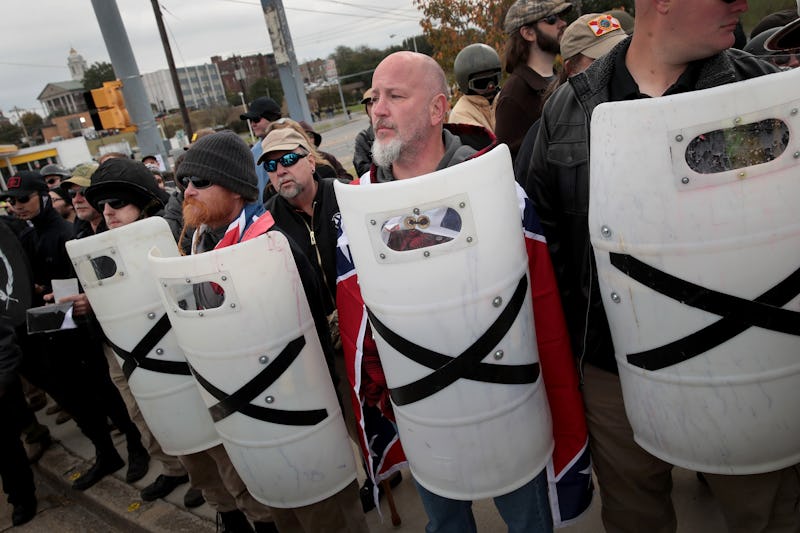 Scott Olson/Getty Images News/Getty Images
As human rights groups and advocates reunite this weekend for the anniversary of the Women's March, a squad of white nationalists is planning to crash some of the celebrations. The Traditionalist Worker Party plans to protest the Women's March in Knoxville, Tennessee, founder Matthew Heimbach announced on the party's website. The Southern Poverty Law Center describes the party "as a white nationalist group that advocates for racially pure nations and communities and blames Jews for many of the world's problems."
"We call all local Party comrades to assemble in Knoxville to take a stand for life, against the hordes of those who would empty the cradle of our nation, and to march for the lives of our unborn," Heimbach wrote in a post titled "Pussyhats and Pitchforks." Reports of this planned protest caused Women's March organizers in Knoxville to step up security and to change the original route for Sunday's march.
This precaution could be a response to what happened in Charlottesville, Virginia last August, when a clash between white supremacists and counter-protestors turned violent at a far-right rally. A man slammed his car into a cluster of anti-facist protestors, killing 32-year-old Heather Heyer and injuring at least 19 others. The Unite the Right rally in Charlottesville was one of the largest gatherings of white nationalists this decade, followed by an October White Lives Matter rally in Shelbyville, Tennessee where more than 200 demonstrators gathered.
Along with the Women's March protest, Heimback's group plans to join the March for Life, an anti-abortion march that's also scheduled to take place on Sunday in Knoxville. The Traditionalist Worker Party may see an ally in Tennessee Right to Life, the group spearheading the anti-abortion march, but the feeling isn't mutual: Stacy Dunn, director of the Knox County chapter of Tennessee Right to Life, told USA Today that her group doesn't condone white supremacist beliefs. The organization is also working with Knoxville police on a safety plan, she said.
The atmosphere of the Women's March is meant to be positive and upbeat, Kimberly Peterson, a spokeswoman for the Women's March Coalition of East Tennessee, told USA Today. "The focus is going to be on celebrating the success of the last year, not to be a negative and angry fest, complaining and anti-Trump and that kind of thing," she said. "It's mainly acknowledging that we have more work to do, but even in a tough political climate we got a lot of good things done."
Last year, the Women's March on Washington took place the day after the inauguration of President Trump as a direct protest to his positions, which include curtailing reproductive rights and defunding family health services. Trump's history of making sexist, degrading comments about women probably didn't help; neither do the accusations of sexual assault. Trump has strongly denied all allegations of sexual assault, harassment, and misconduct.
Collectively, the Women's March may have been the biggest day of demonstrations in American history. At least 4.2 million people gathered last year in more than 600 U.S. cities, according to political scientists. An additional 200 Women's Marches took place outside the United States. And the crowd was bigger for the Women's March on Washington than for Trump's actual inauguration.
This weekend looks to be filled with protest, too: Trump joined the March for Life in D.C. via satellite on Friday, making him the first sitting president to address the anti-abortion rally via live video. The president's endorsement for that group is yet another action on his part that won't sit well with Women's March participants who support reproductive rights.