Thousand Oaks Residents Are Now Dealing With A Devastating Wildfire After The Shooting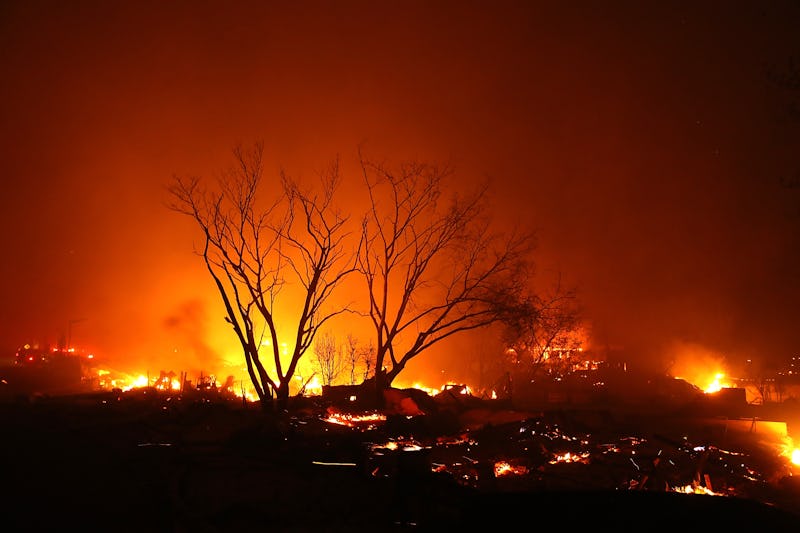 Justin Sullivan/Getty Images News/Getty Images
Less than 24 hours after a gunman killed 12 people at a country music bar in Thousand Oaks, California, the city faced another threat: a wildfire. According to CNN, two wildfires have developed just miles from Thousand Oaks' Borderline Bar & Grill, where Wednesday night's mass shooting took place. These fires are part of a fast-moving series of wildfires that have resulted in thousands of evacuations in both Northern and Southern California, The Weather Channel reported.
Per NPR, the Woolsey Fire developed on Thursday afternoon, just a half-hour drive away from the Borderline Bar & Grill. As of Friday afternoon, the Woolsey Fire had spread across more than 14,000 acres in Los Angeles and Ventura counties, and is continuing to grow.
According to ABC7, at least 88,000 area residents have been evacuated from their homes, and an additional 60,000 residents south of the 101 Freeway are reportedly in the process of evacuating as the fire threatens Malibu. And even before the Woolsey Fire broke out, the Hill Fire raced through parts of Southern California, prompting acting Gov. Gavin Newsom — who on Tuesday won California's gubernatorial election — to declare a state of emergency.
For Thousand Oaks, this has been a week filled with tragedy. In the aftermath of Wednesday night's shooting, the New York Times reported that people rushed to the Thousand Oaks Teen Center, in order to determine whether or not their loved ones had survived. Less than a day later, the teen center served a new purpose — as a fire evacuation center.
Despite the impending threat of a wildfire, hundreds of people attended a vigil in Thousand Oaks on Thursday night in remembrance of mass shooting victims. According to the Los Angeles Times, mourners cried together and played music together, even as they received emergency alerts on their phones warning them about the fires.
"This is just a beginning, many many families are affected," Thousand Oaks Mayor Andy Fox said at the vigil, per the New York Times. "Communities coming together make a difference. We will be strong because we have to be."
The fires in Southern California have been rendered even more severe by the Santa Ana winds, CNN reported, which are fanning the fires and enabling them to spread more quickly. But Los Angeles and Ventura Counties are not alone in facing wildfire threats; in Northern California, a wildfire devastated a 27,000-person town called Paradise, and prompted evacuations in nearby Chico. At least five people were found dead after the fire ravaged Paradise, per CNN.
Lonnie Schrader, a pastor in Thousand Oaks, told the New York Times that his community had to go from recovering from a mass shooting to preparing for a fire in an extremely short amount of time.
"Because it's an emergency, you have to suck it up and do what you can, and you put your emotions on a shelf a little bit to process later," Schrader told the New York Times. "I don't know what in the world is going on."
According to the National Weather Service, dry conditions throughout the day on Friday could spur the fires to cause even more devastation than they already have.