A Plane Made An Emergency Landing After A Woman Found Out Her Husband Was Cheating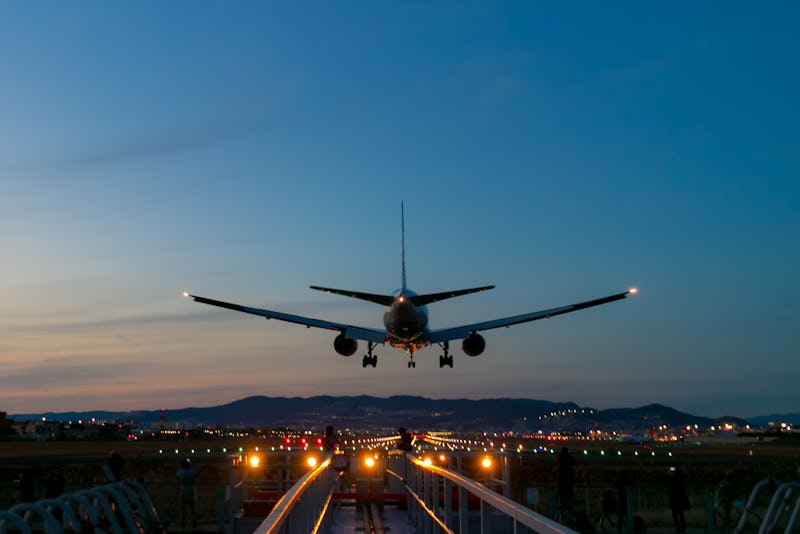 Hikaru/Fotolia
In a stunning display at the intersection of "yes, girl," "go off", and "live your truth," a plane was forced to make an emergency landing because a woman found out her husband was cheating mid-flight, reports The Times Of India. On a Qatar Airlines flight from Doha to Bali, an Iranian woman traveling with her family reportedly used her sleeping husband's finger to unlock his iPhone. Apparently, she suspected he was being unfaithful to her and whatever she discovered when his phone unlocked confirmed her fears.
According to The Times Of India, sources claim the woman had been drinking on the flight and when she made the upsetting discovery, she allegedly became increasingly emotional and combative with both her husband and the flight crew. They apparently tried to deescalate the situation but eventually, the pilot determined that the safest thing to do would be to make an emergency landing in Chennai. The woman, her husband, and their young child were reportedly asked to deplane and then the flight resumed on its way to Bali, says The Times Of India. Fortunately, reports say the airport officials in Chennai were understanding of the woman's emotional state and didn't involve the police or other security. They gave her a chance to regroup and then placed the family on a flight to Kuala Lumpur, where they caught a connecting flight back to Doha.
According to the Times of India, an official from Central Industrial Security Force (the central armed police force in India) confirmed the story in a statement:
"On November 5, at about 10 am, Qatar Airways flight QR-962 (Doha-Bali) was diverted to Chennai. A lady along with her husband and a child, all Iranian nationals, were offloaded by Qatar Airline as the lady passenger (who was intoxicated) misbehaved with crew members inflight. They were sent to Kuala Lumpur by Batik Air flight 6019 for further travel to Doha."
Qatar Airlines issued another statement saying, "In respect of passenger privacy we do not comment on individual cases."
These are pretty limited details and none of them come from the woman herself, but it seems noteworthy that everyone was apparently pretty empathetic to her situation and no harsher actions were taken. If someone in the United States forced a plane to make an emergency landing because of drunken, aggressive behavior, it's virtually impossible to imagine them walking away from it in anything other than handcuffs. It feels like a strangely impressive feat that the woman was reportedly treated with compassion and understanding, given a chance to calm down, and then was accommodated and sent on her way home with her family.
Earlier this year, a family in the United States was forced off their JetBlue Airlines flight after their fussy toddler kicked the seat of the passenger sitting in front of him. Broward County sheriff's deputies were called to the scene, but reportedly only stayed to "keep the peace." The family claimed the passenger in the next row uttered a derogatory slur on their flight from Fort Lauderdale to New York and said, "Why don't you tie your baby's feet down?" while the airline claimed that the family escalated the situation into "a verbal altercation that included physical threats and profanities." (It's unclear how suggesting a woman tie up her baby isn't a physical threat, but sure.)
The family eventually hired a lawyer who said the airline's version of events was "false and defamatory," adding that the family had grounds to sue for libel, slander, breach of contract, and intentional infliction of emotional distress.
Although the power admittedly rests with airlines to remove any passengers it wants to for any reason, it seems like treating stressed out passengers a little more gently would make things easier on everyone.