This Woman's Viral Tweets About Giving Birth In A Hotel Bathroom Will Make Your Jaw Drop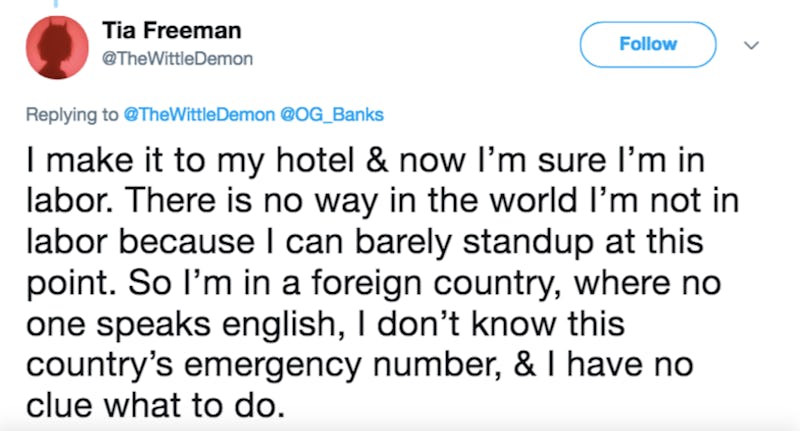 TheWIttleDemon/Twitter
Lest you think women aren't as strong as men, they have an amazing ability to drop babies out of their insides in the strangest places. I've heard tell of women giving birth in cabs, in apartment lobbies (hi Seth and Alexi Meyers!), and inside a post office. And now, I present the harrowing tale of a woman who delivered her own baby inside a hotel room in Istanbul on her way to a vacation in Germany. The next day, SHE GOT ON ANOTHER FLIGHT. OH MY GOD. Apologies in advance for the night terrors, though thankfully both baby and mama seem to be doing fine.
This story of resilience comes courtesy of one Tia Freeman, a Virginia resident and Twitter user. It appears, according to Freeman's viral tweet thread this week, that several nightmare scenarios led to this agonizing birth situation. For one thing, Freeman didn't actually realize she was pregnant until her third trimester, since the birth control she was using didn't have her on a regular cycle and she didn't gain much weight. NIGHTMARE #1. Then, since Freeman had already booked an international trip to Germany, she decided to go on it anyway, since the baby's due date was supposed to be after her trip. Unfortunately, babies aren't always on time, so enter NIGHTMARE #2.
"So everything is going well no biggie but dawg this is a 14hr flight & there was a complimentary meal but everything had meat in it & you know I'm a vegetarian so I was like I can't eat this but 14 hrs was too long to wait so I decided to eat the salmon hoping I wouldn't get sick," Freeman tweeted. "No I don't know if it was he salmon, the flight, or it was just my time but out of no where I start cramping up. I've still got like an hour left before we land. I just knew I had food poisoning. Y'all I was HURT."
OH GOD I KNOW WHAT'S NEXT.
"I'm like oooooh sh*t where are these cramps coming from? You know what I'll just go to sleep. Sleep cures everything right," she tweeted.
NOT BABIES, IT DOESN'T CURE BABIES, OH GOD.
You know when you have to go to the bathroom sooooooo badly, but you're at least 10 blocks from home and you don't know if any bars or restaurants on the way will let you stop in without buying something and you are STRONGLY considering going between cars, but are paranoid someone will see you and you'll get arrested and be put on the sex offender list? This is so much worse.
I AM SCREAMING I AM SCREAMING COME SLAP ME I AM SCREAMING.
YouTube taught me how to fix my radiator and use a Keurig. AND IT TAUGHT THIS WOMAN HOW TO BIRTH A BABY FROM HER VAGINA.
!!!!!!!!!!!!!!!!!!!!
(Update: still screaming)
(Screaming louder)
(Screaming so loud I think my landlord is about to call the police)
SHE DID IT.
OH MY GOD BUT THE PLACENTA.
AND THE UMBILICAL CORD.
Lest you think Freeman's story ends here, remember that she is in Istanbul and booked on a flight to Germany. So she took her brand new infant, clad in a makeshift outfit, to the airport, where workers called in customs, cops, a doctor and a nurse to ensure that the baby was hers. Once it was clear that, indeed, this woman was a superhero who popped out her own infant in a hotel bathtub, she was cleared to go, though not before the Turkish press descended.
But she managed to get over to the U.S. consulate in Istanbul, where she applied for her son's birth certificate and passport, and was taken to a hospital, where doctors declared her and her baby healthy. Turkish Airlines also paid for her two-week extended stay in Istanbul, since she couldn't get on a plane right away. (She did, unfortunately, get sent a hefty hospital bill soon after the birth, if you can afford to donate something to her GoFundMe). But she's back in the States now, baby in tow, and he is cute as heck:
Turns out, Freeman's not just mama-strong—she's serving in the U.S. Air Force. Tia Freeman, you are my hero, and also I am a little afraid of you.