A Women's Group Is Trolling Trump With A New Campaign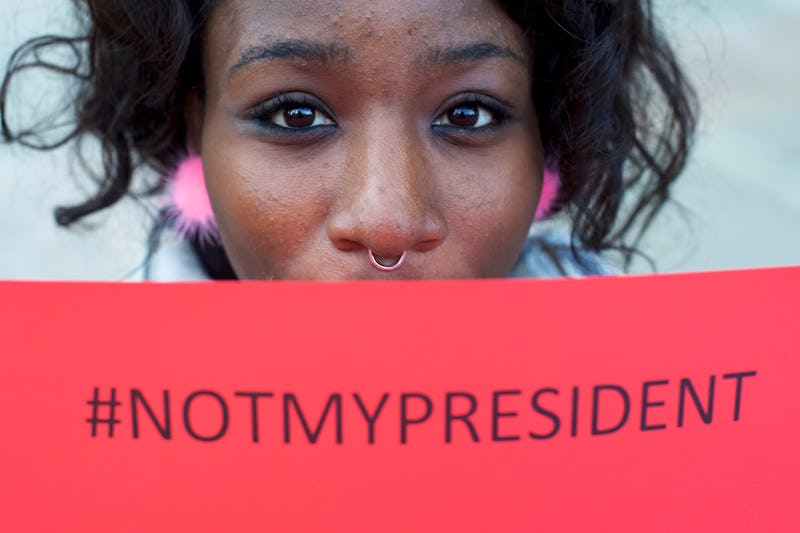 Mark Makela/Getty Images News/Getty Images
One woman's advocacy group is getting creative in sending the president a very clear message about a number of issues. The national women's organization UltraViolet is trolling President Trump with its "More Popular Than Trump" campaign. The advocacy group has commissioned a digital billboard and Snapchat filter to target Trump's New Jersey gold club during the president's weekend visit.
President Trump arrived in Bedminster, New Jersey late Thursday with plans to stay at his Trump National Golf Club through the weekend. In a tweet published Friday, Trump claimed the visit would avoid "causing a big disruption in [New York City" and "also saves country money." But if Trump was looking to avoid the scores of protesters awaiting him in Manhattan, he may have been troubled to find there were some ready to greet him in Bedminster.
"Since Donald Trump is so obsessed with his own ratings and popularity, prioritizing them over issues that actually impact the American people, we could think of no better way of trolling him than surrounding his golf course where he'll vacation all summer with a clear message: America rejects Trump and his agenda," UltraViolet co-founder Shaunna Thomas said in a press release announcing the "More Popular Than Trump" campaign.
The group has sent a truck with a digital billboard that reads, "Abortion Access is more popular than Trump: 70 percent believe women should have access to safe and legal abortions – 42 percent approve of Donald Trump" to circle Bedminster. Visitors to the Trump National Golf Club will also find UltraViolet has commissioned a Snapchat filter with the tagline "abortion access is more popular than Donald Trump" for use at the club. The campaign will also reportedly feature television ads and standing billboards targeting the Bedminster market.
UltraViolet is also urging the U.S. Golf Association (USGA) and the Ladies Professional Golf Association (LPGA) to move their 2017 U.S. Women's Open from Trump's Bedminster golf course. According to Golf.com, a petition the advocacy group launched earlier in the year garnered more than 100,000 signatures in March.
With Gallup reporting Trump's first-quarter job approval rating averages out to be just 41 percent, UltraViolet hasn't had any trouble finding things proven to be more popular than the president. "Among the many things that are more popular than Trump are abortion access, the Affordable Care Act and policies that would guarantee paid family leave for employees more than they support the president," Thomas said.
According to Gallup, Trump's first-quarter approval rating is 14 percentage points below any other president elected during the company's polling history. The numbers must come as a major blow for someone as obsessed with ratings as Trump appears to be.
"After countless weekends vacationing at his many golf clubs, we hope this ad campaign let's Trump know - that even as he hides in Bedminster - he's still not popular," Thomas said.