Watch 'Wrinkle In Time' Star Storm Reid & Director Ava DuVernay Fangirl Over Each Other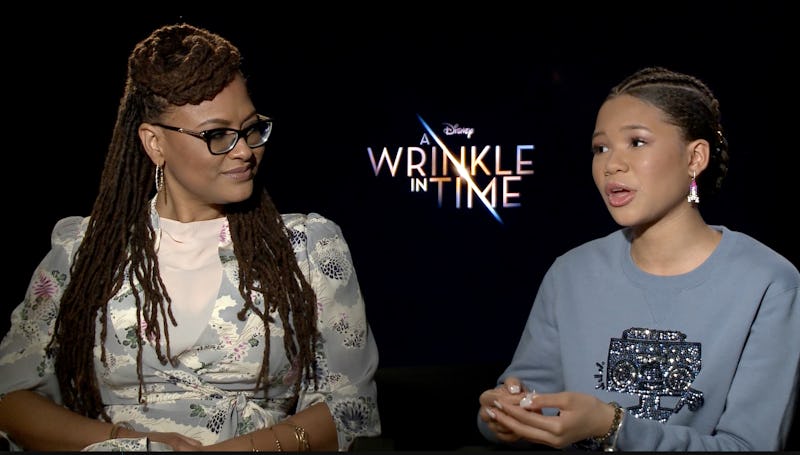 Bustle Cuts/YouTube
Before making history in the entertainment industry, director Ava DuVernay had Oprah has a mentor. Now, she's taking on the mentor role for her young lead actor in A Wrinkle in Time, Storm Reid. Because of this, things are coming full circle within the Wrinkle in Time crew in a way that will certainly tug at fans' heartstrings. Ahead of the film's release on March 9, star Storm Reid and DuVernay opened up about their friendship and what makes it truly unique (video below). Their mutual love and adoration is so precious and super empowering.
It's clear DuVernay's role as a mentor is close to her heart. When we spoke at the film's LA junket, the director explained how her closeness with Reid began. "It was really through getting to know each other," DuVernay says. "I really wanted to know a lot about her early on in the process."
DuVernay says it was 14-year-old Reid's strong work ethic that she admired. The dynamic duo may be over 30 years apart, but their aspirations are totally aligned. DuVernay explains,
"I think the thing that really connected me to Storm is that she's a hard worker and I'm a hard worker. She took this really seriously. I felt like I saw a girl that was like me, who just really cared about things deeply and went after the things that she wanted. I just love her. She's a completely unique person, I've never met anyone like [her]."
And the feelings are apparently completely mutual. Reid says she loved working with DuVernay, so much so, that she's almost got too many good memories of the process to pick a standout one. "I can't really point out which was my favorite moment, because we had the most amazing days together," Reid says. "Just being able to work with her and seeing that she has so much love and passion for what she's doing, on and off the camera."
DuVernay had so much trust in Reid, that she was open to ideas and collaboration when bringing her character Meg to life. Talk about girl power. "To be able to work with her and collaborate with her, she really let me put my creative input into Meg and helping me become Meg and creating Meg," Reid recalls. The two were totally a team, and DuVernay even says she had Reid "write a journal" as her character Meg in the early stages of the process.
"I just had the best time and she's just so talented, so beautiful, so nice," Reid says. In the video (above), you can see that in response, the director grabs the actor's arms in a warm embrace, and says, "I feel the same. I love my Stormy." Their friendship is so sweet and hopefully will lead to more collaborations in the future.
In the video, DuVernay explains how she sees much of herself in Reid, just as Oprah has said she saw herself in the director. In 2016, Oprah recalled first meeting DuVernay to The Hollywood Reporter. "There was an energy about her that came right off the page," she told the publication. "I knew immediately we were going to be friends." Since then, Oprah has produced and co-starred in DuVernay's Oscar-nominated film Selma (2014) and the two continue to work together on the hit OWN show Queen Sugar. In 2017, Oprah told Essence, "She reminds me of myself... it makes me so proud to witness it."
Though DuVernay made history with A Wrinkle in Time as the first black female director to get over a $100 million budget for a film, she doesn't overlook the help she received from mentors like Oprah on her path to success. When speaking with The Hollywood Reporter in 2016, DuVernay credited Oprah for the newfound sense of confidence she had after receiving her support for Selma: "It was the first time I felt very much in command of my craft." In 2016, DuVernay said Oprah taught her how to own her talent. "She taught me that to not have to compromise if a gift... How rare it is to have full support on an artistic vision," she told ABC News.
Now, it seems DuVernay might be a similar figure for Reid. "I actually kind of call her for advice a little bit now," Reid says during our interview. "I don't know what's gonna happen in my future, but I know that she'll be on my speed dial if I need some advice." And DuVernay is all ears: "Whatever it is, give me a call."
Watching these women help each other thrive and succeed is truly inspirational. If only DuVernay was offering her stellar mentorship to the rest of us, too.