Aaron Hernandez Was Found Dead In His Cell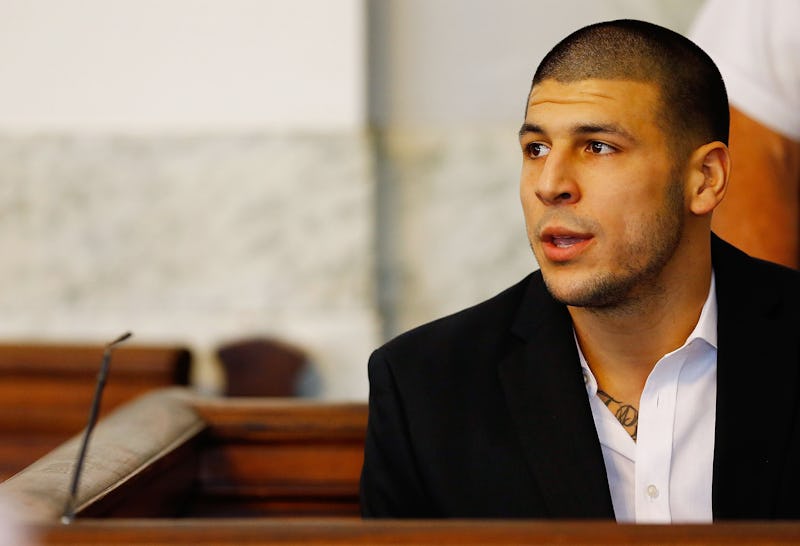 Jared Wickerham/Getty Images Sport/Getty Images
Former New England Patriots tight end Aaron Hernandez was found dead in his prison cell early Wednesday morning. Prison officers say that they found his body hanging from a bed sheet that was attached to the window; authorities suspect that he killed himself. He was found at about 3 a.m. ET. Officers attempted lifesaving measures and he was then transferred to UMass Memorial Health Alliance Hospital in Leominster, Massachusetts, where he was pronounced dead about an hour later.
The Department of Correction spokesman, Christopher Fallon, told The Boston Globe that Hernandez was not on suicide watch. "If he had made any kind of statement, he would have not been in that unit," Fallon said. He also told the paper that there hasn't been a suicide note found yet, but that his cell has been searched and that an investigation by the Massachusetts State Police is ongoing.
Hernandez was serving a life sentence without the possibility of parole for the 2013 killing of Odin L. Lloyd. There was an appeal pending in front of the state's high court.
Just five days ago, he was acquitted of a double murder in 2012, seemingly a bit of good news in an otherwise trying situation in which he was separated from his fiancée and daughter. The jury deliberated six days after a month-long trial and found him not-guilty on all charges except a related gun crime. According to reports, when the not-guilty verdict was read, Hernandez was at the point of tears.
This is a tragic end for the 27-year-old. At the height of his football career, he had a $40 million contract — quite the accomplishment after starting off in Connecticut and then playing in college at the University of Florida. He played two years for the Patriots, from 2010 to 2012, scoring 18 touchdowns. He was cut after his arrest for the 2012 killing, before the beginning of the 2013 season.
As for his former team, Patriots spokesman Stacey James told The Globe that they were aware of his passing. "We are aware of the reports, but I don't anticipate that we will be commenting today," James wrote the paper in an email.
Surviving Hernandez is his fiancée, Shayanna Jenkins-Hernandez, and their four-year-old daughter. Their last public exchange was at the trial on April 14. The Globe reported that the two exchanged glances in the courtroom and that Hernandez waved at his daughter. He told Shayanna, "I love you."
The Patriots are set to be at the White House Wednesday, celebrating their Super Bowl win with President Trump. Hernandez's passing will surely be a sobering influence on the occasion.