Aaron Paul's Daughter Wore An Adorable 'Breaking Bad' Costume That True Fans Will Love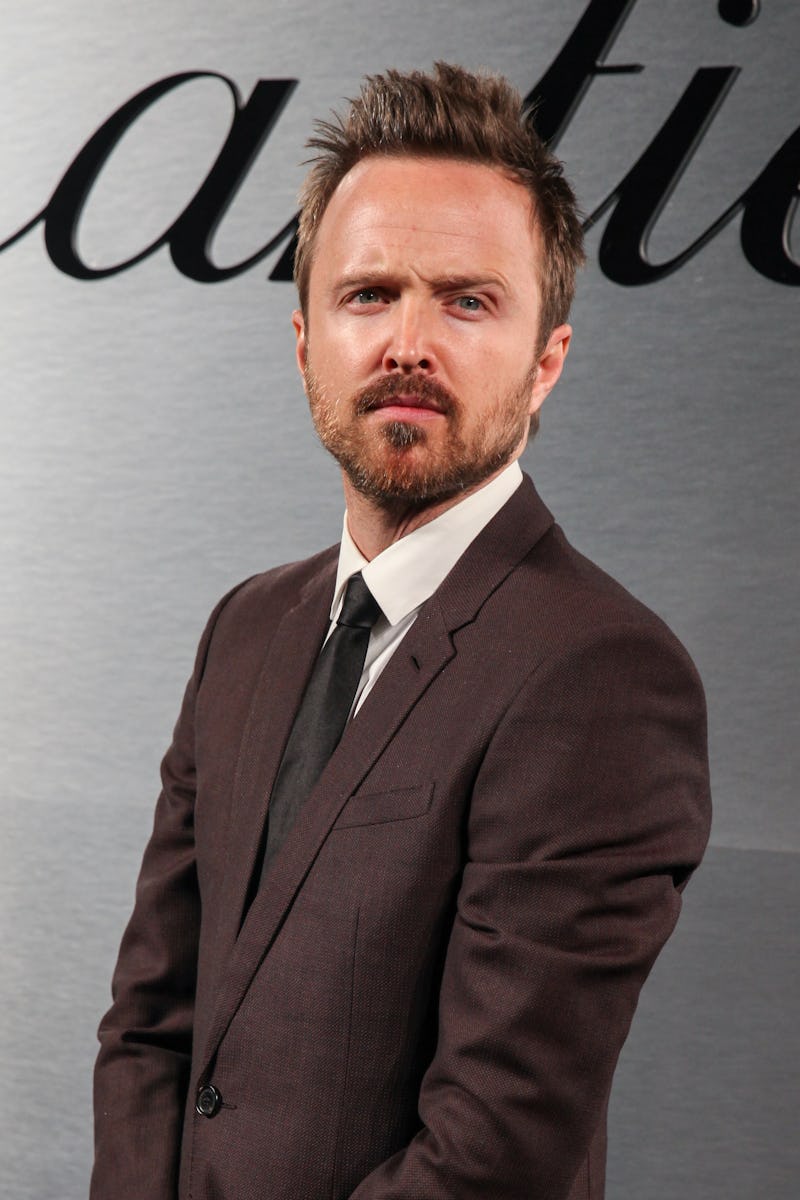 Kelly Sullivan/Getty Images Entertainment/Getty Images
It's hard to believe that Breaking Bad aired its bonkers pilot episode an entire decade ago. On Thursday, July 19, the Breaking Bad cast came together again for a 10-year reunion panel to fans' delight at San Diego Comic-Con. At the end of the AMC series, Jesse Pinkman drives off into freedom and fans hope that he survives, but in real life, he's been doing wonderfully, and he brought the proof along with him to the panel. Aaron Paul's daughter wore an adorable Breaking Bad costume that officially made her the most precious cosplayer at the convention.
In case you didn't know, Paul's 5-month-old daughter is named Story Annabelle. At the event, she was dressed in the tiniest yellow hazmat suit and gas mask, much like the one her dad became known for while playing Jesse Pinkman, Walter White's meth-making apprentice and surrogate son he treats badly. And like her dad, Story was totally chill with the crowds, looking super comfortable and nonchalant in that mini-me meth uniform of her dad's. The crowd, naturally, went wild, because what is cuter than a tiny baby girl all suited up? She just needed an itty-bitty RV to complete the look.
Paul also shared a selfie with his daughter on Instagram, and fans couldn't help but gush in the comments section.
Paul and his wife, Lauren, welcomed Story Annabelle Paul, their first child, on Feb. 6. And luckily, they both love posting pictures of little Story with sweet, cheesy captions that are hard not to smile about. Soon after her birth, Lauren posted a picture of her husband holding Story in her room that is fit for a little princess with the caption: "I have never loved you more than I do right now. We are so lucky to be your girls forever."
Paul also likes to post pics of his little girl whenever he gets a chance, like a mirror selfie he snapped of the two of them back when she was a newborn.
During the Breaking Bad panel, Paul said that even though the series ended five years ago, he still loves Jesse Pinkman, according to USA Today. The 38-year-old said, "I love that guy so much. I miss him!" Unfortunately, it doesn't look like we'll be seeing any of Walter White or Jesse Pinkman in the Breaking Bad prequel Better Call Saul this season.
According to the same article, showrunner Vince Gilligan said that although Better Call Saul is finally catching up to the Breaking Bad timeline, Walter and Jesse won't be in any upcoming episodes, but he also teased: "I would suspect we'd be sorely remiss if they didn't appear on the show before it ended." In other words, fans would lose their minds if they never got to see Walt and Jess back in the world of the Albuquerque meth trade based out of Los Pollos Hermanos.
Gilligan also said in the panel that he thought any of the characters from Breaking Bad could have their own spinoff show, and Paul was definitely interested. Maybe there's a role for baby Story Annabelle somewhere in the Breaking Bad universe, especially now that fans know she's so great in costume.