Aaron Sorkin Finally Gets Woke To Hollywood's Diversity Issue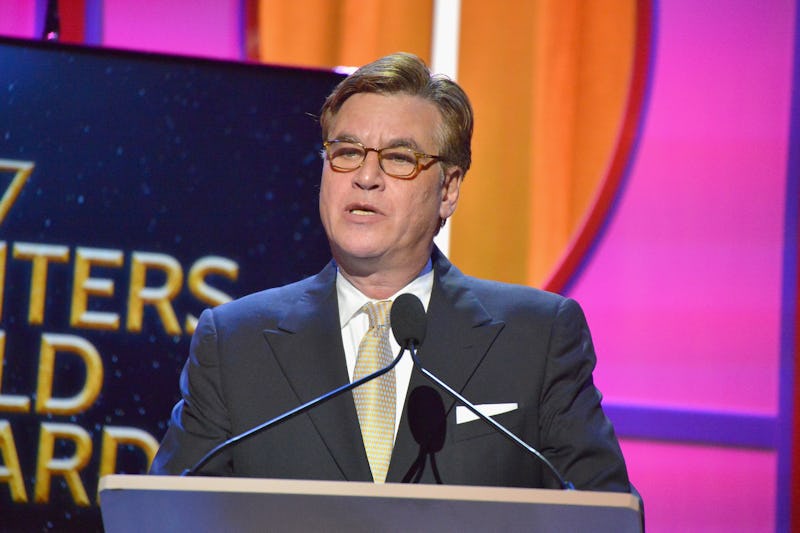 Charley Gallay/Getty Images Entertainment/Getty Images
Aaron Sorkin is one of the most famous and decorated screenwriters in Hollywood. The Oscar winner gave us The West Wing, The Social Network, and the often-quoted "You can't handle the truth" line from A Few Good Men. But at the Writers Guild Festival in Los Angeles on Saturday, Aaron Sorkin finally learned that Hollywood's diversity issue exists, according to Variety. No, really. This is not a joke. One of the greatest screenwriters alive right now seemed to have no idea that women and people of color have a harder time breaking into film and television, which has been a prominent issue in the entertainment industry for a long time.
"Are you saying that women and minorities have a more difficult time getting their stuff read than white men and you're also saying that [white men] get to make mediocre movies and can continue on?" Sorkin asked the audience, according to Variety, and he noted that he thought Hollywood was a meritocracy. And there's no sarcasm attached to that question — Sorkin seemed to be finally learning about the lack of Hollywood diversity at the event, even bringing up the subject again later in the discussion. "You're saying that if you are a woman or a person of color, you have to hit it out of the park in order to get another chance?" Sorkin asked at the event. "What can I do [to help]? I do want to understand what someone like me can do … but my thing has always been: 'If you write it, they will come.'"
Perhaps Hollywood has been a meritocracy for Sorkin, who is a straight white man, but that hasn't been the case for the rest of us. Diversity on-screen and behind the camera has been a huge issue in the film and TV industries for years. A 2016 study by the University of Southern California showed that only 33.5 percent of on-screen speaking characters were women, just 15.1 percent of directors across all media are women, and, for every one woman screenwriter, there were 2.5 male screenwriters. The same study found that 28.3 percent of characters in speaking roles were from non-white races.
This is why diverse screenwriters, directors and actors apply in droves to fellowships like ABC/Disney Writing Program and the HBO Access Writing and Directing fellowships — it's one of the few ways we can finally break through. Personally, I earned an Master of Fine Arts degree in screenwriting from one of the top film schools, where one professor — who is a top Hollywood agent — told me I would have so much trouble getting my scripts read as a woman of color that I should "hang out at the Starbucks on studio lots wearing a low-cut top and hope to get the attention of a producer." When I relayed this to my classmates, many of them shrugged, saying it couldn't hurt. Dear Aaron Sorkin, welcome to Hollywood in 2017.
This isn't the first time Sorkin hasn't been exactly "woke." In 2012, his HBO TV drama The Newsroom received some backlash from critics and viewers about its portrayal of women, including being called "silent bearers of sexism" by Vulture's Chadwick Matlin. At a 2015 screening of his film Steve Jobs, Sorkin defended his female characters, saying that he doesn't take a character's gender into account when writing his scripts. "...Unless I'm actually writing about gender or unless it's a romantic scene between a man and a woman, I'm really not paying that much attention to the fact that it's a woman," he said at the event, according to Jezebel.
More so than anyone else, though, Sorkin is in a position to help if he genuinely does want to — and realizing that yes, this is a big issue is the first step. Better late than never. Next, the former showrunner of The West Wing and The Newsroom can make more of an effort to hire women and people of color on his productions whenever he is in a position of power, like Ryan Murphy's new foundation aims to do. On The Newsroom, Sorkin wrote or co-wrote all 25 episodes of the series, which is impressive, but not very inclusive, and the series only featured two diverse cast members: Olivia Munn and Dev Patel. Sorkin should pledge to write strong diverse characters in his upcoming projects, taking gender and race into account. He can also speak up with his viewership and regularly watch movies and TV shows made by diverse individuals.
Most of all, Sorkin needs to stay woke, keep talking about the issue, and keep asking why this diversity issue persists, because more voices in the movement are always welcome.