Abuse Allegations Have Surfaced Against Minnesota Democrat Keith Ellison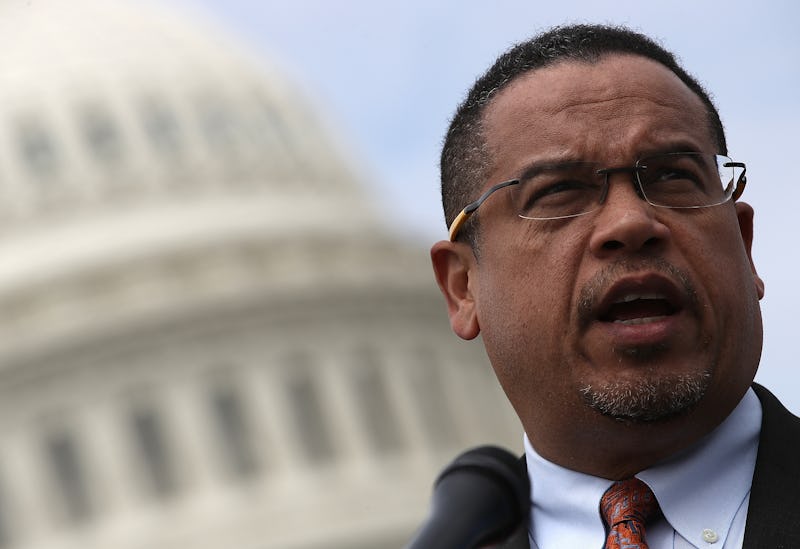 Win McNamee/Getty Images News/Getty Images
Another elected official has been accused of abusing a former partner. On Saturday, a public Facebook post accused Minnesota Democrat Keith Ellison of abusing his former girlfriend, Karen Monahan. Ellison denied the accusations the following day.
The Facebook post was written by Austin Monahan, Karen Monahan's son, who alleged that there was video footage of at least one incident of assault. Ellison has been a Minnesota congressman since 2007, and also currently serves as deputy chair of the Democratic National Committee. He is running for attorney general of Minnesota.
"Karen and I were in a long-term relationship which ended in 2016, and I still care deeply for her well-being," Ellison said in a statement shared with a local Fox affiliate. "This video does not exist because I never behaved in this way, and any characterization otherwise is false."
Austin's Facebook post is long and personal, detailing how he accidentally found a series of files on his mother's computer that he claims documented incidences of abuse, including, according to Austin, a massive collection of text messages between Ellison and his mother.
"In the middle of 2017, I was using my moms [sic] computer trying to download something and I clicked on a file, I found over 100 text and twitters messages and video almost 2 min long that showed Keith Ellison dragging my mama off the bed by her feet, screaming and calling her a 'f*cking bitch' and telling her to get the f*ck out of his house," Austin claimed.
According to Austin, he and his brother confronted their mother about what they had found. At the time, she did not want to go public with her alleged experiences.
"We were ready to go public but our mom begged us not to and she along with others convinced us it wasn't in our moms [sic] best interest," Austin wrote.
Austin suggested that others in their social and political circle may have been aware of the alleged abuse, and criticized those unnamed people in his post. He described the anguish he and his brother have experienced due to concern about their mother.
"Sitting all this time, watching what our mom went through and not being able to say or do anything was hard as hell," he wrote. "None of you know the hell our family has gone through... We watched her so called political friends stand by say or do nothing. People had an idea what happened and never reached out to my mom. The same people who are posting about social justice are ready to smear my mom, protect a person who abused her and broke the law."
A Twitter account appearing to belong to Karen Monahan said that what Austin wrote was accurate.
"What my son said is true," Monahan wrote, before tagging Ellison. "Every statement he made was true.@keithellison, you know you did that to me. I have given every opportunity to get help and heal. Even now, u r [sic] willing to say my son is lying and have me continue to leak more text and info just so others will believe him."
Whether these allegations will impact the Minnesota Democratic primary waits to be seen. They will undoubtedly remain a talking point so long as Ellison remains in the running.