Adam Rippon & Gus Kenworthy Are Friendship Goals At The 2018 Winter Olympics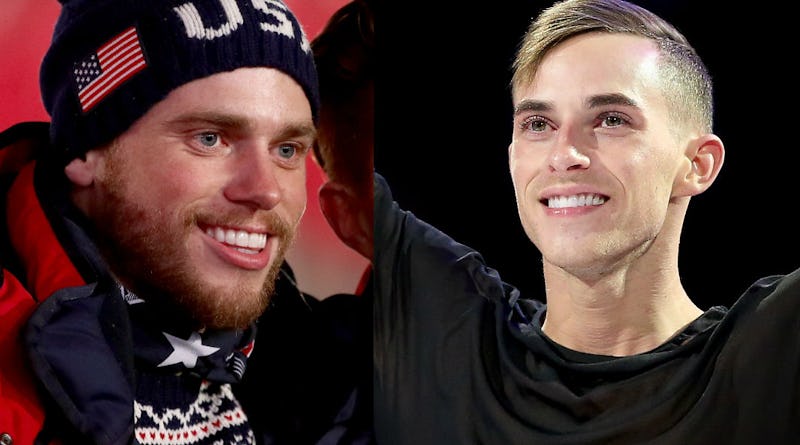 Clive Mason/Getty Images Sport/Getty Images; Matthew Stockman/Getty Images Sport/Getty Images
The 2018 Winter Olympics are underway, and there's one thing people can't stop cheering for: Adam Rippon and Gus Kenworthy's friendship. The super-cute and ultra-talented duo are members of the U.S. Olympic team, and among the first-ever openly gay Olympic athletes. On social media and IRL, these two new BFFs are supportive of one another, of their LGBTQIA+ fans, and of their fellow Olympic teammates. They're also not here for any criticism. Rippon, in particular, uses social media to clap back against naysayers at every opportunity. Kenworthy projects a slightly less feisty attitude, though that's befitting a skier; they're generally more chill. No pun intended. Well, a little pun intended.
Rippon and Kenworthy posed together ahead of the Opening Ceremonies. The photos of them together are so good, they should come as a default in every picture frame. The thing about their friendship is that it's as adorable as it is inspirational, really. Representation is important, and it's so meaningful to see two openly gay athletes not just competing in the Olympics, but championing one another in the process. "We're here, we're queer, get used to it!" wrote Kenworthy on Twitter, posting photos of himself and Rippon cozying up for the camera. Honestly, their friendship warms the soul like a cup of hot chocolate on a cold winter's day.
In addition to tweeting photos, Kenworthy posted a more pointed message to his Instagram account. The message is clearly directed at the Vice President of the United States, Mike Pence, with whom new pal Rippon has publicly sparred. Under a photo of himself and Rippon, the 2014 Sochi medalist wrote the following:
The #OpeningCeremony is a wrap and the 2018 Winter Olympic Gaymes are officially under way! I feel incredibly honored to be here in Korea competing for the US and I'm so proud to be representing the LGBTQ community alongside this amazing guy! Eat your heart out, Pence. #TeamUSA#TeamUSGay
It's difficult to navigate life without a support system by your side. Watching Kenworthy and Rippon find one another and bond as friends and teammates is inspiring. It's also a message to young athletes coming to terms with their sexual identity: You're okay here; you're safe here; we love you. The pride Rippon and Kenworthy take simply in being themselves is encouraging. It's even aspirational. After all, as of January 2018, Rippon was the first openly gay American man to qualify for the Winter Olympics. Most of the LGBT athletes that openly discuss their experiences did not do so until after their first games, and the majority happened to compete in the Summer Olympiad. Even then, only a fraction of those athletes are from the United States. Only one other member of the U.S. Winter Olympic team is openly gay, in fact: 29-year-old speedskater Brittany Bowe.
Rippon and Kenworthy's friendship, and pride in their identities, is only just the beginning. It will likely begin the avalanche (winter pun intended this time!) of diversity and encouragement on the Olympic stage. In the meantime, fans can treasure the bond that the two athletes share, and be continually impressed by Kenworthy's perfectly rugged beard and Rippon's absolutely breathtaking jabs on Twitter.
"When I was in the closet, there was so much pressure on my shoulders," Kenworthy said in his Feb. 5 appearance on Ellen. "When I actually got to come out, I felt relieved! I was liberated, and I felt free." He also mentioned that being able to come out improved his skiing, as he felt generally more confident. His starring role in a campaign for Head & Shoulders shampoo also marks the first time a pride flag has been used in a national television commercial.
The 2018 Winter Olympics might have just started, but the world is already watching (and loving) the inspirational friendship between Adam Rippon and Gus Kenworthy. May they be blessed with photo opportunities for many, many Olympic games to come.