Adam Rippon Changed His Mind About Meeting Mike Pence & The Reason Why Is SO Inspiring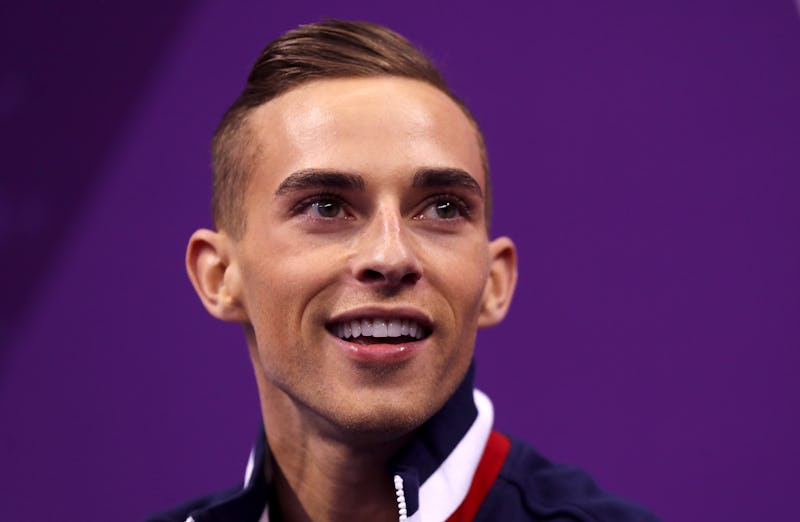 Maddie Meyer/Getty Images Sport/Getty Images
In an interview with CNN Wednesday, Olympic medalist Adam Rippon said he'd meet with Vice President Pence if invited to do so, reversing his earlier opposition to the prospect of a sit down with the vice president. The openly gay figure skater had said before the Winter Games in PyeongChang that he "would not go out of my way" to meet with Pence on account of the latter's anti-gay views.
But now that the Olympics are over, Rippon says he's open to having a conversation with Pence, as doing so could be a small step toward effecting broader positive change.
"I agree with so many people that you don't get to make any sort of change if you don't try to at least reach across and have the opportunity to speak," Rippon said. "I'm making it clear that I would really like to have that conversation because I still have that Olympics platform and I'd like to use it."
The fracas between Rippon and Pence began in January, when it was announced that Pence had been selected by the White House to lead the U.S. delegation in South Korea.
In an interview with USA Today, Rippon asked, rhetorically, if this was "the same Mike Pence that funded gay conversation therapy," and said that he wouldn't go out of his way to meet with Pence before competing — although he kept the door open to meeting with the vice president after the games had concluded.
Pence opposes gay marriage, but he hasn't actually funded gay conversion therapy, the widely-discredited practice of attempting to convince gay people that they aren't actually gay. However, in 2000, Pence wrote that "resources should be directed toward those institutions which provide assistance to those seeking to change their sexual behavior," rather than "organizations that celebrate and encourage the types of behaviors that facilitate the spreading of the HIV virus." Many interpreted this as a reference to gay conversion therapy, although Pence's office denied in 2016 that he supports the practice.
Two weeks later, USA Today reported that Pence's office invited Rippon to have a sit-down with the vice president — and that Rippon declined. Pence's communications director Jarrod Agen flatly denied this, tweeting that the "VP's office did not try to arrange a meeting with Mr. Rippon at Olympics" and demanding that USA Today issue a correction. The reporter who wrote the article, Christine Brennan, responded that the report "is true and therefore will not be corrected."
Amid all of this, Pence tweeted his support for Rippon in February, a fact that Rippon addressed in his CNN interview.
"He said, 'I want you to know that I'm for you, and I'm for all the Olympians,'" Rippon recalled. "And that's great, but I don't believe it. Because when I go home, are you still for me? Are you still for other LGBTQ Americans? Are you still for that trans man or woman that wants to join the military? Are you still for that lesbian couple who wants to get married?" Rippon said that he thinks Pence's tweet was "disingenuous."
In his interview with CNN, Rippon said that Pence did indeed extend an invitation to meet back in January, but that it "wasn't the right time." However, "now is the right time," Rippon said, adding that although he doesn't "really have anything personally to say to Mike Pence," he would meet with him regardless because the issue is bigger than him.
"It's for people whose lives have been changed by legislation that he's pushed," Rippon said. "I don't think that these are like, gay issues, or LGBTQ issues solely. I think these are human rights issues, and there are so many LGBTQ Americans out there who feel that they aren't being heard, or represented."