Adele's Supportive Message To Her Best Friend Is Such An Important Read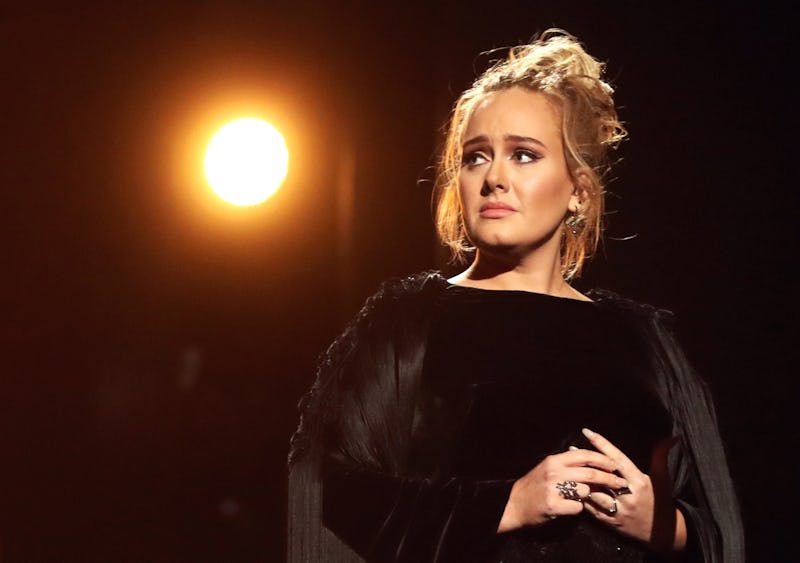 Christopher Polk/Getty Images Entertainment/Getty Images
Becoming a parent can be thrilling in plenty of ways. But that doesn't mean every parenthood moment is a positive one. Adele's friend was diagnosed with postpartum psychosis, and it sounds like the singer is doing everything she can to support her pal, as reported by People. Postpartum depression can affect as many as one in nine women, according to the CDC, while postpartum psychosis can affect as many as 1-2 women for every 1,000 births.
Adele shared the news about her friend, Laura Dockrill, in a tweet on Monday. The "Hello" singer shared a photo of the two of them together and a Notes app post about how she and Dockrill have known each other for years. She also explained that for her friend, having her son was "the biggest challenge of her life," writing,
This is my best friend. We have been best friends for more of our lives than we haven't. She had my beautiful godson 6 months ago and it was the biggest challenge of her life in more ways than one.
The singer also encouraged other moms to speak up if they're experiencing mental health issues, writing,
She has written the most intimate, witty, heartbreaking and articulate piece about her experience of becoming a new mum and being diagnosed with postpartum psychosis. Mamas talk about how you're feeling because in some cases it could save yours or someone else's life x.
Adele's tweet links to a blog called Mother of all Lists, maintained by mom Clemmie Telford. In the post, published Monday, Telford shares Dockrill's story about being diagnosed with postpartum psychosis.
Writing for Telford's blog, Adele's friend shared the symptoms she experienced with the rare condition:
In my case it was built upon post natal depression and exhaustion and escalated into a phase of what I can only describe as hell; mania, mood swings, insomnia, delusions, paranoia, anxiety, severe depression with a lovely side order of psychosis.
Dockrill went on to write that she experienced suicidal thoughts after giving birth. She also wrote that she was hospitalized for two weeks, but her partner brought their newborn to visit the hospital every day she was there. Like Adele, Dockrill encouraged other moms to talk about their experience.
Adele herself became a mom in October 2012, when she gave birth to her son, Angelo. As a fellow parent, she can relate to some of Dockrill's words about parenting, though she didn't battle the same condition. As People pointed out, Adele did suffer from postpartum depression after giving birth. Adele shared that taking one afternoon for herself each week helped her better care for her baby.
Based on Dockrill's post, it sounds like the weeks and months after giving birth were an incredibly tough time for her and her family. But as she and Adele have written, it's vital to keep talking about mental health issues like the ones they've experienced. No one should have to suffer alone, and it's great to see Adele supporting her friend so completely during this difficult period.