'Agent 'Agents Of S.H.I.E.L.D.' Season 5 Needs Some New-Old Blood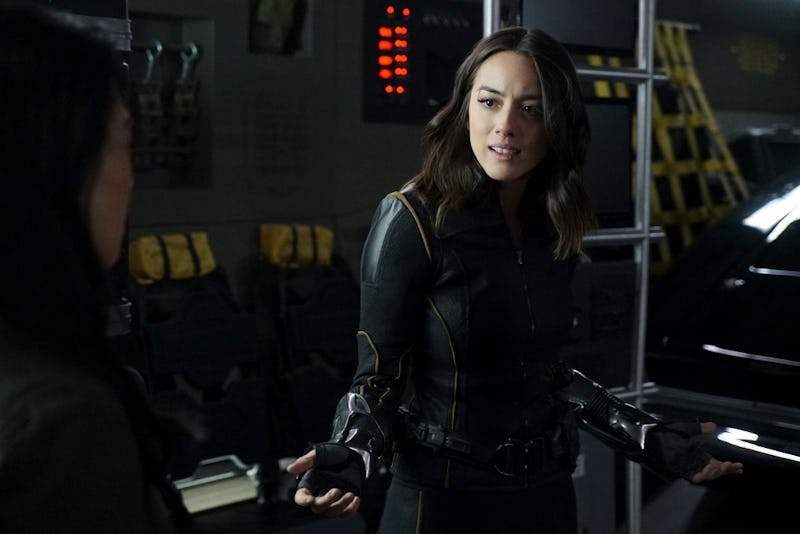 Eric McCandless/ABC
When Coulson's team finally takes down Aida, Ophelia, Madame Hydra, or whatever she wants to be called, they're going to need to spend some quality recuperation time together. Thankfully, Agents of S.H.I.E.L.D. has been renewed for a Season 5, and according to TVLine will premiere at midseason on ABC. The final episodes of Season 4 brought back some favorite faces, and hopefully more Marvel characters will return next year.
In an interview with TVLine, executive producer Jeffrey Bell teased a twist coming in the Season 4 finale that will set up events to come. "Each year we've tried to reinvent the series in some way, in concept," he said. "We will try to do that again. Without talking about characters, I think the end [of the episode] really does suggest something quite different…"
Why do I think the show needs to bring back old characters? The team is, for lack of a better word, shook. Everyone is sad right now in the aftermath of the Framework, and Ghost Rider is not going to perk them up. May and Coulson are in an awkward place, Fitz and Simmons need to heal, Daisy is almost always brooding, and if Mack isn't able to bring his daughter out of the Framework, he's going to be grieving. They need some old friends. Here's who I would like to see back on Agents of S.H.I.E.L.D. in Season 5.
Bobbi Morse
All I want is more Mockingbird. She's an amazing leader, optimistic but always alert, and really completes the team. Bobbi raises the bar for the other agents and makes them better. Her spin-off never happened, and it's been too long. Time to come out of retirement, Bobbi.
Lance Hunter
If Bobbi's coming back, her mercenary ex-husband has to come with her. Whether they're romantically involved or not, their dynamic is fire.
Framework Ward
I was so ready for Hydra Ward (and then Hive Ward) to leave Agents of S.H.I.E.L.D. that I was shocked at how happy I was to see Brett Dalton back in the Framework. Can we keep cool, resistance Ward?
Anne Weaver
Every time Christine Adams shows up as the S.H.I.E.L.D. Academy director turned commander, I wish she's stick around longer.
Antoine Triplett
While we're taking people from the Framework, is there a way that the show could also bring back Trip? It was a pleasure seeing him again, and I love the connection to the Howling Commandos.
The Koenigs
It's never a bad time to check in on these goofy brothers.
Joey Gutierrez
I know that this reluctant Inhuman didn't want anything to do with the Secret Warriors anymore, but I still liked Joey. You can't leave your past behind, and there has to be a way for him to get drawn back into the madness.
Jiaying
I assume that Agents of S.H.I.E.L.D. will have some crossover with The Inhumans — so why not bring back Daisy's mother in some way?
Whatever Agents of S.H.I.E.L.D. has in store, I'm on board for it. The Framework was a fun narrative choice, and I trust whatever reinvention the show is planning will be just as exciting.