Here's What You Need To Know About Aidy Bryant's Body Positive New Comedy Series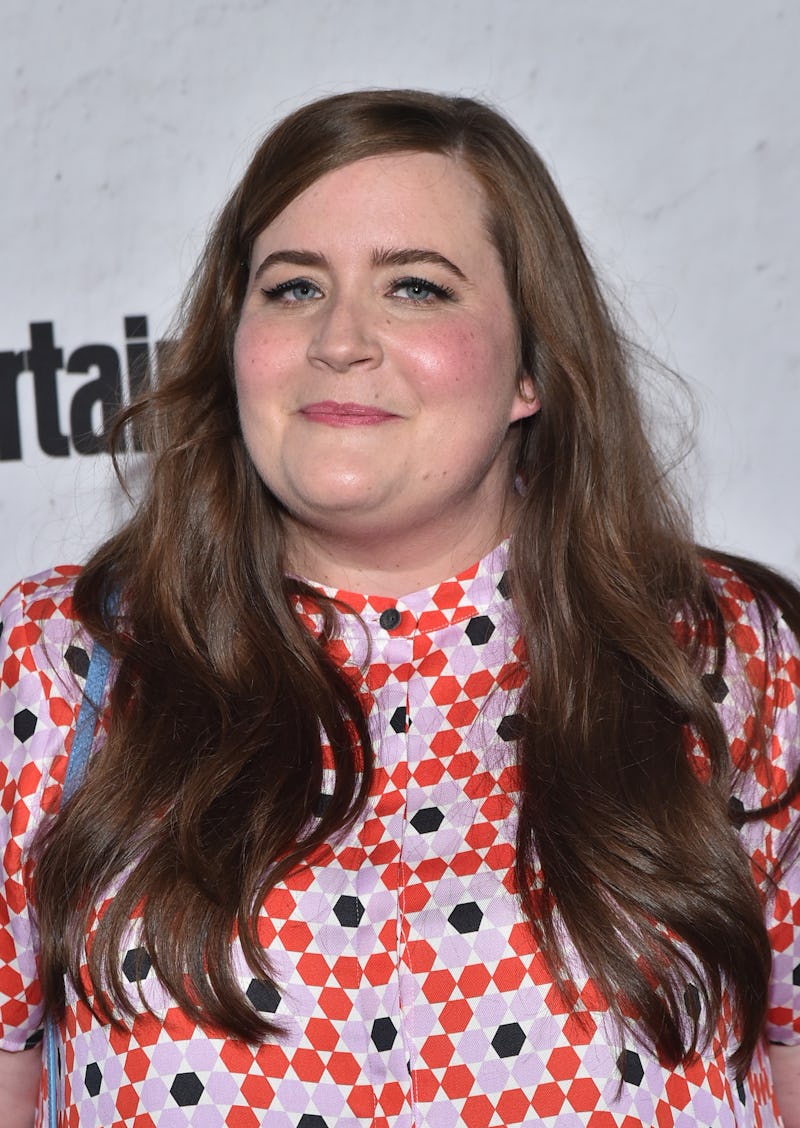 Mike Coppola/Getty Images Entertainment/Getty Images
As so many women unfortunately know too well, struggling with body image is no joke. But, judging by the real-life story behind Aidy Bryant's new comedy series, on the path toward eventually flouting traditional beauty standards in favor of self-love, sometimes all you can do is laugh. Per a recent report by The Hollywood Reporter on Tuesday, April 24, the upcoming series will adapt Lindy West's acid-tongued and hilariously poignant 2016 memoir, Shrill: Notes from a Loud Woman, for a Hulu series.
UPDATE, 8/1/18: Hulu greenlit Shrill and ordered six episodes of the series, according to TVLine. The news outlet reported that the series will begin shooting the first week of August 2018.
And, while there's not a whole lot of information available just yet as to the specifics of the upcoming series, it certainly looks like its gearing up to tout a pretty crucial message for anyone (women, especially) who's been taught their bodies aren't good enough. To that end, the message is something along the lines of this: They are. THR first dispensed the news of Bryant's forthcoming project Tuesday morning, April 24, describing Hulu's adaptation of West's memoir as "the story of a fat young woman who wants to change her life, but not her body."
According to The Hollywood Reporter, the upcoming Hulu-fronted project will merge the respective storytelling talents of both Bryant and West, who teamed up to co-write the television screenplay with the help of writer-producer Ali Rushfield (perhaps best known for her work on Parks and Recreation and Love). And, as anyone familiar with the firecracker comedic mastery of either woman already knows, a fusion of Bryant and West's respective wits sounds a lot like a match made in comedy heaven — or the beginnings of one, at least.
Though the Bryant-led series is still in its early-ish development stages, it seems like the tenor of the screen adaptation is slated to fall pretty closely in line with that of West's memoir, which has been lauded by critics and readers alike for its uniquely incisive (and uniquely crass) perspective on western beauty standards and the often insidious ways they impact how women feel about themselves.
In Shrill, West draws primarily from her own personal experiences to craft some insights about archetypal beauty standards that probably resonate pretty starkly with a lot of women. And, in doing that, the memoir manages to chronicle West's own path toward eventually learning to love herself, in spite of the systemic — and, she argues, misogynistic — beauty paradigms that taught her she shouldn't. West sums up her thoughts on that pretty succinctly in Shrill, writing,
"I reject the notion that thinness is the goal, that thin = better—that I am an unfinished thing and that my life can really start when I lose weight. That then I will be a real person and have finally succeeded as a woman."
Until Hulu releases more information about the TV adaptation, it's hard to anticipate exactly how the series is planning to incorporate the memoir's subject matter into its script. But, with West on the writing team, here's to hoping the screen adaptation touts a similarly empowering kind of proclamation about ditching oppressive beauty standards and embracing self-love, instead. And, with Bryant in the series' leading role, it certainly seems like the series is gearing up to pack the strong feminist punch that West exudes in her writing.
Since first joining the ranks of SNL's cast of funny people back in 2012, Bryant has made waves in pop culture — not only as a comedian, but also as an insouciantly clever and indelibly charming proponent of body positivity. To that end, a recent report by Entertainment Weekly (which primarily discussed the messaging in Bryant's new comedy film, I Feel Pretty) described Bryant's contribution to the body-positivity arena as one of "accidental activism." Or, in other words, she's basically become an advocate for body positivity simply by being in the public eye.
"It would be weird for me to be in this position and never acknowledge that I look different from, like, 90 percent of my costars," Bryant told Entertainment Weekly, adding that she's come to regard it as her "greatest strength." Continuing, Bryant said, "It gives me a point of view, and I couldn't do it without it."
In looking toward Bryant's next onscreen gig, it sounds that's exactly the kind of perspective the Shrill adaptation is getting at. Here's to seeing a whole lot more of Bryant being Bryant on tv sometime soon.