These Air Conditioned Dog Houses Are A Genius Way To Keep Your Pup Cool All Summer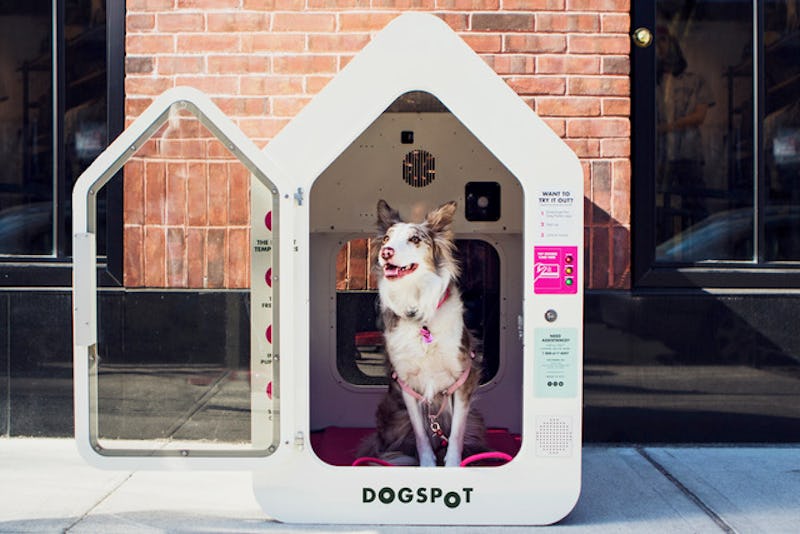 Courtesy of DogSpot
While heatwaves are brutal for humans, dogs have it worse because they don't have the option of taking off their fur coats. If Spot is miserable during the summer swelter, air conditioned dog houses are a thing, and you're going to want to reserve one for your pup ASAP. With much of the country experiencing triple digital temperatures that make it feel like you're living inside of hell's mouth, everyone is desperate to cool off.
On Jul. 5, Kylie Jenner Snapchatted her greyhounds' climate-controlled pad and sent waves of envy across the entire internet. Yes, climate-controlled does mean heat and A/C both, and the full digs are nothing short of palatial. But of course, not everyone can shell out for a custom air conditioned dog mansion (or has the real estate for a separate house for their dogs, full stop).
But, if the temperature inside your house or apartment is unbearable, you might be reluctant to go seek refuge in a restaurant or café if you have to leave your pup behind. Because necessity is the mother of invention, air conditioned dog houses by women-owned startup DogSpot are popping up outside of restaurants and retail shops so Spot can cool off. "It's just so hot," DogSpot Founder Chelsea Brownridge told Good Morning America. "That's a reason we've been expanding in places like California, Florida, North Carolina, and South Carolina." DogSpot works by partnering with local business owners who want to become more dog-friendly; a DogSpot house is installed outside, and dog owners can reserve time inside the pup pad through an app. It costs 30 cents a minute to have your pup shelter in the houses, and each house uses UVC sanitation light to sanitize it between uses.
Unfortunately, your dog isn't welcome inside of most air-conditioned restaurants and cafés where humans might seek refuge from the heat. However, some establishments have started putting air conditioned dog houses outside so your fur baby can chill out in a cool dog house while you go inside for a meal. Because this genius invention is in demand, you can make sure your pup doesn't get left out in the heat by reserving one the same way you'd order an Uber.
While DogSpot launched in Brooklyn, it's quickly expanding to other areas across the country. "New York has been a great place for us to test this service," Brownridge said in a press release announcing the expansion. "For the last two years, we've had people beg us to come to their city next, to which we've always had to reply 'not yet.' But now I'm thrilled to say 'We're ready!'"
On the heels of DogSpot's announcement, other cities are clamoring to get these air conditioned pooch parlors ASAP. "Orlando is a proud dog friendly community, also known as a leader in technology and innovation," Orlando Mayor Buddy Dyer said in the press release. "DogSpot supports our commitment to both. We can't wait for DogSpot to make our downtown a healthier and even happier place to live."
"Virtually everyone living in Brooklyn has a dog so it made sense to partner with DogSpot to fulfill their dog-loving needs," Nico Daniele, owner and chef of Bella Gioia Restaurant, said. "In fact, business increased by 10 percent, as people knew they now had a safe place to leave their pet." DogSpot even has a puppy cam you can access on the app so you can see what your dog is doing while they're in the dog house.
In recent years, dogs have increasingly become equal with their human counterparts in the eyes of their parents. And, if businesses want dog lovers to frequent their establishments, they need to cater to Spot and Fido too. DoSpot's pilot program revealed that dog owners did indeed feel more comfortable stopping for a bite to eat or running an errand if the business accommodated their dog, which is a good incentive for business owners to get on board.
If DogSpot isn't in your city or town yet, and you're having major FOMO, the company is actively working with city planners to bring air conditioned dog houses to more locations. Stay tuned for information about when you can reserve Spot and Fido their very own air conditioned houses.