The Air Force Failed To Report Dozens Of Other People's Criminal Records To The Gun Database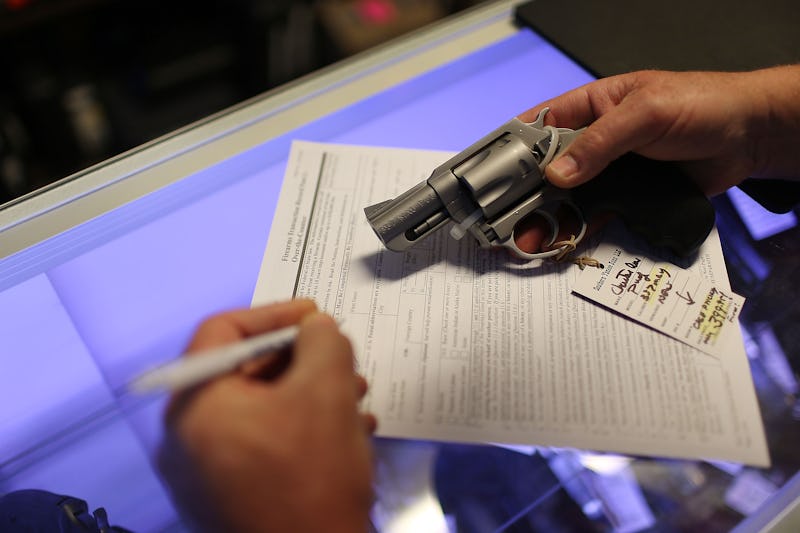 Joe Raedle/Getty Images News/Getty Images
Air Force spokesperson, Ann Stefanek, acknowledged on Tuesday that the Air Force failed to report the criminal history of civilians seeking to buy firearms. Stefanek gave the statement while speaking of the mass shooting in Sutherland Springs, Texas, where a shooter killed more than 20 churchgoers, including an unborn child, earlier in November. According to Stefanek, the failure to report cases of civilian criminal history was "not an isolated incident and similar reporting lapses occurred at other locations."
The Air Force is required to provide civilian criminal history data to the FBI's database as part of assessing purchases. Based on this process, a person seeking to buy a gun may or may not be approved, depending on how clean of a slate their criminal record is. Following Tuesday's statement from the spokesperson, the Air Force said it will implement measures to correct its internal process of evaluating firearm purchases, involving a more detailed system of registering and documenting approval from the FBI. Bustle has reached out for a comment and will update accordingly.
If the Air Force had committed to a complete and detailed background check of the Sutherland Springs mass shooter, he would not have been able to purchase firearms due to his disturbing criminal history. According to The Washington Post, the mass shooter had a grim past of domestic violence against his partner and violent abuse against his stepson. In 2014, he had been convicted of domestic violence while he was serving as a member of the Air Force in New Mexico, which led to him being discharged.
Stefanek had previously mentioned this lapse in institutional vetting earlier in November. Preliminary information about the shooter's "domestic violence offense was not entered into the National Criminal Information Center database," the Air Force spokesperson said. Additionally, at the time, Acting Deputy Director of Press Operations Mark Wright ensured, "the DoD IG will also review relevant policies and procedures to ensure records from other cases across DoD have been reported correctly."
Under federal law, certain criminal offenses, such as domestic abuse among other things, automatically bar a person from successfully proceeding to buy a firearm. This move was mandated in 1996 after New Jersey Sen. Frank Lautenberg worked on a bill to prohibit domestic abusers from buying guns. After considerable effort, the Congress wrote the Lautenberg's motion into law.
Questions about the shooter's accessibility to guns swiftly surfaced after the brutal incident in November. In one instance, Texas Gov. Greg Abbott spoke on CNN and said, "By all of the facts that we seem to know, he was not supposed to have access to a gun, so how did this happen? We are in search of answers to these questions."
Going forward, Stefanek said that the Air Force planned to conduct a thorough review of internal procedures involving reports of criminal history sent to the FBI. According to the statement from Stefanek, a more robust system with documented confirmations will be introduced. The Air Force will be reportedly working on refining its process by having the Air Force Office of Special Investigations become more meticulous about recording and chronicling reviews. According to the spokesperson, the office will either take screen-shots or print approvals from the FBI.
It's worth remembering that the efficiency of a database is directly dependent on the data it is being fed. If the database isn't being given authentic information, it is a hollow one. Consistency in documenting checks, calculating any mistakes, and duly reporting them to the FBI are critical to curtail gun violence. Without a diligent system, mishaps, like the one that allowed the Sutherland Springs shooter to buy a gun, may continue to take place.