What To Know If Your Next Flight's On A Boeing 737 Max 8 Plane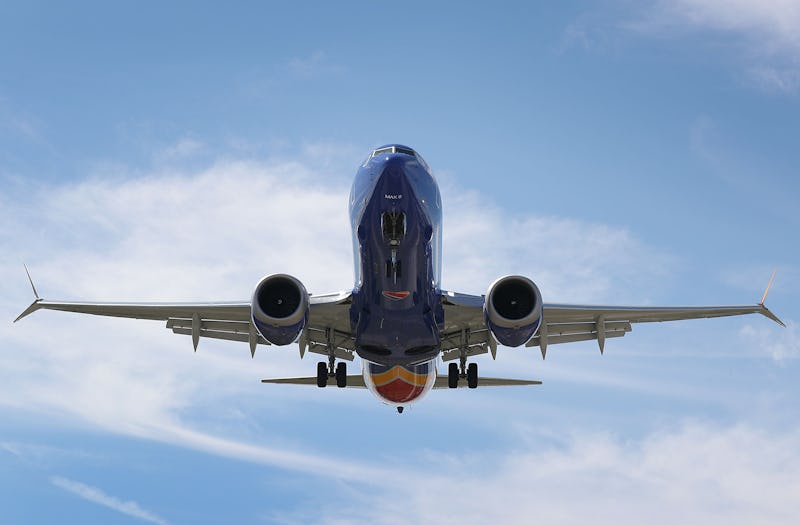 Joe Raedle/Getty Images News/Getty Images
After the Ethiopian Airlines plane crash killed all 157 people on board on Sunday, several countries grounded the Boeing 737 Max 8, the aircraft model used in the Ethiopian flight, over potential safety concerns. But some airline companies that use Boeing 737 Max 8 planes tell Bustle that they are continuing to fly those models as usual, though they are closely monitoring the situation involving the Ethiopian Airlines crash.
Morgan Bell, a spokesperson from the Canadian airline WestJet, that uses the Boeing 737 Max 8 model, says the company is "actively involved in discussions with Transport Canada, Boeing, and fellow Canadian operators of the Boeing Max 737 aircraft."
"We will continue to fly with their safety and best interests at the forefront," Bell adds.
Southwest Airlines, an American company that also operates that aircraft model, echoes that in a statement to Bustle. "As the investigation of Ethiopian Airlines Flight 302 progresses, we are staying in close contact with Boeing, Federal Aviation Administration (FAA), and other airlines to learn the cause of the accident," spokesperson Brian Parrish says. "We remain confident in the safety and airworthiness of the MAX 8."
American Airlines, which similarly has the Boeing 737 Max 8 among its fleet, also tells Bustle that it is complying with FAA standards as "the safety of our team members and customers is our number one priority."
In spite of the public concern around the Boeing 737 Max 8 aircraft, spokespersons for these airline companies say that they will continue to use the model in their operations, pointing to their confidence in the safety of the aircraft. Southwest's Parrish says, "We operate 34 MAX 8 aircraft in our fleet of more than 750 Boeing 737s [...] We don't have any changes planned to our MAX 8 operations."
American Airlines also notes that it will "continue to operate our fleet of 24 MAX 8 aircraft." It adds that it is monitoring that Ethiopian plane crash with the assessments provided by its team of technicians, safety officers as well as the Allied Pilots Association (APA) and Association of Professional Flight Attendants (APFA).
"We have full confidence in the aircraft and our crew members, who are the best and most experienced in the industry," according to the official statement from the American Airlines.
For those who wish to change their flights with these airlines, the policies remain the same for now. Bell notes that WestJet is aware some customers may be worried about boarding a Boeing 737 Max 8 given the Ethiopian Airlines crash, but that if they wish to change their flight, the company's existing policies are still in place.
"We are aware that guests may have questions and concerns surrounding their travel plans and should they wish to make changes to their reservation, WestJet's normal change or cancel policies will apply," Bell says. As for Southwest, Parrish explains, "We are not issuing refunds of non-refundable fares, but we are working with customers individually who wish to rebook their flight to another aircraft type." According to CNBC, Southwest said it would "waive fare differences that might normally apply" for customers who want to change the aircraft they fly on.
The Ethiopian plane crash isn't the only incident to involve this specific aircraft model. In 2018, a Boeing 737 Max from Indonesian carrier Lion Air crashed 13 minutes after takeoff, according to CNN, killing 187 people. With these two tragedies taking place in the span of a few months, the public's concerns about the Boeing 737 Max 8 may not be dissuaded anytime soon.