Al Franken Wrote A Long Thanksgiving Post That Brought Up The #MeToo Movement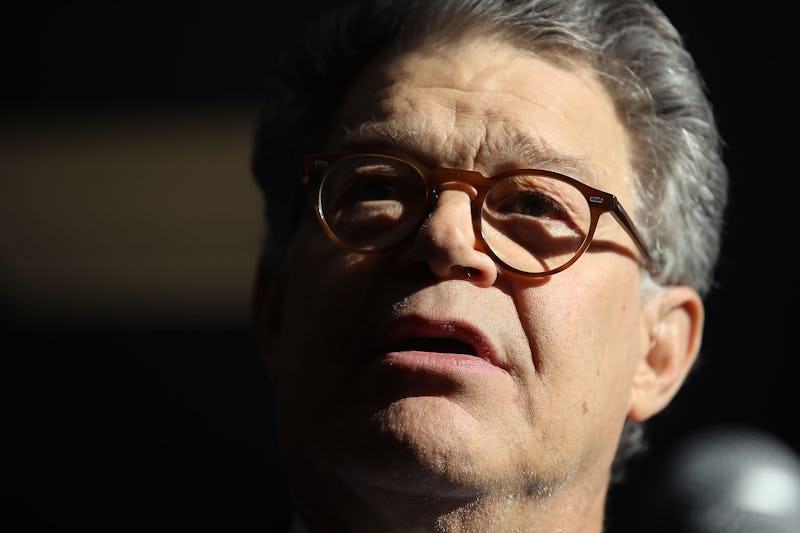 Mark Wilson/Getty Images News/Getty Images
In the year that has passed since accusations of sexual misconduct from multiple women forced him to resign from his Senate seat, Al Franken has reportedly been doing a lot of reflection. In a Thanksgiving Day message on gratitude, Franken shared his thoughts on the #MeToo movement and "the experience of women in this country," saying he plans to "continue to listen and learn."
"I've always really loved Thanksgiving. There's the food, obviously," the former senator wrote Thursday in a Thanksgiving Day Facebook post emphasizing his belief in the power of gratitude. "Last Thanksgiving, though, wasn't much fun. I tried to be thankful for my family, my friends, and my health, but those weeks were incredibly difficult for us Frankens."
While Franken refrained from directly mentioning what it was that made last year's Thanksgiving so difficult for him and his family, it's not hard to forget his sudden and controversial exit from the Senate late last year following allegations of sexual misconduct from at least eight different women. While Franken did apologize to a number of his accusers, he refuted some of the allegations made against him and claimed to remember the others as having happened differently than his accusers' claimed.
"Some of the allegations against me are simply not true. Others I remember very differently," he said last December. Ultimately, Franken decided to resign from the Senate due to pressure from within the Democratic Party.
On Thursday, Franken said he'd spent "a lot of time over this past year thinking about the broader conversation we've been having about the experience of women in this country."
"I know that, for so many people, this issue raises a lot of powerful and painful feelings," he continued. "This conversation can also be incredibly complicated. I don't think it's my place to weigh in on all the debates – but I will continue to listen and learn."
Last November, radio news anchor Leeann Tweeden accused Franken of forcibly kissing her while the two rehearsed a USO show and groping her for a photograph while she slept. At the time, Franken said he didn't remember the rehearsal Tweeden was talking about in the same way she did, but apologized and said it was "obvious how Leann would feel violated by that picture." Seven other women followed Tweeden with allegations of their own, including claims of grouping and non-consensual kisses. Franken denied some of the allegations and said he did not remember the interactions or events cited in others.
But after what he called "a year of reflection," Franken said Thursday that he was finding it easier to be grateful this Thanksgiving. The former senator said he was grateful to his wife, his family and friends, his supporters, and to those who chose to carry on the battles he lead when in the Senate.
"As we gather around the table this year, we have a lot to celebrate, including a whole bunch of thrilling Democratic victories," Franken wrote. "But we also have a whole lot to worry about when it comes to our country. For me, and for so many of you, politics has always been about the improvement of people's lives, just like Paul Wellstone said. And there's so much more work left to do."