Al Sharpton Just Called Out Trump At Aretha Franklin's Funeral For Disrespecting Her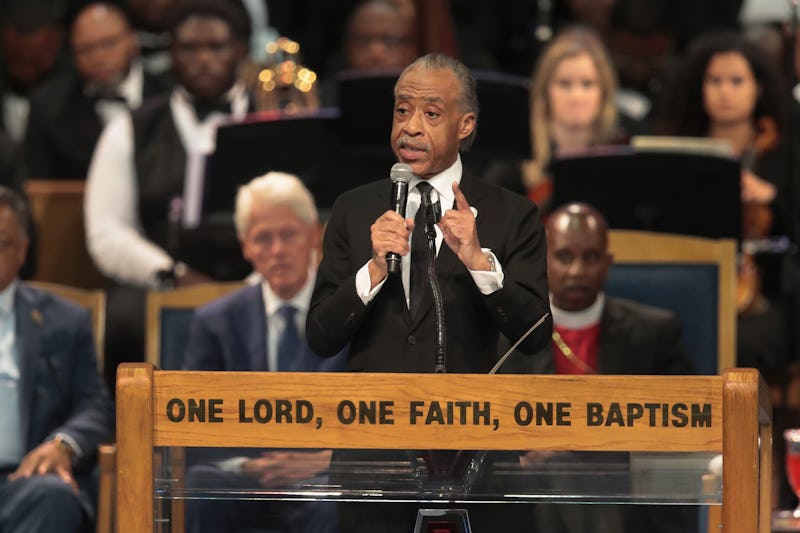 Scott Olson/Getty Images News/Getty Images
Rev. Al Sharpton sought to help President Donald Trump find out just exactly what respect means. In remarks delivered at Aretha Franklin's funeral on Friday, Sharpton called out Trump for disrespecting the Queen of Soul earlier this month.
"Now I want y'all to help me correct President Trump, to teach him what [respect] means," Sharpton said, referencing Franklin's hit song "Respect." "I say that because when word went out that Ms. Franklin passed, Trump said, 'She used to work for me.' No, she used to perform for you. She worked for us."
"Aretha took orders from no one but God," Sharpton went on to say.
Sharpton's remarks Friday came in response to a controversial claim Trump had made earlier this month. While speaking to reporters ahead of a White House Cabinet meeting on Aug. 16, Trump said Franklin had worked for him. "I want to begin today by expressing my condolences to the family of a person I knew well," Trump said, according to CBS News. "She worked for me on numerous occasions. She was terrific — Aretha Franklin — on her passing." The president then went on to praise Franklin, noting that "she brought joy to million of lives" and had an "extraordinary legacy" that would "thrive and inspire many generations to come."
However, many viewed Trump's comment about Franklin having worked for him as an attempt to knock a woman of such notable achievement — in her lifetime, the Queen of Soul won 18 Grammys and was the first woman to be inducted into the Rock & Roll Hall of Fame — down into simply being the help. In the days that followed, a number of people criticized the president's comment, calling it tone deaf and indicative of his dismissive attitude toward black women.
According to The Washington Post, Trump's comment was likely a reference to the time Franklin performed at Trump's Castle in Atlantic City in 1988. At the time, a local paper characterized Franklin's three-day engagement at Trump's Castle as the casino "redeeming itself" following lackluster performances by Latoya Jackson. "The Friday, Saturday and Sunday dates, which sold out in less than an hour, represent a very rare chance to see the reclusive Franklin perform," the paper noted.
But the Queen of Soul's Trump's Castle performances weren't the singer's only connection to Trump, according to The Post. Over the years, Franklin was also reported to have performed several different engagements at the Trump Taj Mahal, another casino in Atlantic City, including a performance in 2012. However, while Franklin performed at the inauguration ceremonies of three Democratic presidents, she reportedly refused Trump's request to perform at his inauguration in 2017.
While speaking at Franklin's funeral in Detroit on Friday, Sharpton received a standing ovation for his rebuttal to Trump's claim. The Baptist minister and civil rights activist went on to celebrate Franklin's spirit and lifetime of achievements. He noted that the legendary singer-songwriter "was a black woman in a white man's world."
"She beared her cross," Sharpton said. "Now it's time to crown the Queen."