You Can Now Drink In Restaurants In This Part Of Disney World For The First Time Ever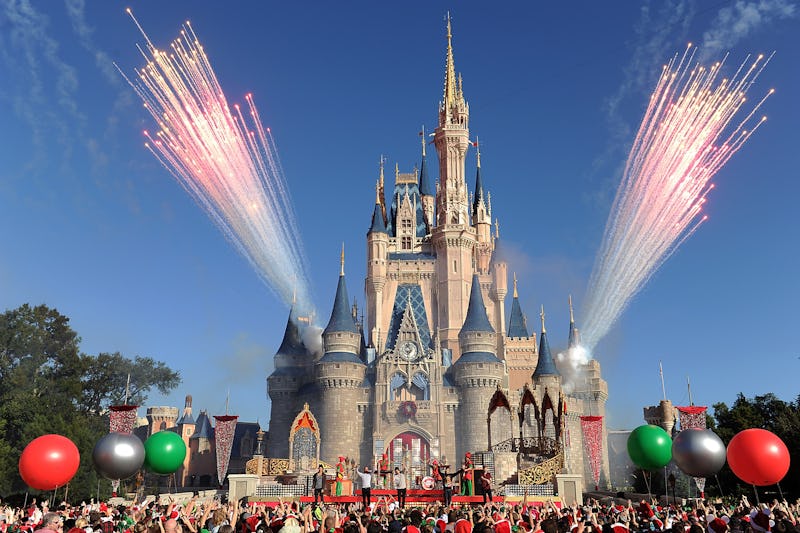 Handout/Getty Images Entertainment/Getty Images
The most magical place on Earth is becoming a little more magical for folks who dig enjoying a fruity wine or crisp craft beer. The Disney Parks blog officially announced that Magic Kingdom guests will now be able to purchase alcoholic beverages at all of the Orlando, Florida, park's sit-down restaurants, with new liquor menus available at the The Plaza Restaurant, The Crystal Palace, and The Diamond Horseshoe. This is kiiinda a big deal: Today reported that no alcohol was allowed inside the park until 2012, and then only at one sit-down restaurant.
According to the post, each restaurant has had a range of drinks selected to complement its menu. At The Plaza Restaurant, guests will be able to choose from "a selection of American beer and wine including beverages such as regional craft India Pale Ale"; The Crystal Palace "will offer sparkling wine mimosas with breakfast, with wines such as Pinot Noir and Chardonnay to pair selections [...] from the lunch and dinner buffets"; and finally at The Diamond Horseshoe, folks will be able to chow down and get theri drink on with "classic American beers and wines like a traditional lager style beer or a robust Pinot Noir."
Previously, the only place to purchase alcohol inside the Magic Kingdom was at Be Our Guest, the park's Beauty and the Beast-themed restaurant, which began serving alcohol in 2012, Delish reported.
This change in affairs will not extend to Disneyland in Anaheim, California, which will adhere to a no-alcohol rule "as part of Walt Disney's original vision to keep family fun G-rated," TODAY reported. TODAY also noted that other Disney World parks, including Epcot Center and the Animal Kingdom, already serve alcohol, but this is a new addition for the Magic Kingdom. According to Delish, despite the new additions to these restaurant menus, Epcot remains "the booziest Disney destination [...] where you can get specialty drinks at each country at the World Showcase."
If this new has made you curious about how to indulge in delicious libations at your future Disney park visit, there's good news for you: Eater drew up a complete guide to drinking at Disney World, so you can go in prepped. First, you should know the best spots to snag a drink in various parks. According to Eater, those are: The Tutto Gusto Wine Cellar at Epcot; Tune-In Lounge at Hollywood Studios; Dawa Bar at Animal Kingdom; Raglan Road at Downtown Disney; Todd English's Bluezoo at Disney Resorts; and last but not least Be Our Guest at Magic Kingdom (though it's worth noting this guide came out before the new liquor menus).
As for cult faves, aka the best drink you didn't know you should be trying, Eater says you can try what's obviously a millennial's dream — the frozen avocado margarita at the Mexico pavilion at Epcot. Another fan favorite is the Grand Marnier slush in the France pavilion, also at Epcot. Eater's guide says both drinks came off overly sweet, "but Disney obsessives on the internet can't shut up about them." Which isn't a surprise, because seriously? An avocado margarita?
Folks can also order the Magical Star, a "fruity rum drink" that comes with a neon glow cube and is available at virtually every bar at Walt Disney World — sometimes off-menu, Eater says.
As for other need-to-knows, Eater says to check out the cocktails at California Grill, to hit up Kimono's for sake and sushi (and the karaoka bar it transforms into at night), and to try the Gurgling Suitcase at the Old Key West resort if you like dive bars, because "it's small, no nonsense, and they probably have what you need."
Of course, no matter where you choose to drink in Disney, remember to experience the magic responsibly.