Alexander Wang Just Made This $1 '90s Accessory Cool Again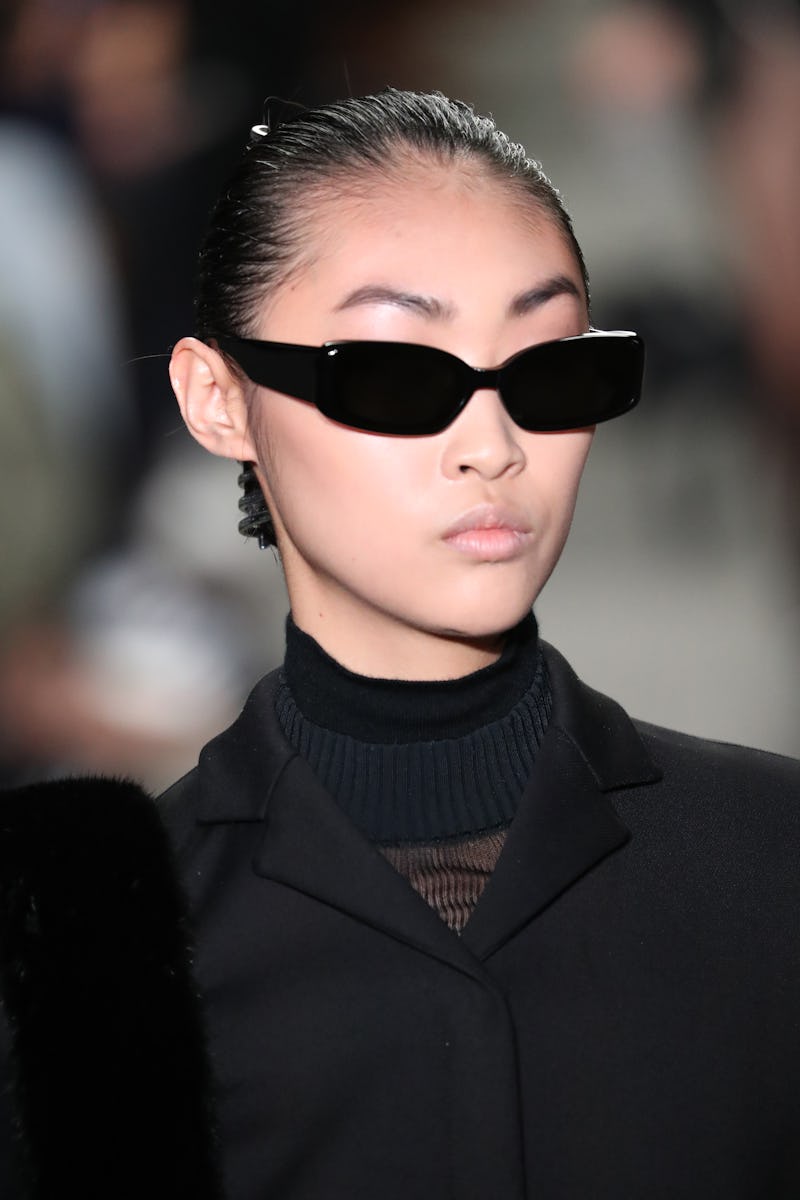 JP Yim/Getty Images Entertainment/Getty Images
Fashion loves a good throwback, and, after an entire year of chokers and jelly shoes, another '90s accessory is here. Alexander Wang models wore claw clips down the New York Fashion Week runway. Because nothing says corporate style like throwback hair accessories. In case you were wondering, this is a clear sign that the '90s are still alive and well.
New York Fashion Week is always filled with quirky styles. There's been colorful bobs and even Flaming Hot Cheetos on the runway this week alone. But Alexander Wang New York's show proved that the claw clip deserves its time in the spotlight, too. According to Swarovski's Instagram post, Alexander Wang was inspired by corporate-inspired style for the Fall 2018 show. Naturally, that meant leggings that look like credit cards and throwback hairstyles.
Each model's hair was slicked back, but some were outfitted in official Alexander Wang claw clips. They accessories were oversized, silver, and will instantly bring back a wave of nostalgia. The $1 accessory is finally getting the high-fashion that it has waited over a decade for, so now is the perfect time to dig through your caboodle and dig out the accessory. Sometimes the most high fashion items are the really the simplest.
Some of the models even double up on the high fashion claw clips. While it might be a little much for everyday wear, it's definitely a statement. Each one came printed with the brand's name on it, proving that the brand fully stands behind the trend. Other '90s accessories included micro-sunglasses and mini handbags
Unfortunately, the Alexander Wang's claw clips aren't available to purchase on the brand's fashion or beauty website. It's only a matter of time before you start seeing them in real life though. Bustle reached out to the brand to see if they'll be available to purchase at any time.
Accessories like the claw clips are an important part of New York Fashion Week. While you might not be able to afford some (read: any) of the clothing that walks down the runway, it's fun to draw inspiration from brands for the upcoming seasons. Blending old and new trends has always been popular, but it's a fun way for all generations to get involved.
If you don't have one of these accessories hiding in your caboodle, there's still a way to rock the look. You can buy claw clips for as little as $1 on Wish that come in a variety of sizes. J. Crew Factory also sells a mini version for $5 each in a ton of different colors. There's even a more high-fashion pair of claw clips on Shopbop that are in gold and silver, if you're looking to mock the Alexander Wang trend.
People are excited to say the least to see the throwback trend hit the high fashion runway. Twitter users are already taking to social media to praise the trend and are pulling out their own claw clips to get inspired by the look.
Large Tortoise Claw Clip, $5, J. Crew Factory | Open Claw Clip Set, $20, Shopbop
Just one look and people are already declaring the style their #MondayMotivation. Something tells me that these will be the look for spring.
It's a claw clip, not a banana clip. Get it right. There is a very specific difference. The claw clip has a handle that you can squeeze to make both sides open. The banana clip hinges at the top.
Here. For. It.
Your eyes do not deceive you.
Sometimes it's exciting to see the fresh and new looks on the runway, but it's just as great to see some comebacks pop up too. Alexander Wang knows how to balance the two, and this time was no different.
Large Tortoise Claw Clip, $5, J. Crew Factory | Open Claw Clip Set, $20, Shopbop