Alexandria Ocasio-Cortez's First Visit To Nancy Pelosi's Office Was A Protest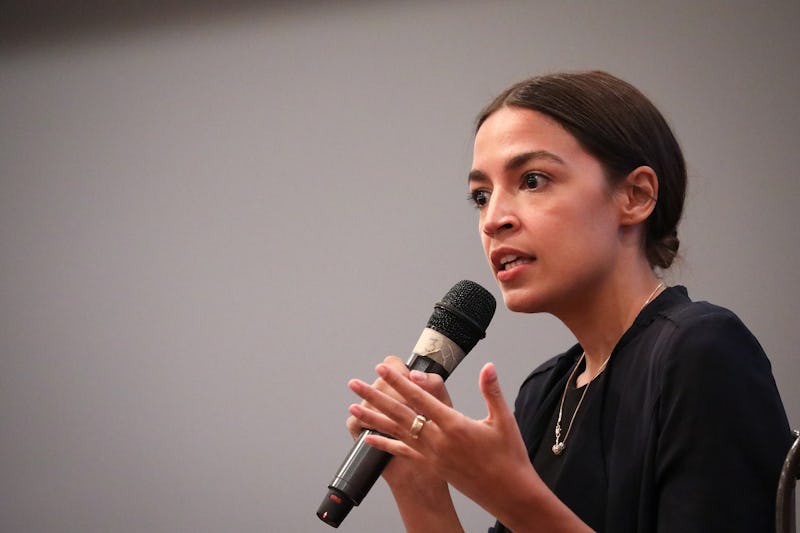 Drew Angerer/Getty Images News/Getty Images
January is still over a month away, but one congresswoman-elect is already making waves in Washington. On Tuesday, New York's Alexandria Ocasio-Cortez protested at Rep. Nancy Pelosi's office, joining hundreds of young demonstrators who were demanding action on climate change. Afterward, Ocasio-Cortez revealed on Twitter that she had spoken with the longtime congresswoman, and noted that Pelosi supported reinstating a long-defunct congressional climate change committee.
Ocasio-Cortez confirmed her conversation with Pelosi on Twitter. "I have spoken with @NancyPelosi about how our commitments to climate change should take shape in the 116th Congress," Ocasio-Cortez wrote. "Her office has responded quickly, and she has recommended the reinstatement of the Select Committee on Climate Change."
Her tweet also included a written statement from Pelosi, who said she did, indeed, recommend that the committee be put back together. Pelosi also welcomed the young protesters who chose to host the demonstration and said she strongly urged "the Capitol Police to allow them to continue to organize and participate in our democracy."
Initially, Ocasio-Cortez made headlines for participating in the climate change demonstration itself. Like Pelosi, she lauded what she described as "the energy of activism."
"This morning 100s of young people came together to ask us as elected officials to act urgently to draft a Green New Deal that gets us to 100% renewable energy ASAP," Ocasio-Cortez tweeted. "They asked me to join them, and I did. We can embrace the energy of activism to move our party's goals forward."
Ocasio-Cortez was in Washington at the time because she was participating in an orientation for new members of Congress, according to USA Today. But when she decided to participate in the protest, she told reporters, she viewed herself as a citizen, not just as a congresswoman-elect.
"This is not about me, this is not about the dynamics of any personalities," Ocasio-Cortez reporters outside Pelosi's office, per USA Today. "But this is about uplifting the voice and the message of the fact that we need a Green New Deal and we need to get to 100 percent renewables because our lives depend on it."
Democrats have publicly considered reinstating the Select Committee on Climate Change, sometimes referred to as the Select Committee on Energy Independence and Global Warming, since they won the House majority in this month's midterm elections, according to multiple reports from the last week. The committee was in operation from 2007 to 2011, when congressional Republicans opted to dissolve it. Notably, the committee's formation in 2007 took place when Pelosi first became House Speaker.
Since winning her primary earlier this year, Ocasio-Cortez has been an energetic force on the political scene, making headlines for successfully unseating the fourth-ranking Democrat in the House, as well as for her candid, matter-of-fact demeanor. And after the midterms, of course, she also became one of the youngest women ever elected to Congress in the federal government's history.
Shortly after Pelosi shared her recommendation for the committee's reinstatement on Tuesday, Ocasio-Cortez tweeted that the committee should "have a mandate to draft a Green New Deal plan by 2020" and should also "not have officials appointed to it that accept fossil fuel industry contributions." Although not officially on the job quite yet, the incoming congresswoman has clearly demonstrated a desire to take action.