Alexandria Ocasio-Cortez & Ilhan Omar Say They Are Flooded With Threatening Calls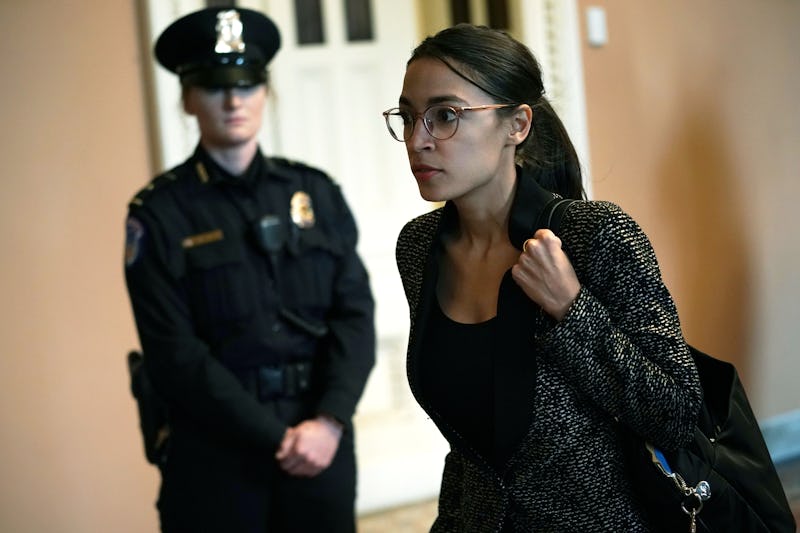 Alex Wong/Getty Images News/Getty Images
The most Twitter-savvy freshman representative opened up about a disturbing trend in her office. New York Democratic Rep. Alexandria Ocasio-Cortez tweeted about the "bigoted calls" to her office after others revealed the same trend. Ocasio-Cortez's announcement that she receives bigoted calls came after a back and forth between Minnesota Democratic Rep. Ilhan Omar and New York Republican Rep. Lee Zeldin revealed similar activity.
"Yep. Our offices are flooded with bigoted calls too - so much so that we have to put energy into searching for actual constituents," Ocasio-Cortez tweeted on Friday. "We forward all the threats to Capitol Police to build files. For all those who think your bigoted calls + digital threats are anonymous: Enjoy!"
Ocasio-Cortez shared the tweet after Zeldin, one of a handful of Jewish members of Congress, tweeted on Thursday about an anti-Semitic voicemail his office received. The message included a caller saying they wished that "Hitler would have done his ... job," according to audio the congressman posed to Twitter.
Zeldin then asked Omar if she had a response. (Omar faced criticism for anti-Israel comments in the past.) "This new VM just came into my office. @IlhanMN, this is just another day in my world as an American Jew in Congress," Zeldin tweeted. "Would love to know what part of this hate filled, anti-Semitic rant you disagree with? I disagree with all of it. Do you?"
In response, Omar said the two should meet to talk about the similarities of bigoted communication their offices received. "This is heinous and hateful. I too am flooded with bigoted voicemails and calls every day," Omar tweeted on Thursday. "Maybe we could meet and share notes on how to fight religious discrimination of all kinds? Maybe over Somali tea, in your old office which I happen to be in now."
On Friday, Zeldin accepted Omar's invitation, according to The Hill. Zeldin also asked Omar to sign onto a bill he's co-sponsoring. "Let's do that! Are you saying you disagree w/everything said in that voicemail? I sure do & it would be great if you did as well & cosponsored & helped #PassHRes72. That would be a step in the right direction," Zeldin tweeted on Friday.
While Omar has not directly responded to Zeldin's response, the freshman congresswoman has used the interaction to call for an end to discrimination more generally. Bend The Arc: Jewish Action, a progressive Jewish advocacy organization, tweeted their support to Omar. "Thank you for your solidarity and poise in the face of such bigotry. You deserve to be respected and celebrated, not attacked for who you are," the organization tweeted on Thursday. "Our Jewish community has your back in this fight against Islamophobia, antisemitism, & all forms of religious discrimination. Always."
Omar retweeted the organization's support, adding: "Defeating racism, tribalism, intolerance and all forms of discrimination will liberate us all, victim and perpetrator alike. ~Ban Ki-moon #Collectiveliberation."
This is not the first recent online back-and-forth between Omar and Zeldin. On Tuesday, Zeldin announced he was appointed as the ranking member to the Foreign Affairs Subcommittee on Oversight and Investigations. "Was just selected as Ranking Member of the @HouseForeign Subcommittee on Oversight & Investigations! Just learned Freshman Rep. Ilhan Omar was also put on this committee w oversight of US foreign policy," Zeldin wrote on Twitter to announce the appointment. "Crazy to watch what House Dems are empowering/elevating."
While Omar didn't directly respond to Zeldin's tweet, she did retweet multiple tweets calling Zeldin's "crazy" comment racist. Another supporter called Omar "classy" for her response to Zeldin's tweet about the voicemail.