Alexandria Ocasio-Cortez Called Out Big Tech Companies Over Climate Change Denial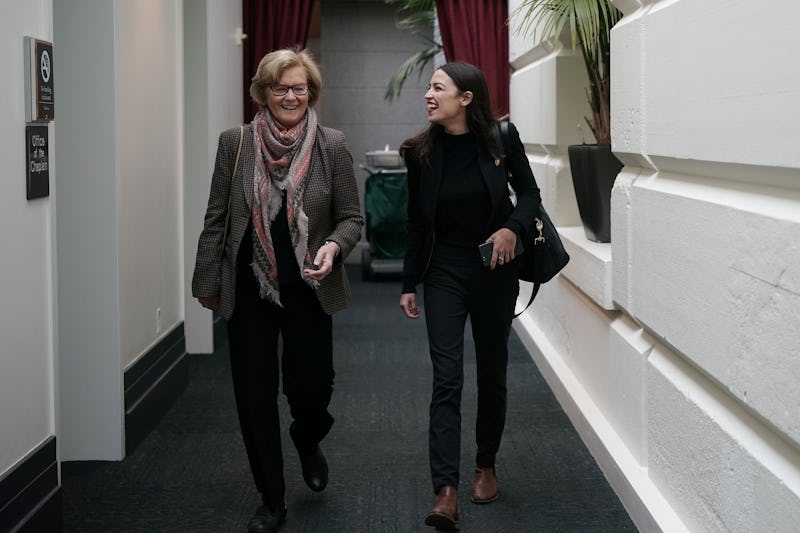 Alex Wong/Getty Images News/Getty Images
Top tech companies such as Google, Facebook, and Microsoft sponsored a libertarian student conference, and Rep. Alexandria Ocasio-Cortez wasn't having it — not because of the political viewpoint espoused, but because of climate change denial. Together with Rep. Chellie Pingree, Ocasio-Cortez penned a letter admonishing tech companies for their financial support, saying their example of sustainability has been "compromised" by implicit support of climate change misinformation.
The companies sponsored LibertyCon, where CO2 Coalition handed out literature saying that society will be "improved by additional atmospheric carbon dioxide." Mother Jones reported that the group claims "more carbon dioxide will help everyone, including future generations of our families" because "recent increase in CO2 levels has had a measurable, positive effect on plant life." Without evidence, they claim that carbon dioxide helps plants grow faster.
Pingree and Ocasio-Cortez condemned the support of such views in their letter:
We understand that sponsorship of an event or conference is a common occurrence and that these sponsorships do not automatically indicate that the company endorses the variety of political viewpoints that may be presented at these events. However, given the magnitude and urgency of the climate crisis that we are now facing, we find it imperative to ensure that the climate-related views espoused at LibertyCon do not reflect the values of your companies going forward.
Bustle reached out to Google, Microsoft, and Facebook for comment on the letter, why they sponsored the event, and if they knew about the climate denial group's participation.
A Facebook spokesperson told Bustle to check out the company's policy for sponsoring events and its sustainability commitment, which includes a goal of using 100 percent renewable energy by 2020. As for events, Facebook's policy reads: "Sometimes we support events that highlight Internet and social media issues," with a list of events that includes CPAC and Netroots Nation. The spokesperson also highlighted that Facebook participated in the 2018 United Nations Climate Change Conference.
A Google spokesperson told Bustle that every year they "sponsor organizations from across the political spectrum to promote strong technology laws" and that "doesn't mean that we endorse the organization's entire agenda or agree with other speakers or sponsors." The spokesperson also noted that Google has "operated as a carbon neutral company" and in 2017 "reached 100% renewable energy for our global operations."
A Microsoft spokesperson clarified in a statement to Bustle that Microsoft's engagement with LibertyCon "was through a breakfast reception for student leaders to discuss topics including rural broadband and privacy." The spokesperson went on to explain, "For the past decade, we've reduced emissions, invested in renewable energy, supported policies to address climate change and enabled people around the globe to use technology to accelerate progress on this issue."
Pingree and Ocasio-Cortez don't seem to think that's good enough. "The spreading of misinformation can be dangerous to our society," they wrote. "Today's coordinated campaign to deny climate change, or to put a positive spin on its effects, is not unlike that of the tobacco companies which once sought to discredit their product's link to cancer."
"We must be resolute against granting this campaign any credibility, whether intentional or otherwise," the representatives continued.
The tech companies have long supported events across the political spectrum, but are now under increased pressure from the new Democratic majority in the House of Representatives. With lawmakers like Ocasio-Cortez speaking out in favor of proposals such as the Green New Deal, this is likely not the last time corporations will be called out.