Alexandria Ocasio-Cortez Actually Just Won A Primary Race She Wasn't Even Running In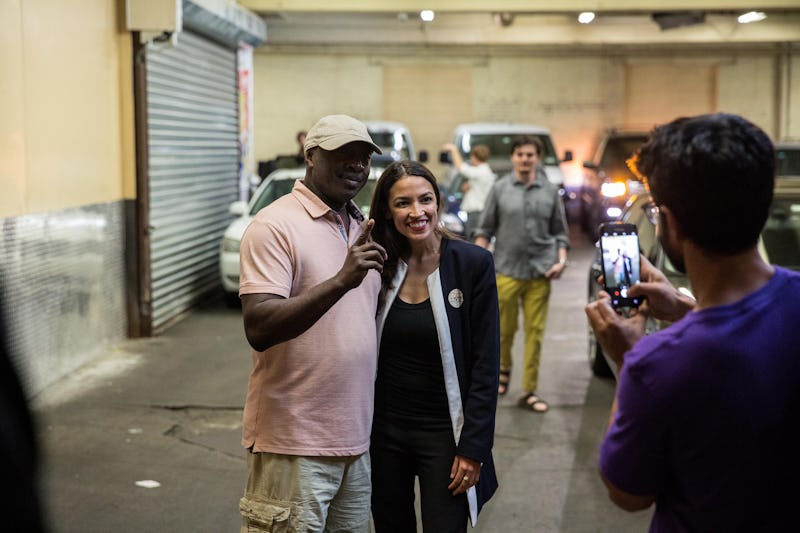 Scott Heins/Getty Images News/Getty Images
Last month, a Democratic Socialist candidate in New York's 14th congressional district (NY-14) unseated a 10-term incumbent congressman to become the Democratic nominee for the general election. Now, it turns out that that race's winner, Alexandria Ocasio-Cortez, has won a second primary as a Reform Party write-in candidate in New York's 15th congressional district (NY-15). While Ocasio-Cortez said she is honored to achieve her second (and unexpected) primary victory, she indicated that she will remain a candidate solely for NY-14.
As Slate explained, on Tuesday the Reform Party voters of the 15th congressional district in New York held their primary — and Ocasio-Cortez managed to win the race, even though she was not running in it. Notably, she is also not a member of the Reform Party. Thus, Ocasio-Cortez secured victory as a write-in candidate. The second place winner of the party's primary was Jose Serrano, another write-in candidate and a Democrat who currently serves as the incumbent congressman of the 15th district.
The Hill reported that the Reform Party's write-in only primary allowed unaffiliated voters (those who do not belong to a political party) to choose their preferred candidates to be the party's nominee. Voting took place across 230 polling stations in two congressional districts — NY-15 and NY-17. Neither one of the districts has any registered Reform Party congressional candidates or Democratic candidates who are challenging the incumbent. Reform Party leadership said via City and State New York that part of the goal of the primary was to draw attention to some of the problems the party believes exist with New York's election laws.
New York state law prohibits the same person from being a candidate for two different political offices at the same time. As such, by law Ocasio-Cortez cannot accept both nominations. The Hill reported that Ocasio-Cortez's campaign manager said that she "obviously" will not be accepting the nomination to serve as the Reform Party's candidate in NY-15. Ocasio-Cortez also addressed the issue herself on Twitter, writing, "While I am honored that so many Bronxites are excited about our campaign, I will remain the Dem nominee for NY-14."
Ocasio-Cortez's victory as a write-in candidate in NY-15 is perhaps reflective of the popularity she has gained after beating Representative Joe Crowley in NY-14's Democratic primary on June 27. Ocasio-Cortez, a first-time congressional candidate, secured victory over Crowley by 15 points. Crowley has served in Congress since 1999 and was previously considered one of the most powerful Democratic congressmen. Indeed, he was once deemed a likely pick to serve as Speaker of the House if Democrats regain control of Congress in the fall. He also significantly out-raised Ocasio-Cortez, receiving around $3 million during the primary race, as opposed to her approximately $300,000.
Thus, Ocasio-Cortez's victory over Crowley came as a surprise to many — and propelled her to almost instant nationwide recognition. The first-time congressional candidate will face Anthony Pappas in the general election on November 6, 2018. Pappas is a professor at St. John's University who teaches economics and finance. Ocasio-Cortez is largely expected to win over Pappas, considering she is running in a highly Democratic district. If she wins, the now 28-year-old Ocasio-Cortez could become the youngest woman to ever serve in Congress.
Overall, it is clear that Ocasio-Cortez's primary victory in June has made her a well-known and popular candidate — so much so that she just won another primary in which she wasn't even running. While Ocasio-Cortez will not be accepting the Reform Party's nomination as its candidate in NY-15, her selection as its candidate is perhaps indicative of the broad support she has received since her Democratic primary win.