Ocasio-Cortez Will Reportedly Buck The Norm In Congress By Actually Paying Her Interns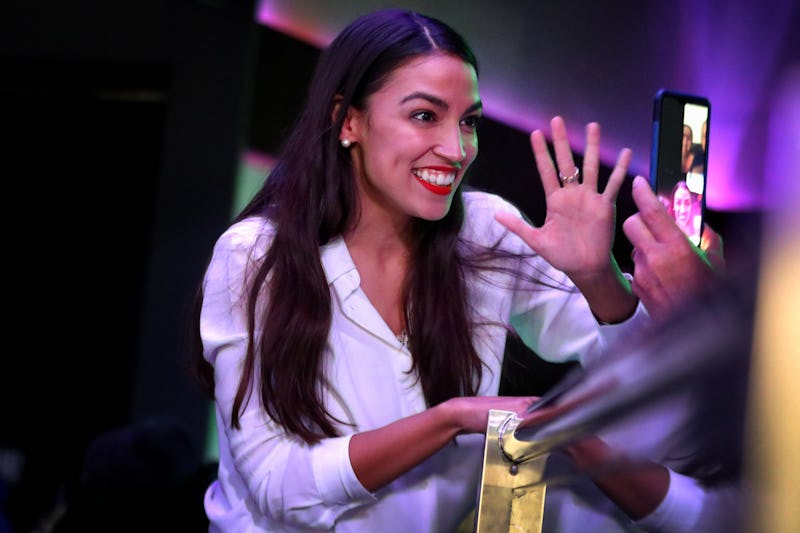 Rick Loomis/Getty Images News/Getty Images
Alexandria Ocasio-Cortez has long been an advocate for a $15 an hour minimum wage. And once she's sworn in as a member of Congress, she'll put her money where her mouth is: Ocasio-Cortez will pay interns at least $15 an hour, Washington Post reporter Jeff Stein reported Tuesday. Bustle has reached out to Ocasio-Cortez's campaign for confirmation of the report.
By even paying her interns at all, Ocasio-Cortez will be doing more than 96 percent of Democrats in the House of Representatives. A 2017 study by the group Pay Our Interns found that only 3.6 percent of House Democrats, and 8 percent of House Republicans, offer paid intern positions, while in the Senate, 31 percent of Democrats and 51 percent of Republicans pay their interns for their work.
In a series of tweets, Ocasio-Cortez sniped at lawmakers who question the financial viability of her Democratic Socialist program while simultaneously refusing to pay their own interns.
"Gotta love the rich irony of Congressmen asking 'How are you going to pay for it?' suddenly grow awfully quiet when called out on their expectation that part-time workers magically invent money to work for free," Ocasio-Cortez tweeted. "It is unjust for Congress to budget a living wage for ourselves, yet rely on unpaid interns & underpaid overworked staff just bc Republicans want to make a statement about "'fiscal responsibility.'"
Unpaid internships can make the prospect of interning on Capitol Hill a daunting one, in part because of Washington D.C.'s exorbitant cost of living. Although the city's minimum wage is $13.25 an hour for all employees, the actual living wage in Washington D.C. is around $17.11 an hour, according to MIT. In September, one former unpaid Congressional intern told CNN that she worked between 50 and 60 hours a week, often skipped lunch to save money and once walked 45 minutes in the rain to buy less expensive produce.
A new spending bill passed in September allocates additional money with which lawmakers can pay their interns. The 2019 Legislative Branch bill gives each member of the House up to $20,000 per year to pay their interns, according to NBC News. It also includes $5 million for Senators to pay their interns, although the exact amount that each senator receives varies depending on their home state. The bill doesn't require lawmakers to use the money to pay interns, but it also doesn't allow them to use it for anything else.
Around the same time, Vermont Sen. Patrick Leahy called upon lawmakers to stop offering unpaid internships.
"A congressional internship offers an entrance to a career in public service, but many dedicated, young adults do not have the means to spend a summer working for free in Washington or in our home districts," Leahy said. "By paying interns for their work, we open the door to a wider and more diverse pool of applicants looking to serve their country."
Paid internships in the House used to be much more common. In 1973, the chamber established the LBJ Congressional Intern program, in which every member of the House was given funds to hire two paid interns every year. However, that program was scrapped in 1993 as a part of Bill Clinton's deficit reduction efforts.
On Monday, Senate Minority Leader Chuck Schumer drew criticism after Pay Our Interns spotted an ad for an unpaid internship in his office. A spokesperson for Schumer subsequently told Rolling Stone that the posting was made "in error," and that "starting in January, Senator Schumer's office will offer a stipend to eligible interns."