Alexandria Ocasio-Cortez Shaded Sarah Huckabee Sanders In A Tweet To The Press Sec's Dad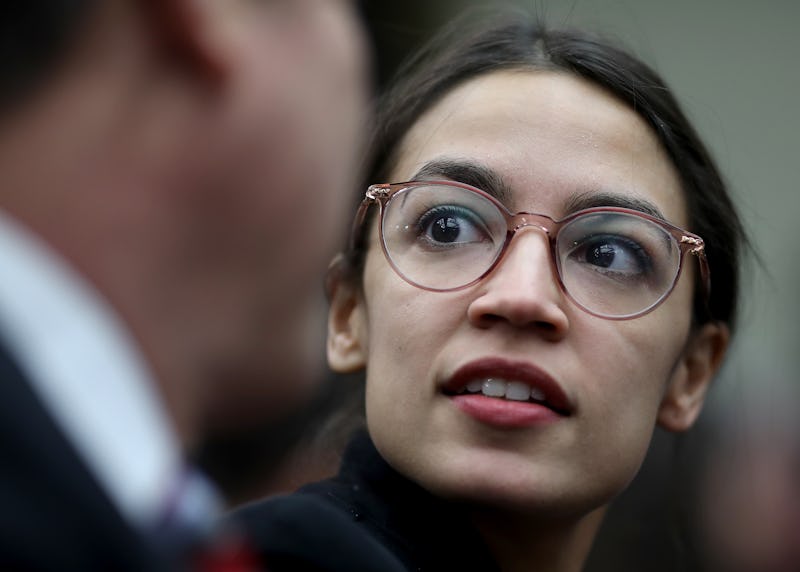 Win McNamee/Getty Images News/Getty Images
While Alexandria Ocasio-Cortez's historic election win has put her in the national spotlight, it's also made her the target of conservative attacks. But Ocasio-Cortez doesn't appear to be afraid of a little confrontation. Indeed, when former Republican Gov. Mike Huckabee took a swipe at the newly-elected representative, Ocasio-Cortez shaded Sarah Huckabee Sanders in a tweet pushing back on the White House press secretary's father.
"Leave the false statements to Sarah Huckabee," Ocasio-Cortez tweeted to Huckabee. "She's much better at it."
The newly-elected member of Congress was responding to a tweet of Huckabee's in which he appeared to mock her intelligence and election victory. "Ocasio-Cortez compares her election to moon landing. Huh?" the former governor of Arkansas wrote in a tweet early Monday. Huckabee tweeted a link to a Daily Mail story, which reported Ocasio-Cortez had compared her primary upset over Democratic incumbent Rep. Joe Crowley to the moon landing.
"Big difference," Huckabee tweeted. "Moon landing was LUNAR, not LOONEY; Moon landing done by ppl who knew what they were doing...those who elected someone who thought there were 3 branches of Congress did NOT."
According to the Hill, Ocasio-Cortez hopes to pursue a number of progressive agenda items, including a Green New Deal, after she's sworn into Congress next year. "A Green New Deal will take a level of ambition + innovation on the scale of the moon landing," Ocasio-Cortez wrote in her tweet to Huckabee. "We've been done it before, and can do it again."
Then she threw a little shade Huckabee's way by reminding the former Arkansas leader, who still uses the title of governor on Twitter, that he hasn't "been a Governor of any state for 10+ years now."
Later, the representative-elect returned to Twitter to note the number of people who'd attempted to attack her in the few weeks that have passed since her election. According to Ocasio-Cortez, a former Republican vice presidential candidate, a sitting Republican U.S. senator, a former Republican governor, the U.S. senator that "killed the Public Option," an entire conservative cable news channel, and YouTube universe have "all gone after me, just to get lit up."
"I'm not even sworn in yet," she tweeted. "Don't y'all have jobs to do?"
Last month, Ocasio-Cortez defeated Republican Anthony Pappas to become the representative-elect of New York's 14th district after winning a whopping 78 percent of the vote, according to the New York Times. She is the youngest woman ever elected to Congress and will be the youngest to serve when the 116th U.S. Congress convenes in January.
But while it was Ocasio-Cortez's victory in November that earned her a seat in the House of Representatives, it was her primary upset that really put her in the spotlight. Her 15-percentage point victory over Crowley, a 10-term incumbent, in the Democratic primary has been called "the biggest upset of the 2018 elections" by Time magazine. The Guardian characterized it as "one of the biggest upsets in recent American political history."
"We've done what we thought was impossible," the Daily Mail reported Ocasio-Cortez told supporters late last week. "We went to the moon. We electrified the nation. We established civil rights. We enfranchised the country."
"We dig deep, and we did it," she continued. "We did it when no one else thought that we could. That's what we did when so many of us won an election this year."