Of Course Alexandria Ocasio-Cortez Was Forced To Defend Her Nice-Looking Work Clothes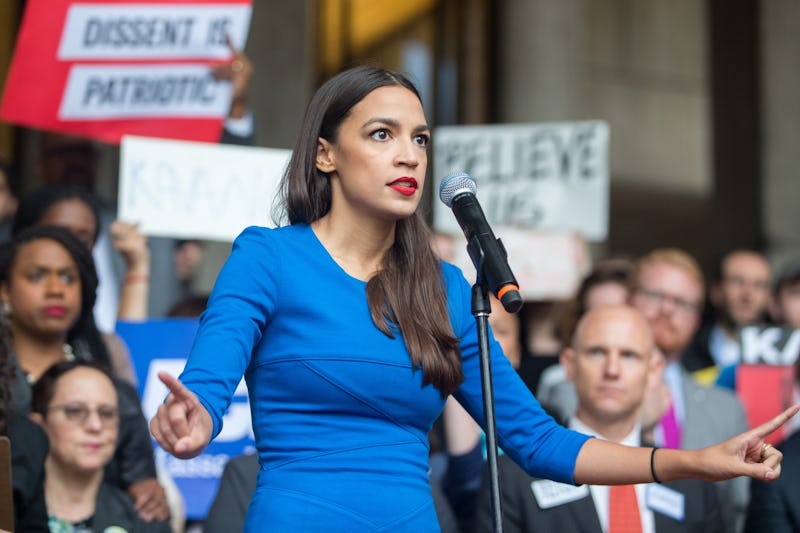 Scott Eisen/Getty Images News/Getty Images
The newly elected congresswoman for New York's 14th District was the target of a particularly tone-deaf tweet by conservative journalist Eddie Scarry on Thursday. Scarry, who writes for The Washington Examiner, tweeted about how Alexandria Ocasio-Cortez's work clothes seemed conspicuously nice, along with a photo of Ocasio-Cortez from behind. Thousands of people immediately dove into his replies to annihilate Scarry's argument, and Ocasio-Cortez soon hit back, herself.
Scarry's original tweet (which has since been deleted) read, "Hill staffer sent me this pic of Ocasio-Cortez they took just now. I'll tell you something: that jacket and coat don't look like a girl who struggles."
A few hours later, Ocasio-Cortez tweeted:
If I walked into Congress wearing a sack, they would laugh & take a picture of my backside. If I walk in with my best sale-rack clothes, they laugh & take a picture of my backside. Dark hates light - that's why you tune it out. Shine bright & keep it pushing.
Before Ocasio-Cortez said a word in reply to Scarry, though, thousands of people were arguing on her behalf. Scarry's original tweet garnered over 20,000 replies and less than 2,000 likes before it was deleted. Even Dictionary.com became involved, tweeting, "Girl. Noun. A female child, from birth to full growth. E.g. Alexandria Ocasio-Cortez is not a girl."
Scarry has since deleted his tweet, and offered up something that doesn't quite qualify as an apology. He wrote, "ATTN! I posted a tweet earlier suggesting the incoming congresswoman looked well put together -- ELEGANT even -- despite suggestions she's struggled. The tweet was taken as something else, so I've deleted it!"
Beneath his response, his feed reveals a series of responses he's given to those who called him out for his behavior, calling his critics "idiots and liars" and again questioning Ocasio-Cortez for her "claims she needs 100k to afford an apartment."
Ocasio-Cortez clapped back again at Scarry shortly after, attaching a screenshot of his original tweet and writing, "Oh, does @eScarry think he can delete his misogyny without an apology? I don't think so. You're a journalist - readers should know your bias." Scarry has yet to respond.
To be clear, Ocasio-Cortez never said she needs "100k to afford an apartment." Rather, she told The New York Times that her transition period of moving to D.C. would be challenging because she won't receive a salary until January. We're kind of just dealing with the logistics of it day by day," she said, "but I've really been just kind of squirreling away and then hoping that gets me to January."
Ocasio-Cortez has encountered a series of challenges in becoming the youngest congresswoman ever, not to mention a congresswoman of color. On Nov. 14, she tweeted that she had repeatedly been labeled as a staffer, intern, or spouse of a congressman, adding, "Next time try believing women + people of color when they talk about their experiences being a woman or person of color."
In an Instagram post in October, Ocasio-Cortez shared how overwhelming it could be to represent a movement and to be flattened into a "2 dimensional character for mass consumption." But she ended on her signature positive note: "The goal is to keep pushing so that LOTS 👏🏽MORE👏🏽 champions get the shine they so deeply deserve. That means to everyone out there - your cover is next."