Alexis Bledel's Emmys Dress Had The Most Unexpected Twists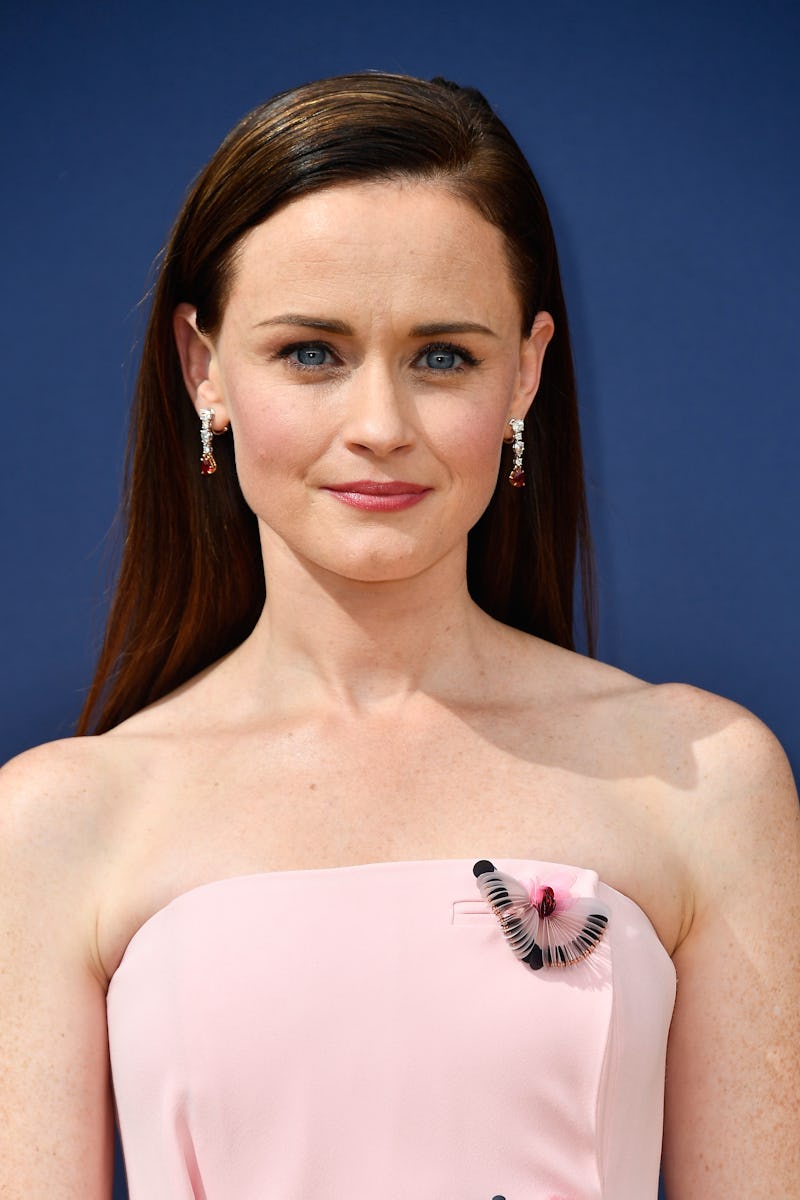 Frazer Harrison/Getty Images Entertainment/Getty Images
Alexis Bledel scored the Outstanding Guest Actress in a Drama Series Emmy in 2017 for her work in The Handmaid's Tale. She returned to the awards show in 2018 with a nomination in the Supporting Actress category for the same series. While fans of the star and the show are hoping for a repeat, Alexis Bledel's dress at the 2018 Emmys was also of interest.
Because who hasn't been following the actor's red carpet looks since The Gilmore Girls days? It's totally OK if you've been a fan of Bledel's style since she played Rory on the much-missed WB series.
Bledel has essentially grown up before our very eyes and has developed her own red carpet flair that's basically always really and truly pretty — with just the right touch of edge. Her personal style has continued to evolve and she always makes excellent sartorial choices.
The actor did not disappoint at this year's Emmys, either.
Bledel wore a floor-skimming, straight column dress in a millennial pink shade by Delpozo. The strapless frock boasted a square bodice with a symmetrical pair of fan-like appliques on one side. It also featured a lemon yellow pleated panel in the front of the skirt.
One may have expected to Bledel to wear black, since she often does so on red carpets.
But she instead went with pretty pastels — she basically opted for spring-appropriate, Easter basket colors and looked oh-so-lovely. The actor wore her long, brown locks deeply side-parted, off her face and shoulders, and tumbling down her back.
Here's a closer look at those decorative pieces on the bodice. They sort of looked like transforming butterflies. They were certainly a unique touch to a somewhat simple and incredibly sweet dress.
For her makeup, Bledel, who is known for her arresting, crystal blue eyes, was minimalist. She was fresh-faced, except for a swipe of rosy pink lipstick. The lippie hue wasn't too far removed from what she wore last year.
Bledel opted for a simple and strapless, black column dress at the 2017 Emmys ceremony. Clearly, she likes this silhouette, since she has returned to it. Last year's gown clung to every curve and enjoyed a splash of color provided by the smattering of sparkle.
Notice that the pink, purple, and blue sparkle took the shape of a flower when viewed up close. Overall, this look was totally classic and chic.
Bledel elected to wear a black and white Oscar de la Renta pantsuit with high fashion embellishments to the Golden Globes. The floral vine wrapping around her upper torso and the sparkly sash were so stylish. Jumpsuits have been asserting themselves on red carpets and Bledel's was an elegant selection that got a chic boost from the detailing. Her burgundy pout, which is something else she favors, upped the glam ante.
Bledel's 2018 Emmys look was ace and in keeping with what we have come to expect from her in terms of subtle and understated details that actually end up making all the difference.