Alice Marie Johnson Believes Trump Will "Follow Up" On Cases Similar To Hers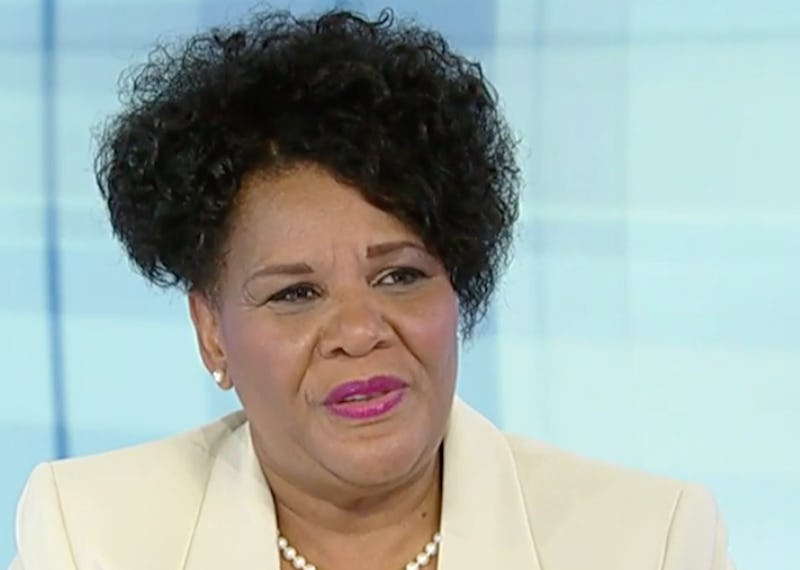 Photo Courtesy of Fox News
Earlier this summer, Kim Kardashian West met with President Donald Trump to discuss a 63-year-old great-grandmother who was serving a life sentence for a nonviolent drug crime. The celebrity asked the president to grant Alice Marie Johnson clemency. He heard her out, and at the beginning of June, he commuted the woman's sentence. Now, a month later, Johnson said she believes Trump will "follow up" with more cases like hers.
During an interview with Fox News' Sean Hannity, on Tuesday, July 31, Johnson said that the clemency she was granted gave her hope for the future of people with cases like hers.
"I won't let him down, there is no way" Johnson said of Trump during her Hannity interview. "This country is a country of second chances. I love America, and I believe that as the president sees what has taken place with me, that he is going to follow up and do some other things for other people."
Johnson was sentenced to life behind bars in 1997 after being convicted of cocaine trafficking as part of an operation that involved more than a dozen people, Harpers Bazaar reported.
Hannity praised Johnson for showing her gratitude for the president and appreciation for America. He also noted that the president had said he wanted to "do more of" helping people like Johnson.
"The president said he's going to do more of it — you want him to do more of it," Hannity said in the interview.
"Yes, I do," Johnson said. "I'm so happy that his heart has been touched to do more."
Johnson was in jail for 21 years, and one of her lawyers, Brittany Barnett, told The Daily Mail that those decades represent "a punishment that more than pays her debt to society and that to keep her prison the rest of her life is morally and economically unjustifiable."
In an interview with Mic, Johnson explained how she lost her youngest son to a motorcycle accident and her job at FedEx because of a gambling addiction. This lead her down a path of desperation, and she got involved with the Memphis-based drug operation.
Johnson described that time in her life to Mic:
"I felt like a failure. I went into a complete panic and out of desperation, I made one of the worst decisions of my life to make some quick money. I became involved in a drug conspiracy."
Johnson thought she might be released on several occasions. She submitted paperwork to receive clemency three time under President Barack Obama, according to Mic. She told Hannity on his show what a challenge the waiting had been.
"The waiting has been very painful for me and my family," she told Hannity. "We've had so many ups and downs. So many false alarms that it was going to happen for years."
When it was finally announced that Johnson would be released on June 6 thanks to Trump, Kardashian tweeted: "BEST NEWS EVER!!!!"
Now that Johnson is free, she told Hannity she's welcoming the hugs from strangers who've followed her case. Only time will tell whether her story will inspire Trump to grant clemency to more people like her.