Alicia Silverstone Just Dressed Up Like Cher From 'Clueless' & It Feels Like The '90s Again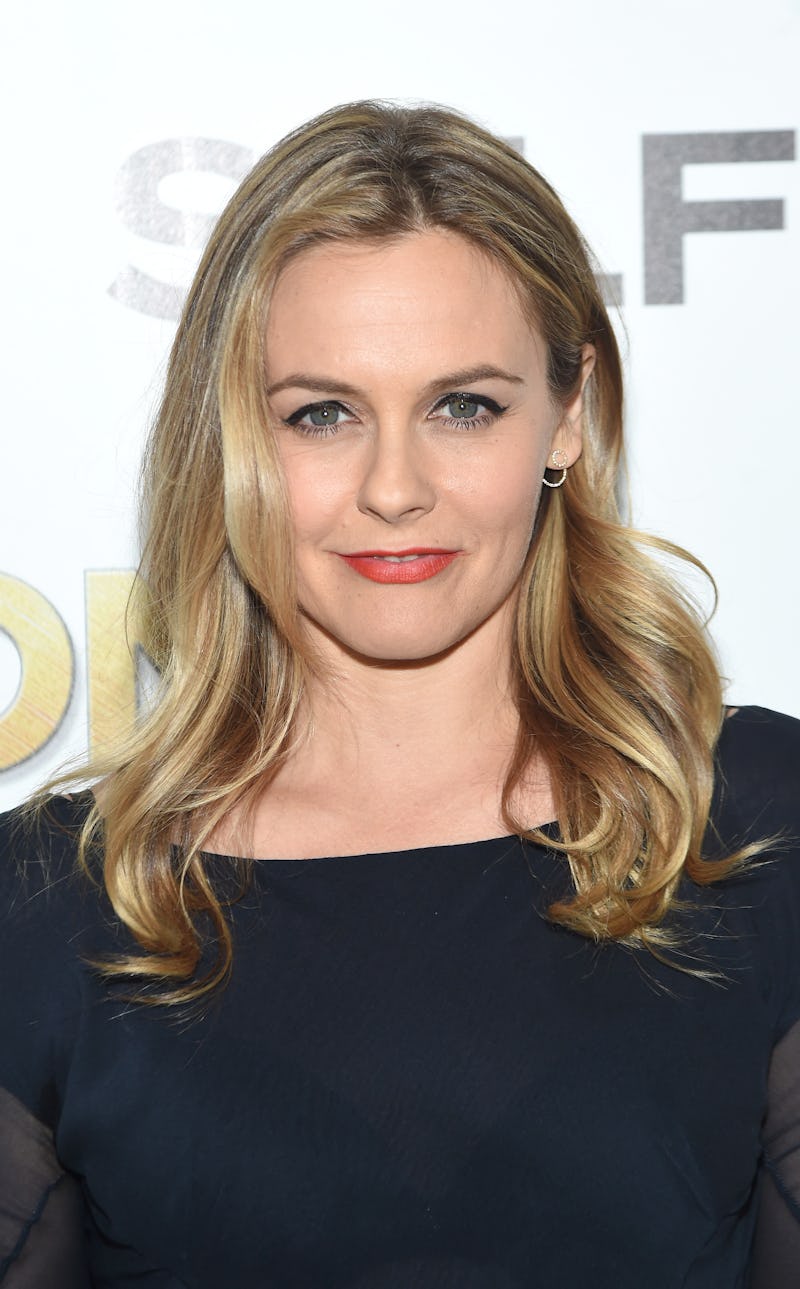 Jamie McCarthy/Getty Images Entertainment/Getty Images
Plenty of '90s trends have come and gone throughout the year, but this throwback moment is the best of 2017 so far. Alicia Silverstone dressed up like Cher Horowitz from Clueless, and social media has the photographic receipts to prove it. The head-to-toe iconic plaid look proves that Silverstone's still a total Betty 22 years later. Let's just say that if you aren't in the Halloween spirit, you will be once you see her outfit.
Silverstone, who is a huge advocate for all-natural beauty products and sustainable clothing, used her most recent #OOTD as a massive throwback to the iconic character. Silverstone apparently dressed as Cher Horowitz for an upcoming episode of Lip Sync Battle, and it will have you seriously buggin'.
The behind-the-scene shot was taken by none other than Lip Sync Battle host Chrissy Teigen. In the photo, Silverstone poses alongside Teigen and her daughter Luna wearing a THE black-and-yellow plaid skirt and jacket combo that Cher picks out from her futuristic closet in Clueless. She even has the knee-high socks and white buckle heels to go with it.
According to Teigen, she's only asked for two photos in her life — Silverstone in her Clueless getup and Beyoncé. You'll totally understand why when you see how great the actress looks in the iconic outfit.
Silverstone completely pulls the outfit off, and actually makes it look pretty wearable. All she's missing is the '90s-style brick cell phone and an equally as styled best friend by her side.
There's no word on when this episode of Lip Sync Battle will be out, but the taping was just in time for this Halloween inspo. Until then, you'll have to live through these social media posts.
Though you could totally pull off this '90s trend in real life, Halloween is the perfect time to get into the Clueless spirit.
If you're looking to stock up on the pieces individually, you're in luck. The Lip Sync Battle stage isn't the only place you can find the outfit. There are tons of options for shopping the iconic look just in time for All Hallow's Eve. Because, let's be honest, this look was probably already in your top five for possible costumes.
1. Wearable Suit
Clueless Cher Costume, $60, halloweencostumes.com
This might be a costume, but you could totally pull this look off any day of the week. The '90's cell phone is not included though, so you'll have to dig in the back of your closet for that.
2. Crop Top
School Girl Without A Clue Costume, $70, yandy.com
Or you could combine the '90s trend with the current crop top style. Not as wearable as the first, but still iconic nonetheless.
3. All Covered Up
Women's Fancy Girl Skirt Suit, $35, halloweencostumes.com
There's even an option to skip the underneath shirts and go for the classic two-piece instead. Of course, you'll still need a pair of high socks to complete the look.
4. DIY Look
Yellow Vintage Ladies Sexy Plaid Fashion Pleated Skirt, $13, pinkqueen.com
If you're not committed to the head-to-toe look, you can shop the pieces separately. This skirt if a great way to get the inspiration without being too costume-y.
5. Non-Button Up
As If Yellow Tartan Set, $75, glittersfordinner.com
There's even a way to give the classic look a modern update. Because if you're going to commit to plaid, you might as well go all the way.
You don't have to be clueless when it comes to nailing this '90s trend. Silverstone's take is proof that this iconic look will never go out of style. And if you think it will, you are totally wiggin'.