Alison Brie On How 'Little Hours' Nuns Empower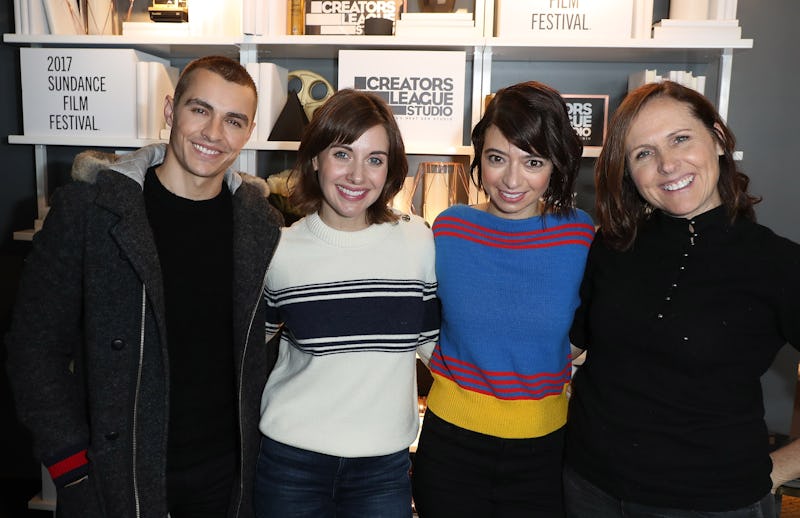 Jonathan Leibson/Getty Images Entertainment/Getty Images
As the tradition goes, nuns of the Catholic church are celibate. They do not marry, and they certainly do not have sex, so it was a bit of a surprise to see The Little Hours, a film about four nuns (played by Molly Shannon, Alison Brie, Aubrey Plaza, and Kate Micucci) sexually empower its female characters. I sat down with Shannon, Brie, Micucci, and co-star Dave Franco at Sundance Film Festival for a frank talk about sex, nuns, and how the two intersect. "It's exciting. It's empowering. It's about [the nuns'] sexuality and our repressed desires," Brie says, sitting next to her costars on an oversized couch.
The film takes place in 1347, following the lives of four nuns whose day-to-day is disrupted when a strapping young servant (Franco) comes to stay at the convent. Soon these virgins are committing all kinds of carnal "sins," and one by one, their true desires are revealed.
"They have this new person there, this new blank canvas for everyone to put their desires on. So I think it was cool that the women have the power in the movie in that way," Brie says, referencing the fact that Franco's character is very much seduced by the women, rather than doing the seducing.
The film is chalked full of laughs — thanks director Jeff Baena's hilarious script, improvisation from the comedic cast, and dialogue that is more likely to be found in 2017 than 1347. But more than a funny film with a bevy of hilarious cameos (Nick Offerman and Fred Armisen, to name a few), the movie has a message for women from any era.
"It's about women taking ownership of their own desires and not having to feel ashamed of those desires," Brie says. "It's about repression and having to deal with sexual identity. So this movie is about women exploring their own sexuality — and not only sexuality — but also desires that aren't sexual. I think it's empowering for women."
Her co-star and fellow on-screen nun, Shannon, agrees. "You can't just hold back those desires; it's going to come out in other ways. It's going to explode, and when it does, it's a true celebration of truth and people being free with nothing to hide. It's a celebration of that sexual expression."
Franco, who has since reclined backwards on the couch in an attempt to let the women speak uninterrupted, sits back up again. "I concur," he says, and the women — who are all his friends outside of the film — respond with laughter.
"It was very important that we all felt comfortable with each other, on this movie specifically, because we're all being very vulnerable; a lot of people are getting naked and there are strange sex scenes, so you never want to feel insecure," Franco says. "We were surrounded by people who were very supportive and I think that was imperative for making this film."
Their on and off-screen camaraderie is apparent, and it's what helps makes the film's empowering message that much more truthful. Though these nuns may have broken a handful of vows in their exploits, they uncover a new truth: Sex can be a hell of a lot of fun, and there's nothing damning about that.