An Official Ranking Of All 84 Outfits Lindsay Bluth Wore In 'Arrested Development' Season 1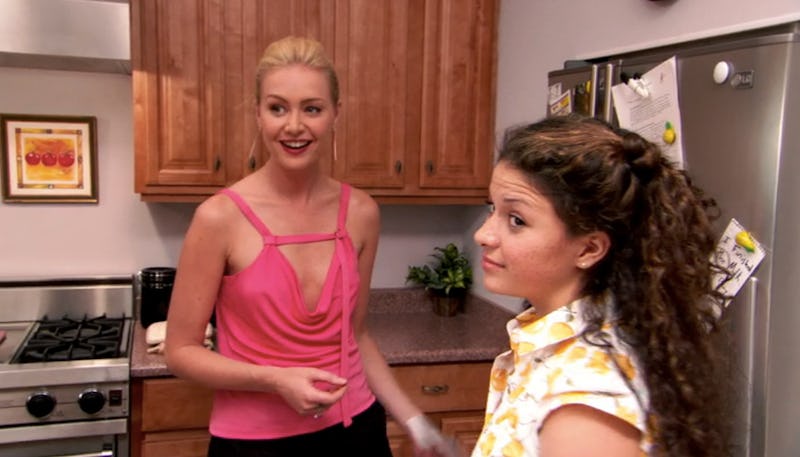 20th Television
While wearing her outfit for the second coming of Dr. Fünke's 100% Natural Good-Time Family Band Solution, Lindsay Bluth says, "Look at us! We're dressed like we're in the '60s. It's the 21st century, we should be dressing like it's the '80s." And while she does sometimes dress like she's in the '80s, her style isn't quite so easy to pin down. But, if you look at all of Lindsay Bluth's outfits from Season 1 of Arrested Development, you do see some themes. For one, she likes random straps to hang off of her garments.
On November 2, Arrested Development turns 15, and to honor this milestone, I have rounded up all 84 of Lindsay's Season 1 outfits. It's made clear throughout the series that Lindsay loves fashion, but the ensembles she comes up with run the gamut from "Something You'd See On The Red Carpet Of The 2003 Teen Choice Awards" to "Oh, God, What Is That Furry Thing?"
What's clear that Lindsay likes shawls, white ankle boots, a certain pair of white pajamas, skirt suits, embroidered robes, and clothes that have random extra pieces of fabric sticking off of them. What's less clear is how to rank her style. The outfits that are actually wearable for a normal person are the less exciting, so does that mean they rank lower or higher?
It seems the best way is to try to rank them in terms of how ridiculous they are. A ridiculous outfit is an entertaining outfit, and the ridiculous outfits are the ones that seem most typically Lindsay.